Heading West 10th October

Mor Toad / Moy Toad
David and Jocelyn Fawcett
Fri 12 Oct 2018 06:51
44:21.23N
8:33.08E




So Tuesday morning after another swim (possibly our last at anchorage but really hope not) we headed out of the bay around Portofino into flat calm sea .



Entrance to Portofino




And motorsailed across the Bay of Genoa to where we are now in a marina at Varazee. We had a couple of short sails when the wind got up but out here it does seem quite unpredictable and it comes up from nowhere and then dies and certainly not how it is forecasted . A little frustrating.

Genoa itself is an extensive city and we looked at it through the binoculars and even spotted the bridge that had collapsed at the western end. It's a big port and we were surprised that no ferries or cargo ships came out whilst we were crossing.

We got into the marina here quite easily and are tied up right by the shops restaurants and gelateria. All right on our doorstep actually passarelle ! Fortunately not too busy we would be like a goldfish bowl in the height of summer. Plenty of boats here with no one on board. Definitely end of season.



Genoa



Varazze Marina


Quayside . According to the pilot book ' designed with panache timber and glass pavilions with verdigris roofs stand on stilts with elevated walkways round the quayside . Boutiques and apartments complement the usual cafe bars gelateria and restaurants!'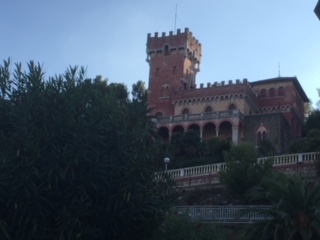 Another grand Italian house above the marina


Lot of boats here!!


Looking across the bay at Varazze apparently a major tourist town


As I've mentioned before marinas periodically are a necessary evil from the point of view plugging into shore power, water for the tanks, being able to use the washing machine and the dreaded supermarket which unlike La Spezia is just across the road!!

We came here for two reasons one to visit Genoa. We have driven past so many times on our way to and from Tuscany over the years so a chance to see if just as chaotic as we imagined. Secondly David wanted to look at a motor boat ( not just yet but who knows in the future!!!) that is built near here. The latter has not happened as all at Barcelona Boatshow and it would appear no one able do anything. Ah well!!
---