Capo Carbonara to Capo Serracavallo

Mor Toad / Moy Toad
David and Jocelyn Fawcett
Tue 8 May 2018 16:28
39:41.85N 9:39.84E
Cala Foxi Mamma

After David collected me from the airport we drove back to the marina and I established myself back on board. After lunch it was decided it would be much nicer to leave the marina and anchor overnight as we planned to head up the coast in the morning. Before we could do this we needed to take some electric cables back to the office, pay the bill, take the hire car back to the village and I needed an icecream. All this was duly done and the man in the hire shop ran us back to the boat. We then motored to the bay the other side of the headland headland know to us as 'Chinaman Bay' as this is where a year ago (the night before we crossed to Sicily) David and another friend Andy rescued a young chinese man who was being blown out to see on his paddleboard and was too exhausted to get back to shore!!

After a pleasant evening at anchor and a few glasses of wine and a nice meal I certainly had a good nights sleep it had been an early start.

We woke this morning to sunshine , clear blue seas and although the water temperature was only 14° I decided I must have a swim. A tad chilly but I managed three times round the boat and broken shoulder is doing well.

After breakfast the anchor was raised and we motored north up the coast. quite hilly and very little development and a few nice looking beaches. It started off quite warm and sunny but it then became chilly and even rained ! Few Dolphin seen in the distance and a few other boats.

After 6 hours we arrived at this Cala and dropped anchor.and at present it's calm and the sun is trying well sort of!!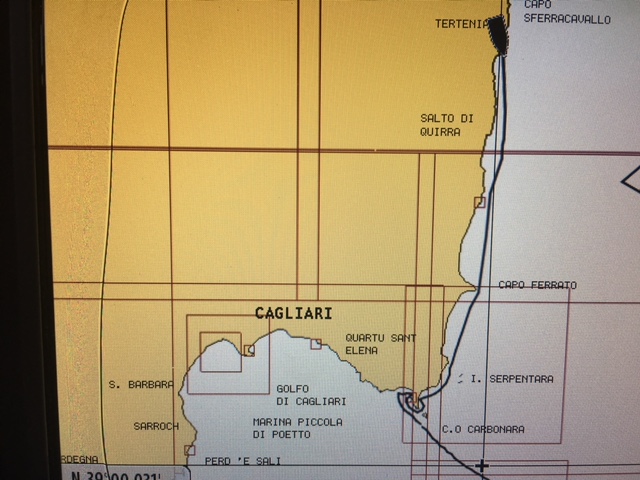 Cala Foxi Mamma



First swim of the year in The Med!


Girl just had to have an icecream!



There was a lagoon behind this beach with Flamingoes
---