Vanua Balavu

Caramor - sailing around the world
Franco Ferrero / Kath Mcnulty
Fri 6 Sep 2019 03:28
30 August 2019
Our sail from Matagi Island to Vanua Balavu, the largest island in the Northern Lau Group was nearly perfect. The only glitch was that the wind picked up earlier than we had expected so our motor through the narrow passage between Qamea and Taveuni involved bashing into a headwind, luckily the tide was with us.
Once clear of the southern tip of Qamea we were able to sail. The wind direction was typical of the tradewinds that blow most of the time and Vanua Balavu was straight upwind. It didn't matter as we had all night to get there and a few tacks would be no hardship.
At dawn we hove-to just south of the entrance to wait for the sun to be higher in the sky so that we may see the reefs, and since the Digicel phone signal was loud and clear, Franco got to (Pesda) work and I did a bit more on our online visa applications for Australia.
We spotted a village with a large red roof, probably Daliconi, where we would need to do sevusevu, a ceremony where a visitor offers a present of kava (used to make 'grog', a muddy soporific potion) to the chief, in effect agreeing to become a vassal for the duration of stay. We'd bought several bundles of kava roots at the Savu Savu market for the purpose and were looking forward to the experience. Kava is in the pepper family and has an earthy peppery scent which reminds me of mouse droppings, another reason why I was keen to offload some of our stash.
Franco with a bundle of kava roots
At 10am, the sun was high enough for us to clearly see the coral reefs and bommies so we started our approach. There are two white concrete towers on the island that line up, indicating the deep channel through the reef. We also used two sets of waypoints from different sources.
The white concrete leading marks (photo not taken on the approach)
Immediately we were struck by Vanua Balavu's beauty; limestone cliffs, wooded islets, tiny beaches hidden away, the whole surrounded by turquoise water.
Inside QilaQila (pronounced Ngilagila), also known as the Bay of Islands, the water was calm and despite the presence of a large ugly ship 'The Beast' in the middle, there was plenty of room to anchor. We spotted Manna but their anchorage was too deep for us so instead we dropped the pick in a pleasant cove with a shallower sandy bottom. Peregrine (met in Viani Bay) was our neighbour once again.
Qilaqila from the air (drone photo supplied by another yacht)
Later, Curtis and Julie took us snorkelling; we free dived an underwater cave with stalactites and mites, then Curtis and Franco swam through a tunnel under an island with the most beautiful crimson fern coral lining the entrance, and we finished the afternoon at a coral head teeming with life. It was like those souvenir desk weights that you shake, only instead of fake snow, it was 'snowing' small colourful fish.
Flame coloured fern
QilaQila ranks amongst the most beautiful places I have ever visited and we were keen to explore further so we clipped the kayaks together and went for a paddle.
Preparing the kayaks
The following morning we awoke to torrential rain, time to collect water for our tanks and do some laundry. By mid morning we had more water than we knew what to do with, so I washed all our bedding as well.
Franco scrubbing the cockpit on laundry day
Sevusevu was overdue so we set off early the next morning before the tradewinds got too strong. It was overcast and cooler which was nice for kayaking. We followed the bay around, staying close to shore for wind shelter and stopped on a lovely beach. Franco suggested it was the perfect place to build a resort on Vanua Balavu, a bad joke as there aren't any resorts on this island and long may it last. Despite the time being only 9am, he was ravenous and ate half our lunch.
Nice beach on the way to Daliconi
Franco scoffing
A little later we passed a small village which we didn't remember seeing on the chart. Off the next headland, a turtle was swimming on the surface and it was sometime before it realised we were there. Usually turtles disappear in a flash of mud the second you spot them. The island's airstrip was in the next bay - a word of advice, if you ever fly to Vanua Balavu, pack extra underwear. Around another headland and the village with the red roof came into sight - Daliconi, or so we thought. It was smaller than expected, I hoped we hadn't got this wrong.We got changed behind a clump of mangroves and walked up the beach in our finery towards a house where we'd spotted a man cutting firewood. His wife came out.
"Is this Daliconi?" Franco asked.
It was Malaka. Daliconi was the village we'd paddled past.
Before getting back into the kayaks, Starving Franco finished off the food, both his and mine. It was going to be a hungry afternoon, luckily 'home' was downwind.
Back at the real Daliconi we headed for a quiet beach to get changed but a grumpy guy in wellie boots came looking for us.
"You must come to the main beach." He said. "Get back into your kayaks and I'll meet you there."
The kayaks parked in Daliconi
His sister-in-law who was preparing food on an open fire in a hut on the beach opened up her house for us to change. I returned to the kayaks to get the kava and as I walked back, she intercepted me:
"Hello, can I help you? Are you with the others?" She asked, clearly not recognising me, even though we'd been speaking less than ten minutes earlier.
I grinned: "I am her."
Suddenly she understood, "but you look so different! You are a Fijian lady!"
Alexis, the man who'd met us on the beach was still wearing his wellies (he'd been strimming). On seeing our outfits he disappeared and returned wearing a colourful sulu over his trousers and Bula shirt. He was still rolling his trousers up as he lead us to the chief's house. The elderly gentleman was in Suva so we met with his nephew who accepted the kava and welcomed us to Vanua Balavu. He explained that QilaQila is part of Daliconi's fishing grounds and that all the yachts should do sevu sevu in Daliconi. We gave a donation for the school for which he drew up a receipt.
From left: Franco, Alexis our representative and Kath
Alexis told us we were free to go for a walk and explained where the school was. We strolled along the rough road past the school and when we got back to the kayaks asked Alexis if anyone would sell us fruit. He sent us all the way back to the school canteen but the shopkeeper couldn't be found. The family in a house nearby offered to sell us bananas. The lady told us she'd spent eight months in London many years ago. She explained that all the fruit is on the trees in the jungle gardens and it is best if visitors give a day's notice of what they want so that the families can pick and bring the produce back to the village.
Daliconi School
Franco in front of a field of taro
The banana bunch was large and would probably have fetched around $10 in Savu Savu market.
"How much do you want to pay?" She asked. We gave her $10 and he son gave us $5 change and then an extra bunch of bananas.
Back at the kayaks, Alexis was waiting with a green papaya for which he wouldn't take payment. His sister-in-law Vā (which means '4', unimaginative parents!) offered us freshly baked buns drizzled with coconut milk and homemade papaya jam.
Vā - you have no idea how grateful we were, without your amazing food, we would have been very hungry indeed.
Alexis and Franco with the 'buns with lolo'
Kath and Vā in front of her out-kitchen
We spent another day in QilaQila, by now most yachts had departed leaving just five. Peregrine organised a 'dinghy drift', a new concept for us, and invited all boats to participate. The idea is that you bring a snack to share and whatever you want to drink in your dinghy. The party venue is a drifting raft of dinghies (and hopefully it doesn't run aground). It was a little tricky to chat to the people in the furthest raft but seems to be a way of organising a party without the washing-up liability. The other boats were Peregrine, Manna, Midnight Sun (we met John and Wendy in Puerto Montt, Chile years ago when they were looking after someone else's boat) and a Barbican 30.
Franco checking out the climbing potential
Julie and Curtis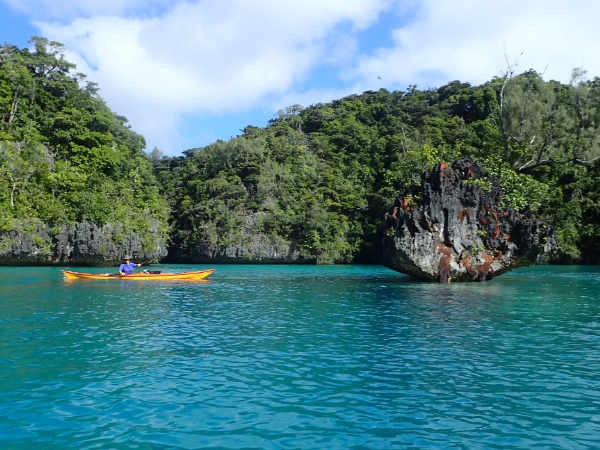 Kath in a lovely cove
Curtis suggested we sail round to an anchorage closer to the fringing reef and, if the conditions were right, go diving from his dinghy. There was great snorkelling off the point but as the tide rose, the anchorage became very uncomfortable and Franco who'd been having problems sleeping for a couple of weeks, was awake all night.
View from the anchorage
Clown fish and anemonies share a symbiotic relationship, they protect each other from predators.
Our dive the next day didn't quite work out as planned as we seemed to go round in circles and ending up in very shallow water. We did see some very large and beautiful reef fish and a white tip reef shark that spent twenty minutes following Curtis and Julie. At lunchtime, in good light, we motored Caramor further around Vanua Balavu to Bavatu Harbour (pronounced 'ymbavatoo').
The next morning we decided Franco needed to see a doctor as he still wasn't sleeping, we would sail directly to Suva, the capital of Fiji the following day. Our last day in the Lau Group was spent with Julie and Curtis. We walked up the hill to the estate, shared Alexis's papaya and went over to Manna for Julie's delicious Cuban chicken.
---