Malbec Country

Caramor - sailing around the world
Franco Ferrero / Kath Mcnulty
Fri 5 May 2017 21:55
When deciding where to visit in Argentina, we had narrowed the choices down to Mendoza or Córdoba. At that point we came across a magazine (as you do) with an advert for a hotel in the Mendoza vineyards and a photo, taken from the terrace, looking towards the Andes. It was stunning. I could just see myself relaxing by the pool, glass of Malbec in one hand, gazing for hours at the mountains. The magazine's write-up for Córdoba was "the second largest city in Argentina"… (we decided to give it a miss.)
We couldn't afford the hotel with the pool but we could afford a bike tour. The Lujan de Cuyo area, just on the outskirts of Mendoza sounded quieter than Maipú and the wine was reputed better. We reckoned we could just turn up and hire a bike from 'Baccus Biking' but first we needed to get there.
Mendoza, like Bariloche has a prepaid bus card system but with a different card. By the time we found somewhere to buy the card (see The Bus to Bariloche, 20 Apr. 2017) and worked out how much to pre-charge it with, it would probably be cheaper to take a taxi.
Our young taxi driver wasn't much of a talker and expressed himself mostly through hand gestures (the Italian blood!).
"What do you think of your new President?" I asked.
"Má o me," he said, (más o menos' in Spanish), making the universal sign for 'more or less'.
"What about corruption?" I pursued.
Our driver made a 'chopping' sign with his hand, which we took to mean that the president was getting to grips with the issue. (I suppose it could also have meant 'chop his head off'.)
At 10:15 'Baccus Biking' looked very shut despite the large sign advertising the opening hours 'from 10am to 1pm' stuck to the door. I started to fret, why hadn't I booked the day before? It would have been so simple. The guy fixing bikes in the workshop opposite reassured us, someone would be along soon.
Miguel turned up a few moments later apologising. He quickly equipped with a couple of good bikes, a map and recommendations on which bodegas to visit.
The cycling wasn't 'the green lanes between rows of vines' I had imagined. Instead we were on a road that could have been in the suburbs of anywhere, with properties fronting onto the road and little to see beyond the property walls. Occasionally we did catch a glimpse of the Andes in the distance.
View of the Andes
We stopped at traffic lights and were joined by two other cyclists. As the light turned green they pulled off straight across the junction, and were nearly run over by a car that had jumped the light. The traffic ground to a halt as nobody could get past and every driver put their fist to the horn in protest. It was cacophony. We felt vindicated, if this is how it is in a tiny Mendozian village, imagine what Buenos Aires would be like!
Irrigation river
Our first wine stop was at Carmelo Patti and Carmelo himself taught us a few good tips for storing wine (not that we have much of a wine cellar on Caramor):
1.
Make sure to ask the vendor if the wine is suitable for keeping.
2.
Only buy from vendors who agree to exchange bottles if the cork is found to be stained or damaged on removal of the collar.
3.
If the cork won't come out of a bottle, heat the neck with a lighter for a few moments.
4.
If you buy wine to keep, take the collar off and check the corks regularly for wine staining or damage. If you spot any, drink the bottle.
We sampled a 2013 Malbec and a 2003 Cabernet Sauvignon but his best wine was a blend which had taken him 45 days to mix. It retails in the UK at £32.99.
Carmelo's wines
Carmelo's warehouse
Next we headed for the Lagarde vineyard, a few hundred metres up the road.
The vineyard was set up by a Portuguese family in 1897 who later sold it to a local family.
The wine making process was very similar to what my mother and I had seen in the Colchagua Valley though I was intrigued by Lagarde's top wine 'Henry' which is aged in the bottle.
Henry is ready, he's off to get a smart label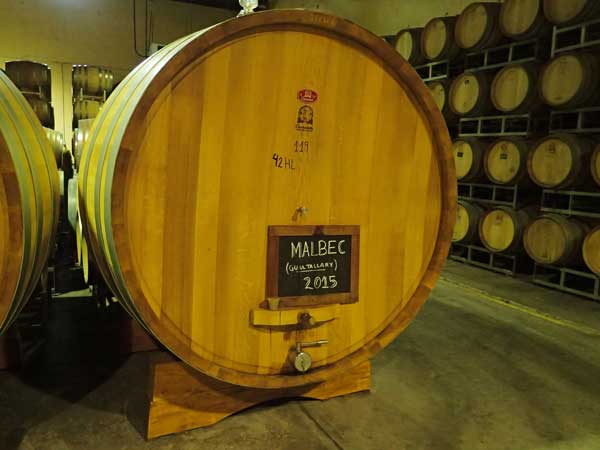 Plenty of Malbec
We also learnt about how they get the bubbles into their 'champagne', a very labour intensive process which includes freezing the neck of the bottle. The frozen plug, which contains any fermentation sediment is then popped out.
At the end of the tour we were ushered towards the very expensive looking restaurant.
"Errr, how much is it?" we ventured.
"Ah, I thought you were part of the tour, sorry it's fully booked." (Euphemism for 'if you need to ask how much it is, you probably cannot afford it.')
We diverted to the 'tasting bar' and, emboldened by our 'Porto' experience, asked to share the most expensive tasting.
Our delightful guide kindly added the Extra brut Blanc de Noir (100% Pinot noir) champagne to the four on the list.
Le Connaisseur
The most expensive wine we sampled was 'Henry' named in honour of the owners' father Henrique. I assumed the anglicised name suggested their main market was the USA but I was wrong, Largarde sells mostly in Argentina. At £60 a bottle, we didn't order a crate. I rather liked the Primeras Viñas 2013 Malbec which is harvested from vines planted between 1906 and 1930. Franco wasn't as enthusiastic.
Left to right: Guarda 2015 Chardonnay, Guarda 2011 Cabernet Sauvignon, Primeras Viñas 2013 Malbec and Henry 2012
It was 3pm and we hadn't had lunch yet so we peddled back to the village for a sandwich. We decided we were wined out so took the bikes back.
Miguel suggested we catch the bus back as it would be a lot cheaper than a taxi. No bus card? Not a problem, do as the locals do when they run out of credit on their card. This consists of asking a fellow passenger to loan you their card and you pay them the fare. It worked a treat.
---