Our last week in Chucuito

Caramor - sailing around the world
Franco Ferrero / Kath Mcnulty
Mon 25 Sep 2017 20:29
The local fiestas had been amazing and thanks to Louisa we had gained a fascinating insight into Aymara society. The horses were becoming used to us, Franco rode Valiente like a pro and Venere no longer gave me the run-around when I went to put her halter on. I was also becoming increasingly convinced that Venus has back pain. She has a reputation for kicking and when she does, her aim is terrifyingly accurate. I could touch her when she was eating, when we were trotting to the field, she (usually) didn't mind having the halter fitted but if she thought you were going to put her riding blanket on, she would orientate her hind quarters like a heat seeking missile about to deliver a lethal blow. The villagers had become used to seeing us around and Franco had made friends with Vicente, a neighbour, who had suggested he should remain in Chucuito and take up with a couple of his lady friends. It is true that Franco had achieved a certain notoriety with the ladies. One had hailed him:
"What have you got in your sack, Sir? Gold and silver?" Alas it was only horse blankets and tackle.
Anja suggested Franco and I join her for a ride. Other than taking the horses to the field, I hadn't ridden and Franco had just the once, to accompany a couple of tourists. Unfortunately when we got down to the field, Nefertiti was out of action, she had a bad cut on her hoof. She was on heat and every time Jantor the stallion attempted to mount her, he stood on her foot. Franco kindly suggested that I ride and he went back to our room to do some work.
As Anja and I set off at the paso (the incredibly smooth fast gate of this particular breed of horse), I noticed Louisa and Eustacio (whom we had met in Pacollo) busy shovelling manure into his lorry for spreading on a field nearby. The heap was large and the work gruelling and repetitive. Anja told me they would be doing the second half on Friday and I suggested Franco and I could help.
Early Friday morning, Franco, Jolene, Jordan and I went down to help load the lorry. It was hard graft but much more fun working as a team. As usual Louisa was labouring hard but Eustacio seemed to be slacking. After a while Franco said something, we were there to help, not do his job.
"Anja is only paying me to drive the lorry. She said you would do the loading." He told Franco, bitterly. Wages are very low in Peru and this meant he was getting even less for his day.
I was furious. Volunteers are not to take work away from the locals. At lunchtime I challenged Anja but she was totally oblivious.
Jordan and Kath riding on top of the muck
Franco and I took a day off, villagers had told us the mountain at the back of Chucuito was a sacred site and worth the walk. It would be a test of how acclimatised we were. Franco steamed ahead, his Chilean pneumonia now fully healed, while I puffed up behind. The climb was steady, with fabulous views of Lake Titicaca. The summit, the sacred site, was an eyesore, covered in broken glass, plastic bottles, rubbish and fire pits. The people of the Andes are deeply catholic though they beliefs also include pre-Hispanic elements such as Pachamama, Mother Earth. I struggle to understand how littering a sacred site (and everywhere else, for that matter) constitutes worshipping the Earth Goddess.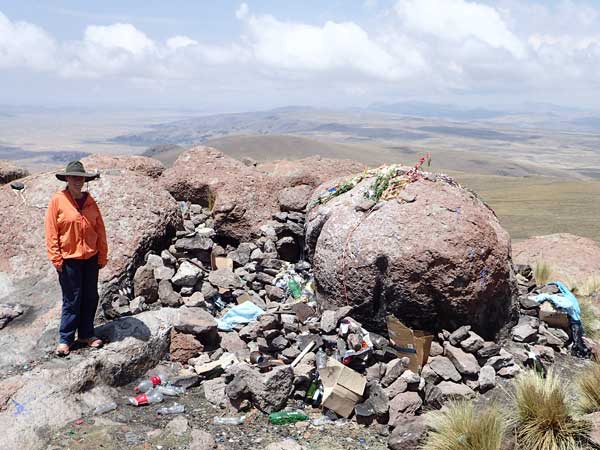 Kath looking disapproving of the rubbish dumped at the top of the sacred mountain
View of Lake Titicaca from the top
Rich farmland at Villa del Lago on the other side of the mountain
Anja and Santiago were planning a trip to the local hot springs.
"If you guys come too, we can hire a private minibus." Anja explained.
We could have filled the bus five fold, everyone wanted to come; staff from the guest house, their family members, neighbours and Santiago's brother Manuel who was hoping to use the hot water to do his laundry.
The hot pool had gone, replaced by two-person baths under a plastic roof. After the beautiful hot springs we have been to in Chile, the tubs didn't appeal so Franco and I walked up to the source. Rubbish was strewn everywhere and when we stopped to admire the view, we realised we were in the toilet area, every stone held a stash of white paper and whatever else under it.
Manuel doing his laundry at the hot springs
Fabulous picnic prepared by Santiago
A pre-Inca burial tower called a 'chullpa' on the way home
Franco, Kath and Jordan with the altiplano stretching into the distance
Anja was concerned that Jantor's hooves were becoming too long so she conscripted Santiago to give her a hand while I held the horse. Now, Santiago is an amazing horseman, I learnt so much from just watching him. One morning Venere was a little jumpy, Santiago merely touched her back and she went into some kind of horse trance. Anja is a good rider but lacks the patience needed to work with difficult horses. She has also decided that the past five hundred years of empirical horsemanship is all wrong and is looking for new ways. She has found a woman in the USA who (according to Anja) is the only person who knows anything about horses hooves so they communicate over the Internet.
It was a fairly painful process for all. None of the horses give their feet willingly. Anja wanted the hoof cut a certain way and mostly supervised, rolling her eyes in exasperation as Santiago struggled with the rasp in one hand, holding the hoof between his knees while not quite achieving perfection.
Hoof management: Franco, Valiente, Santiago, Anja and Elvis the dog
At last all the horses in the bottom field had had their hooves shortened which meant they couldn't be ridden for a week or so. Along came an experienced rider from the USA who wanted to go for a ride. Anja took Valiente and gave him Venere. He mounted but she wouldn't move. They swapped horses, still she wouldn't move. Venere is a gentle horse, she doesn't kick or bite but if she doesn't want to do something, she just stands there pawing the ground with her front foot. Anja admitted being close to beating her in frustration.
A decision was taken, every morning Anja would take Venere out for a ride and us volunteers would take turns to ride with her on Valiente. This sounded good to us. Franco took the first turn, next Jolene.
"Did you enjoy the ride?" I asked her the next day.
"It was interesting," she replied.
They had passed a field where a mare on heat was tethered. Valiente, as any self-respecting stallion would have, stuck his lip out and cantered off into the field for some fun. Jolene, not wanting to be part of a threesome, had her work cut out coaxing him away.
Jolene mimicking Valiente sticking his lip out
The next day, change of plan, no more training for Venere, instead we would cut the hooves of the horses at the house field. This meant none of the horses could be ridden.
We were leaving in a few days time and I wanted to do something helpful for Anja. The recycling had been piling up in the shed and was beginning to smell. She had mentioned that no one was coming round to collect it anymore. I went to the village council to enquire:
"We recycle everything, just give it to the van that drives by on Tuesday mornings." The officer told me.
The van doesn't recycle, it collects rubbish which is then half burned at the rubbish tip. It drives by at 6:45 with its horn blazing and the first time we heard it, Franco was all for telling them off about such anti-social behaviour. We soon realised that 6:45 isn't early in Peru, nearly everyone is up by 5am.
I waited outside with my mountain of rubbish and as the van appeared at the top of the street, the lady two doors down came running over to ask if I would give her the plastic bottles as she could sell them. I was delighted to.
Louisa arrived a little later.
"Who got rid of the rubbish?" She asked, giving the thumbs up sign. "Anja will be furious, she was going to sell it." She added, grinning widely.
"It's been there a month," I protested.
"No, three months," Louisa corrected me.
The next morning at 7am, Louisa arrived with Nagore in tow. She was a new volunteer, from the Spanish Basque Country who has spent the past few months travelling in Columbia.
"She will be sharing Jolene's room," Louisa informed us. It was the first Jolene had heard about it.
Later Jolene asked Anja why she hadn't mentioned it.
"Because it was obvious you would be sharing." She replied.
There was a spare room upstairs but Anja didn't want to use it as she was hoping to charge for it so instead she started clearing out the shed. Santiago's brother Manuel would be moved from his room into the shed. No mention was made of the missing rubbish.
My birthday was in a couple of days so I attempted a Victoria sponge cake. It was a poor sad thing that came out of the oven. It had risen, briefly, then the whole of the centre had collapsed, leaving a slightly raised rim. We ate it anyway. Baking at this altitude isn't without its challenges. Luckily we stumbled across a bakery in Puno that made half decent gateaux so Franco ordered one as a present.
Combined Santiago's family get together and my birthday party
Birthday girl
In Peru, after blowing out the candles, you have to bite the cake - I wasn't keen but Louisa was insistent
Off course, Louisa wasn't to be trusted!
Nicole (Louisa's daughter), Jolene and Nagore looking on amused
Sunday lunch (from left to right: Franco, Louisa, Kath, Jolene, Jordan and Nagore)
---