Day 87 A giant leap for Caramor

Caramor - sailing around the world
Franco Ferrero / Kath Mcnulty
Wed 9 Nov 2016 02:56
43:00.93S 72:48.63W
Today we were going to play it cool. Other mornings we have set off fairly early hoping to find wind. Either there was none and we motored or it was very light and sailing became a frustrating game of patience. Usually by late morning the land had warmed up creating a light sea breeze, perfect for sailing.
We were going to wait for the wind before setting off, it wasn't far to the next anchorage. It didn't take long, by 10:15 the wind was rippling the water in the bay, tempting us to come out and play. The anchor was nearly up, just a few metres of chain to go when a couple of kayakers turned up. Tito and Maria live in the house on the shore, they are scientists and are studying otters and dolphins.
Had they arrived half an hour earlier we would probably have stayed a day or so and got to know them, but the wind waits for no man (or woman) and our motto is 'make way while the wind blows', the nautical version of 'make hay while the sun shines', so we left.
A good look-out is necessary to avoid the many floating logs
We nearly missed Bahia TicToc, our destination, as we arrived before we had expected. Caramor was going well with the wind on the beam and it had only just gone 12 noon. It seemed a shame to waste such perfect wind but the next possible anchorage was a long way north. To get there before dark, we would have to keep up a speed of 6 knots. It was a gamble but we decided to carry on.
Racing along in the Golfo de Corcovado
Looking back the way we had come, I thought I saw the City of the Caesars, an enormous golden dome shimmering above the clouds.
The 'City of the Caesars' myth was born when Francisco Cesar and his men returned from exploring the Rio Paraguay in 1528 with tales of a city of gold and silver in the middle of a forest. Rumours located it in Aysén and many men went looking for it but a few were convinced the story was an Indian joke to fool the white invader.
My optical illusion (for that is what it was) was the large snowy volcano we passed yesterday, tinted gold by my polarised sun glasses.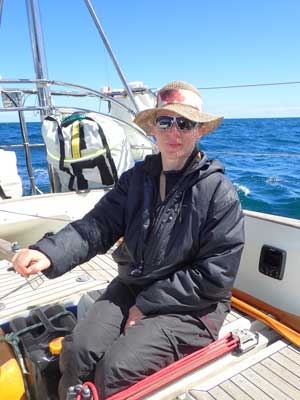 Kath after many hours at the tiller
The coast still looks pristine, mountains and forests and, so far, no signs of agriculture. There aren't any fish farms either, the Golfo de Corcovado is too rough. The only boats we saw was a flotilla of eleven fishing boats.
The coast
The wind didn't let us down and we cruised into the Puerto Auchemo anchorage with half an hour of daylight to spare. A mussel farm now occupies a large part of the bay and a fishing boat was on a mooring. As we prepared to anchor close in and tie a line to shore, a man appeared on deck and gestured for us to pick up the other mooring buoy close by. On inspection, it looked heavy enough to hold an aircraft carrier so we waved our thanks and saved ourselves a lot of work.
Our total today was 62 nautical miles and we averaged 6.2 knots.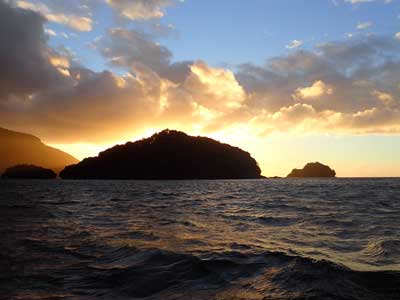 The sun was setting as we turned into the anchorage
---