Malibu with ice and a slice of orange please

Caramor - sailing around the world
Franco Ferrero / Kath Mcnulty
Mon 10 Oct 2016 01:48
Exhausted, with headaches caused by noxious fumes, we had consulted the three cruising guides and decided to head for Puerto Malibu. Once the engine was fixed, we longed for an alcoholic cocktail, a deserted sandy beach and a power shower.
Firmly anchored in the pretty bay, we realised our mistake; 'Malibu' was in fact Millabu. It is amazing how tiredness affects your thinking and vision.
We slept fourteen hours, tidied up Caramor and went for a walk on the beach.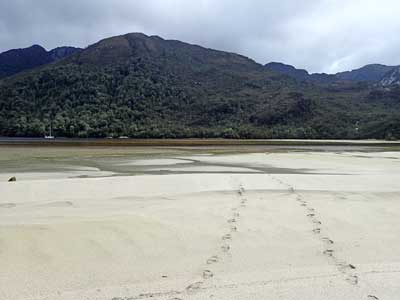 First sandy beach since the Falklands
At either end of the beach, rivers deeper than our welly boots flowed into the bay, curtailing our walk. 'Swallows' flitted over the water chasing insects, 'black birds' called to each other from the trees, overhead a couple of condors circled and on the beach, these two strange 'ibises' made clanging noises.
Buff-throated clanging ibises (our name) - can anyone identify these?
A bit of a path led into the woods so we followed it. "Could it have been made by guanacos?" I wondered. Maybe not, guanacos don't tie red and white tape to the trees. It was a fine obstacle course and led to a superb vista.
Cascada Salmon
We continued scrambling up the slope and emerged onto a series of rock shelves. A small stone cairn seemed to suggest we were going the right way but soon we were deep in the undergrowth and the path petered out. It was getting late and threatening to rain so we turned back.
Kath delighted with the power shower
We got back to the woods by a slightly different route. "You know Franco, I bet you could walk around in circles for years in here and never find your way out." I exclaimed whilst ducking under a branch. Franco told me a story about a woman who stepped off the path to take a piss in the Cascade Mountains, USA and was found months later, having starved to death. I jumped into a dip, clambered between large tree roots and emerged onto what I thought was the path, only to realise we had passed by that spot just a few minutes before! We soon found our way back to the beach but the point was taken.
In the bay a couple of female sea lions were playing (or fishing) hard, they were leaping in and out of the water just off the shelf where the river water enters the sea. At first they were oblivious to us paddling by, then two curious heads appeared and they followed us back to Caramor. One of them had a nibble at Franco's oar.
From Puerto Millabu we will head straight for Puerto Chacabuco, the nearest locality where we will be able to renew our soon to expire visas. To get there, we have a choice of routes but the wind direction will dictate which one we take.
---