Caramor still in Whangarei

Caramor - sailing around the world
Franco Ferrero / Kath Mcnulty
Sun 14 Apr 2019 09:30
Time whooshes past and we are still in Whangarei.




From "let's work a 8-5 five days a week", it became six days a week, finishing late and now we are working all day every day and there is still no end in sight. Still, we are pleased with the work and Caramor will be an even better boat once we have finished.




At least there are the Sunday evening BBQs to look forward to.



Our friends Nancy and Art in the front + a whole load of cruisers staying at Riverside Drive Marina
A few weeks ago we enjoyed a visit from Myfanwy and Peter. Myfanwy is Franco's friend in the USA Glyn's sister. We last saw them five years ago, the week before we sailed from Caernarfon when they called by Tan y Coed and helped us put the finishing touches to the house so that I could rent it out.
Myfanwy, Peter and I spent a morning exploring nearby Abbey Caves.
Myfanwy and Peter rolling up their trousers
Glow worms attract insects with their light, then capture them with their sticky filaments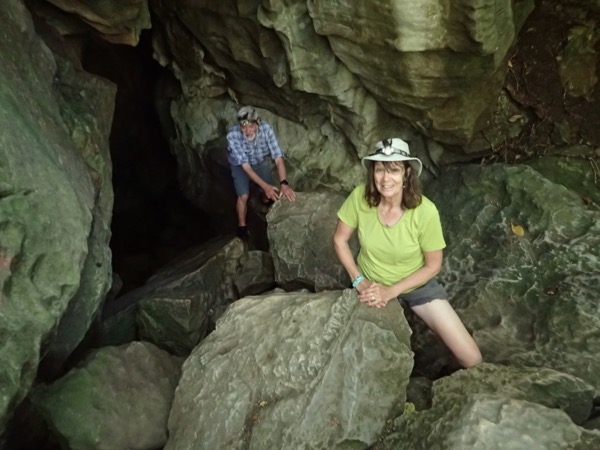 Myfanwy and Peter emerging from Organ Cave
Franco didn't join us, instead he went over to Steve's house to make a waterproof box that will sit on the deck under the boom and house the diving compressor.
Compressor box in progress
In the afternoon, we drove up to Waipu Forest to see the giant kauri trees and joined an evening walk, hoping to see wild kiwi. Summer is over in New Zealand and I had expected the campsite to be quiet. This was not the case and 16 other people had booked onto the walk. Did we see a kiwi? Not a chance.
kauri
The enormous sand dune at the entrance to Hokianga Harbour on the west side of Northland
Franco, Myfanwy, Peter and Kath with Jumbo and Caramor in the background
Meanwhile Glenn finished patching up Caramor's keel. He also repaired my kayak, I'd cracked the gelcoat when I hit a coral reef in the dark in Fakarava, but there was not point taking a photo as you can't see where the repair is, as it is so well done!
Caramor's keel ready for painting
Then it was time to return to Auckland to drop Franco off at the airport for a flight to Perth, Australia.
The modern landscape of Auckland
Mick, Franco's brother (no4) lives near xxxx and his son Rocco was getting married. Mum was flying over, a great opportunity to all get together.
Mick and Jean (mum) at the café at the Araluen Botanical Gardens that she used to run more than 50 years ago
Franco and Mick
Rocco's big day
Meanwhile I had a shock when I got back to the yard at Riverside Drive Marina. Where was Caramor? I'd been away just one night, surely they hadn't moved her?
All was well, Caramor was still there, hidden by an ugly little motor boat
I had a lot to do while Franco was away; new cork panels, painting, wiring and new bed cushion covers. I was lucky that Brian, our new friend introduced to us by Phil and Lynda, was going away for a week and let me use his workshop and house. Getting away from the dirt to a beautiful garden was just bliss. The great thing about living in a house, is that you realise all the things you miss having on a boat!
Starting to go white
The new radar wired up and working
On the Saturday was the OCC Farewell Party that Mary organises. Over thirty people came.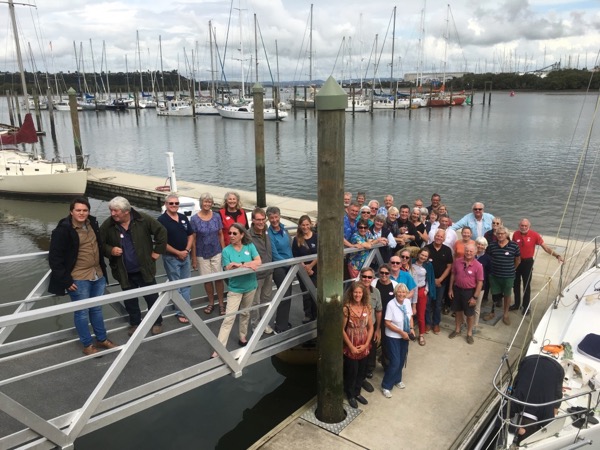 Franco got back and it wasn't long before he was looking exhausted.
Franco taking a much needed break
On Friday we had a short reprieve when our friends Nick and Fran from Wales turned up. They have been touring New Zealand for the past two months and called in on their way back to Auckland. We enjoyed a pleasant evening with them at the excellent Turkuaz Turkish Café, our favourite in Whangarei. Unfortunately for us, while they went off hiking on Bream Head, we continued sanding the deck, in preparation for a new all singing all dancing anti-slip deck coating.
Franco, Kath, Fran and Nick
We have no departure date yet, indeed, we have just applied for a three month extension to our visas.
---