Sitka spruce of the Oregon coast

Caramor - sailing around the world
Franco Ferrero / Kath Mcnulty
Fri 14 Jul 2017 21:24
46:11.05N 123:50.31W
Our holiday was running out, it was nearly time to say goodbye to Glyn and Sue. Our three weeks in Oregon had been fabulous; in addition to our trips to the wilds, we had shared Glyn and Sue's 35th wedding anniversary (which mostly involved eating a lot of delicious food), seen two interesting theatre performances, enjoyed a fun BBQ at Kathleen and Susie's house, got fit at the climbing wall and lost ourselves in the biggest book shop I have ever been too.
The first play was by a group from Islamabad. It was thought provoking and stereotype shattering.
The second was called 'Come to the table Mike Pence'; Eve, Salome and Queen Elizabeth I, three very influential women, invite Mike Pence, the vice-president of the USA to join them for a feast and to discuss some of his controversial policies. Needless to say, he fails to show up. The delivery was exciting and inspiring but the play became a little strange when Queen Elizabeth I turned into a man and started throwing food at Eve and Solome!
We had time for one more expedition: to the coast to see the native Sitka spruce.
We followed the Columbia River to its mouth at Astoria. We then headed north across the bridge to Long Beach where we camped by the Pacific and went for a cycle ride in the dunes.
Columbia River mouth at Astoria
Long Beach through the sea fog with Sitka spruce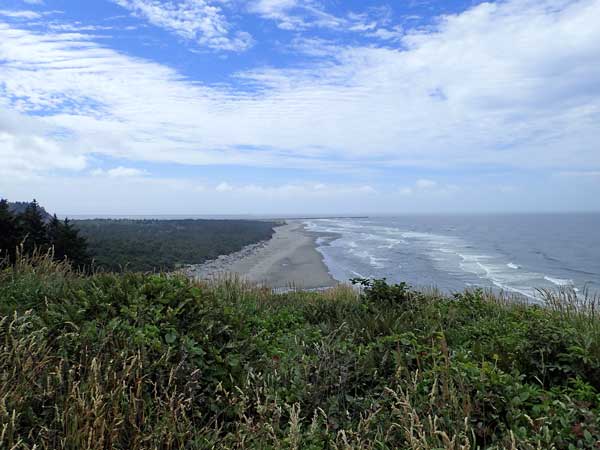 Long Beach the next day in the sunshine
Bald eagle
Sue producing perfect camp-baked corn bread
Kath preparing strawberries for dessert
Large natural growth Sitka spruce
The beach where we had breakfast
Franco and Glyn taking 'the British need for personal space' a little too far
Oregon coast
Oregon coast
Sitka spruce
Franco and Sue providing scale for a Sitka
---