Penguins

Caramor - sailing around the world
Franco Ferrero / Kath Mcnulty
Wed 19 Dec 2018 10:13
There is one aspect in which South Island is nothing like Scotland: penguins.
As we all know, except one lady in North Wales, there are no penguins in the UK, not even in the northern hemisphere.
One afternoon, Conwy RSPB received a phone call:
"I'm on the beach and there's a penguin. You must come and see it now!"
RSPB warden: "I'm sorry madam but you are mistaken, there aren't any penguins in Wales."
The woman was insistent and finally hung up, frustrated.
A few moments later she rang again: "I told you you'd miss it, it's flown away!"
In New Zealand, there are six species of penguins, some of which are endemic (found nowhere else) and another ten species occasionally visit, including the emperor, royal and king. You would have thought that was plenty but one tour company offers tours to see 'white flipper penguins', as far as I can work out, this is a new fantasy species. Although most penguins breed on predator free islands, a few small populations frequent the main land. In Milford Sound, we saw Fiordland crested penguins.
In Kaka Point we booked into a small friendly campsite, did our laundry, and headed for Nugget Point at the end of a small peninsula.
Nugget Point
In the bay before the lighthouse, there is a hide from where you can sometimes observe yellow-eyed penguins (Megadyptes antipodes) returning from a hard day's fishing. Dogs are banned from the peninsula and from November to January, the beach is out of bounds to humans because it is nesting season. We arrived around 7pm and tripped over a dog on a lead, then we met a couple of guys in wetsuits with snorkelling gear arriving back from the beach where they had been diving for abalone. We walked down to the hide, but when we looked out through the slot, all we could see were three idiots taking selfies with a sea lion. The sea lion was growling and baring its teeth but they took no notice, maybe they thought it was a friendly smile. They then headed back to the car park but went the wrong way, tramping all over the area where the penguins have their burrows. We were becoming increasingly annoyed. The New Zealand Government does a brilliant job trying to educate tourists, unfortunately more is needed.
An hour later, as the light was starting to fade, our wait was rewarded. One after the other, a couple of penguins returned home.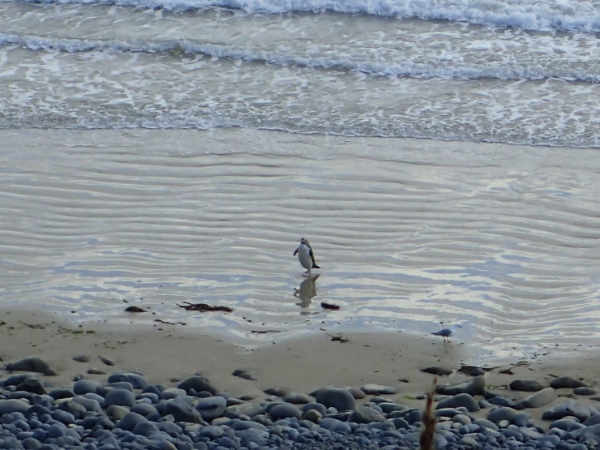 Yellow-eyed penguin
Yellow-eyed penguins measure 70cm tall and weigh 5kg and are the largest living in a temperate zone. They are unique to New Zealand and very shy, even hiding their nests from their fellow penguins.
The next day we headed for the bright city lights of Dunedin, named after Edinburgh (more Scots!). The first thing we saw on parking Jumbo, was a brothel. The colourful suggestive shop front had a couple of large banners: "under new management" and "recruiting new ladies". Since we weren't down some dark alleyway, we concluded that prostitution must be legal in New Zealand.
Walking down the main street, at times we wondered if we hadn't somehow been zapped back to the UK.
Church in Dunedin
Red double decker bus
Our shopping done, we found a free campsite and a beautiful beach in a village called Brighton, just south of the city. We tried surfing but the waves were too short and tumbling.
Brighton
By now we had penguin withdrawal symptoms so we booked a little blue penguin tour with the Royal Albatross Centre on the Otago Peninsula. In Portobello we treated ourselves to a delicious meal at '1908 Café' before driving out to Taiaroa Head at the end of the peninsula.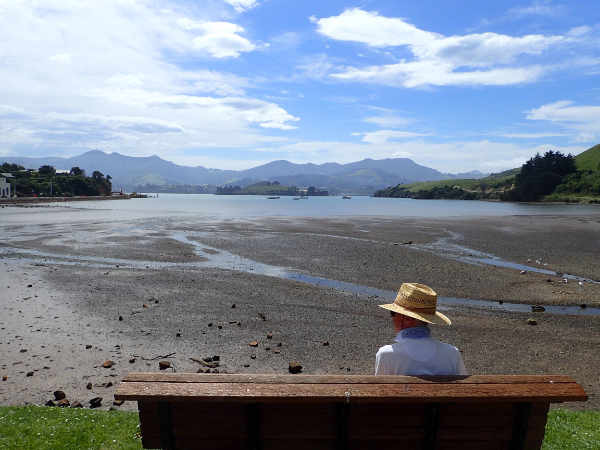 Otago Harbour from Portobello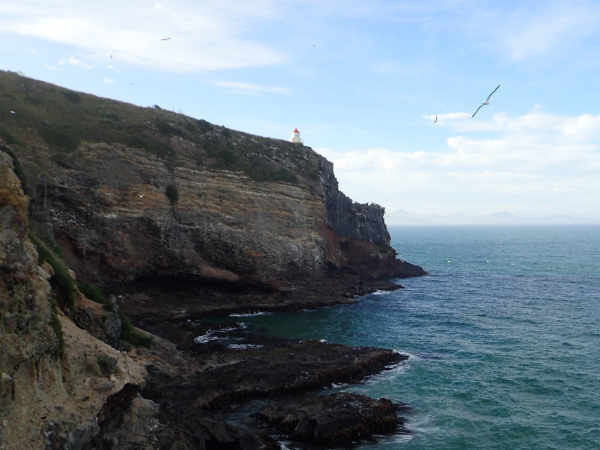 Lighthouse on Taiaroa Head (with an albatross)
Otago Harbour
We arrived just in time to see several royal albatrosses returning to their nests. We've often seen albatrosses at sea but from the shore, next to other birds we are familiar with, made us realise how big they are.
Albatross and black-backed gull
Red beaked gulls were nesting in droves and the chicks looked like fluffy balls.
Red beaked gull and chick
The blue or little penguin (Eudyptula minοr) is the smallest penguin in the world, 25cm tall and weighing just one kilo. Once widespread they are now increasingly rare, attacked by unleashed dogs and other predators such as cats and stoats.
The blue penguin tours are a joint venture between the Otago Peninsula Trust who run the albatross centre and the Maori community association who own Pilots Beach. At 9pm staff from the centre led us down to the observation platform on the beach. We didn't have to wait long. A patch of water off the beach started to look strange, it was where the penguins were gathering in a 'raft', for safety they come ashore in a group. Later we were amused by one straggler who landed on the beach and set off in the wrong direction, causing a great deal of commotion among the gull population roosting on the beach.
As the blue penguins waddled up the slope, the lead penguin kept turning back and pecking at its followers. When they reached the platform where we were stood, they paused, then all went their separate ways, disappearing into burrows under the platform and in the long grass.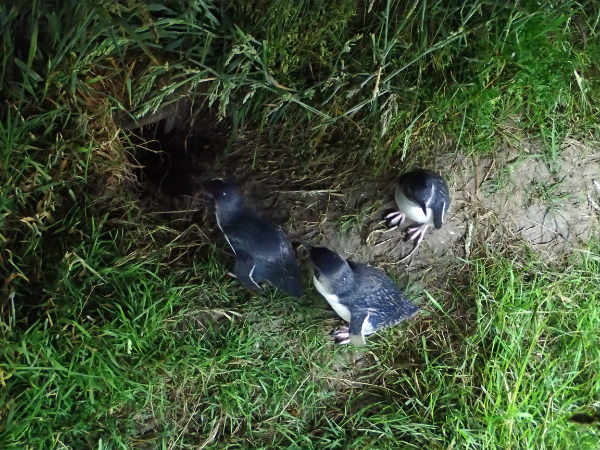 Blue penguins
The news at Pilots Beach is good, far from damaging the penguins, the tourism initiative has helped educate and raise awareness, it has also brought money into the community. As a result the number of breeding pairs on the Otago Peninsula has steadily been increasing.
The red lights were switched off, it was time to go. We'd thoroughly enjoyed watching the little penguins.
---