An excursion to Santo Antão

Caramor - sailing around the world
Franco Ferrero / Kath Mcnulty
Thu 5 Mar 2015 22:49
Santo Antão is the second largest island in Cape Verde just ten miles west of Mindelo. It is the furthest west of the archipelago and exposed to the full force of the atlantic swell, and there is nowhere safe to leave a boat at anchor. The pilot recommends an excursion to the island by ferry.
The slow ferry leaves at 8am and takes one hour, to catch it we would have had to leave Caramor in the dark so we opted for the catamaran which departs at 9:30 and makes the crossing in 30 minutes. Every written source of information relating to the ferries, mentions sea sickness so we were duly warned.
We were fewer than thirty passengers on board, eight of us were tourists from european countries and none of us were sick, of our cape-verdean fellow travellers, one looked green before the ferry departed, he sat with his lifejacket on until the cabin assistant insisted he take it off. No less than three quarters of the rest were seasick, some remained dignified while others collapsed in a pile of vomit, wishing they were dead.
Each ferry has a dedicated member of crew whose job it is to hand out plastic bags, and collect full ones at the end. Our lady went beyond the call of duty offering compassion and sympathy to those who were ill.
We disembarked. Outside the main doors we could see friends and family waiting for their loved ones. As we got nearer, the crowd grew more excited, I glanced behind us but we were alone. As we stepped out into the open I realised they were all there to welcome US!
The incredible welcome in Porto Novo, Santo Antão
The cacophony was deafening as they ran towards us. "Tranquilo, tranquilo" shouted Franco. For a second they stopped "tranquilo" they repeated to each other and then they were back "you take my taxi" "where you want to go" "I give you good price". The process of elimination was easy, anyone thrusting a laminated map of the island into my face was out of the game and that was nearly all of them. We stomped towards the 'aluguer' minibuses, one of them had a family of four waiting inside. "Where is this one going?" "Ribeira Grande by the coast road". Since the coast road was built, there is no longer any public transport over the mountain road, we would have to hire a private bus for 4,000 Escudos if we wanted to visit inland. Ribeira Grande by the coast road is 400 Escudos each. The french family told us they were holidaying in Cape Verde but live in Casablanca, Morocco. They had travelled over on the early ferry and had been waiting in the aluguer for an hour as none of the drivers would leave without a full load before the arrival of the second ferry!
View from the coast road - nothing grows here
Once in Ribeira Grande, our driver brought the price down to 3,500 Escudos for the mountain road or 4,000 including Ponta do Sol, the fishing village in many of the post cards. He spoke reasonable French which was a bonus so we struck the deal.
Ribeira Grande (Big River), no water in the river bed but crops are grown to the side
Ribeira Grande town, view towards the coast
Ribeira Grande town, surrounded by steep mountain slopes
We stuck our heads round the door of a small house that seemed vaguely like it might serve coffee. "You want coffee? we have coffee and cachupa" said a voice in English. "Coffee will do thanks." Franco went to the bar and ordered two milky coffees. The waitress smiled then looked nonplussed. Milky coffee is not a stock item. She called upstairs to family and eventually we had two cups of coffee in front of us. Meanwhile I got talking to the English speaker, the "café" owner. "What's the difference between 'Santo' and 'São'? why is it Santo Antão but São Vicente?" "Santo is S.A.N.T.O and São is S.A.O - simple." "Are you from here?" "No, I have two bedrooms upstairs." At this point he asked: "Do you speak French?" We got on a lot better in French. He explained that although all Cape Verdeans speak Creole, each island has a very different accent, also Santo Antão creole is closer to Portuguese whereas Santiago has more words borrowed from African languages, he said that he would sometimes struggle to understand people from Santiago. He offered that if we needed transport to visit the mountain, his brother could drive us. Franco enquired about the price, 4,000 escudos for the mountain road.
We decided to do lunch in Ponta do Sol.
The small natural harbour at Ponta do Sol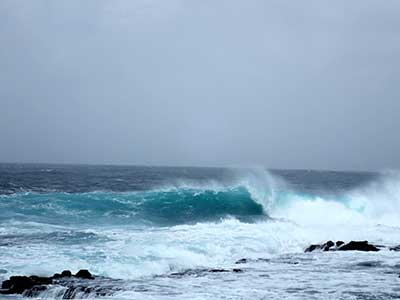 The way in is littered with reefs
The Ponta do Sol fishing fleet, the first three miles offshore can only be fished in these type of boats
The menu read "chicken 550, catch of the day 800, cachupa 800". Cachupa is the staple food, a dry stew of split maize and beans, sometimes a few bits of meat or sausage are thrown in for extra taste, it is usually served up with a fried egg or fried fish. We left the tourist restaurants to the mugs and wandered into town where we found Nina's Bar, brightly painted and offering food from 9am until midnight. We ordered cachupa with egg for 300. A small child was sent out to buy eggs and hey presto!
Franco about to tuck into a plate of cachupa
An older woman came in with a baby, she said to me "Mummy, mummy" pointing at me then at the child. I was most confused, it definitely was not my child. I soon worked out it was "money" she meant to say.
Later, in the street, an old man approached me and asked something in creole, he repeated it louder, then closer, I still couldn't understand. I found a translator, he told me amused "he wants you to give him money to buy a medicine". Franco thinks "medicine" is a euphemism for grogue (rum).
We found our driver and set off up the mountain road. It was worth 4,000 Escudos and speaks for itself in the photos though it is a shame it was so hazy.
Franco and our driver. The cobbled road is built on a volcanic dyke, a ridge of hard rock which is eroding more slowly than its surroundings
View to the right
View to the left
Capturing every drop of water and every grain of soil
I never imagined that they could be a pine forest on these barren islands
A volcano crater, intensively cultivated
An amazing cobbled road
Small furry donkeys are used to transport agricultural produce
In the rain shadow, the transition to desert is very quick
A trench is dug round every acacia shrub to capture moisture, we think the main reason for the shrubs is for fuel and goat fodder
We got back to Porto Novo an hour before the ferry and wandered round. Everyone was friendly and welcoming.
Kath sitting under a tree - the best remedy for sea sickness
Leaving Porto Novo
We caught the slow ferry back, we went through the plastic bag routine again and the cape-verdeans excelled once more. It is fair to say that stabilisers must have been the optional extra that the ferry company couldn't afford, the roll was at least 20 degrees. I used to think that the original Portuguese settlers must have been very poor indeed to want to break their backs cultivating this arid land, I now have a new theory: the original Portuguese settlers were those that were so seasick on the crossing from Portugal that they could neither face going further to Brazil, nor returning to the homeland. The seasick gene has been passed down through the generations.
Kath
N.B. I have since found out the difference between 'São' and 'Santo'. Saint names starting with a consonant take 'Sao' as in São Paulo, Sao Vicente whereas names starting with a vowel take 'Santo', Santo Antonio, Santo Antão.
---