Day 79 Four seasons in one minute

Caramor - sailing around the world
Franco Ferrero / Kath Mcnulty
Tue 1 Nov 2016 01:38
44:45.96S 72:54.25W





A cold day today. As we sailed, we progressively added layers until we were wearing all the usual winter gear. The wind blew from behind - hurrah! and we made good progress under genoa only. We were blasted by hail, scorched by the sun, battered by heavy downpours and buffeted by strong gusts. We sailed past a small village and later, groups of houses for fish farm staff.



Atmospheric scenery
Fresh snow has fallen on the mountains
The Carretera Austral, the main, or should I say, the only road down most of the length of Chile (it ends at Villa O'Higgins, more than 200 miles north of Puerto Natales) passes close to the end of this channel. This means easier access to markets and as a result there are many fish farms in the area. This afternoon we noticed a change in the landscape, instead of the continuous forests we are used to, there were gaps in the canopy. The pattern reminded us of alpine meadows. Could the change be due to grazing? It seemed unlikely to be cattle or sheep as there are no ranches nearby, so maybe alpaca? (We haven't seen any since Tierra del Fuego.)
Rain and sunshine, all four seasons in one minute
Around 4pm we arrived at our anchorage, we had two to chose from. Through the binoculars Caleta Oro Verde looked congested with salmon farming structures so we headed for Caleta Morrás which is very pleasant. On the shore, there is a small well kept house with a lawn, possibly a holiday home, the first we have come across. The slope behind has the same distinctive appearance that we saw on the opposite shore earlier today. Close up, we were able to see that the gaps are not grass, they are wooded, possibly young trees or shrubs. It seems likely that the gaps once contained valuable timber trees which have been harvested.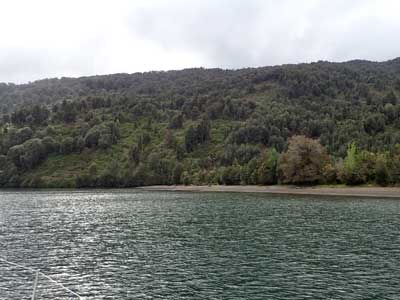 The slope above the anchorage with gaps in the canopy
---