Go Niue!

Caramor - sailing around the world
Franco Ferrero / Kath Mcnulty
Fri 31 Aug 2018 22:01
19:03.2S 169:55.4W
Was there room at the inn? We'd emailed ahead but the answer had been vague. Then a sail appeared in the dawn light and a yacht sailed away.
A dinghy was racing towards us.
"There's just one mooring left! I'll pass you the line."
It was Scott from catamaran Muskoka, we'd met briefly in Fakarava. Him and Laurie are friends of Larry and Mary Ann that we met in Valdivia. He hadn't recognised Caramor but he'd figured he would probably know most yachts pulling into Niue.
Manna was on the next mooring and Curtis, her skipper, offered us a lift in to meet with the Niue customs and immigration officials.
Paper work complete, we wandered into town. Franco and I were still a bit dazed from the ten day crossing. At the tourism office we were given an excellent map and booklet about Niue. The tourism slogan was 'Niue - Go!' It seemed a good one.
After a short siesta, we went snorkelling just a few metres from the boat. The water in Niue is incredibly clear because there are no streams or rivers pouring sediment into the sea. The island is a flat block of limestone risen out of the sea and the rain just percolates through the rock.
Surgeon fish, thus named for the two retractable 'scalpels' covered in poisonous mucous either side of the narrow section before the tail. The black and white striped fish are 'convict surgeonfish', the spotty ones are 'spotted surgeonfish' and the colourful one on the left is a 'striped surgeonfish'. The striped surgeonfish seemed to resent the invasion by the large group of convicts and kept chasing them away.
A lone white tip reef shark glides past
Franco 'flying'
Wednesday: humpback whales surfacing just next to Caramor woke us up at 6:40.
Straight after breakfast, we loaded the bikes into Arnie (the dinghy) and paddled to the wharf. We pedalled ten kilometres avoiding pot-holes, to Talava Arch on the south-west corner of Niue. All the way along the road were graves; old, new, some simple, others extravagant, most close to houses, but others seemingly isolated.
A well tended grave by the side of the road
Kath on the road north
At Hio Café we stopped for an early lunch. The smoothies were delicious but the fish platter was a little unexpected, everything was deep-fried in batter!
View from Hio Café
Franco walking through coastal vegetation
The path took us through dry caves full of stalactites and stalagmites to an arch pounded by the surf.
Franco in the cave
In the cave
Talava Arch
Back at the bikes we grabbed our snorkelling gear and descended to Matapa Chasm. The water was fantastically clear but there was a strange shimmering effect between the warm layer of sea water below and a layer of cold fresh spring water on the surface. Franco wanted to stay at the bottom of the chasm where it was warmer but his lack of gills forced him back to the surface every time.
Matapa Chasm
Starfish
Parrot fish, they have sharp 'beaks' to nibble at the coral
We started on our return journey and stopped off at Limu Pools. These were exquisite. Ignoring the two main pools where a handful of sightseers were wallowing, we followed a narrow path around a boulder and found a third pool with an arch leading to the outer reef.
Limu's third pool
A couple of black and white sea snakes were exploring nooks and crannies looking for food.
Black and white sea snake
At the time, although we knew that their venom is dangerous, we believed their mouths were too small to bite humans. We later found out that they eat moray eels and, like other snakes, have an articulated jaw, so biting a human would pose no problem. Luckily they aren't agressive.
Through the arch, on the outer reef, the surge flushed colourful fish into the inner pool, they always looked a little surprised.
Back in Alofi, we collapsed at the tables outside Gill's Indian Restaurant and ordered mango lassis. We quickly decided to shelve our 'going out for dinner after a shower' plans and ordered a curry instead. We soon got chatting with the friendly New Zealand couple at the next table.
Thursday: Franco was working when Scott called by for a chat.
At 11am we went ashore and cycled over to Magical Niue, the dive centre. We were kitted out with fins, wetsuits and flotation jackets then returned to the wharf where the dive boat was launched using the small crane. James, our dive master from Nebraska, asked which was our boat. He explained he would tie up to Caramor because we were sitting on top of the best dive site. I thought he was joking, surely we won't paying all that money to dive where we could go snorkelling?
Dive boat tied up to Caramor with Jemi, the skipper taking a nap
Of course it was very different. We swam through a tunnel and followed a chasm out to where the island shelf drops off into the vast depths of the ocean. Our second dive was into a series of caves. In one of them we surfaced into an air bubble and as the water surged in and out, the pressure changed, making our ears pop.
That evening we joined the crews of Manna, Muskoka and Anelie for a delicious meal at a restaurant called 'Falala Fa'.
Niue is a happy friendly place and Niuean is very much alive and used, though everyone seems to speak very good English.
Friday: I got up at 5am to go to the market. Julie from Manna was already there. Of the three bunches of bananas, two were plantains and already sold and the third was not for sale. Otherwise there was taro, coconuts, papayas and tomatoes. I bought the first three as Franco is not much interested in tomatoes. Also available were 'coconut porridge' a rather gloopy concoction made from coconut and manioc flour, 'taro leaf in coconut milk' which tasted a bit like spinach, 'pineapple pie' with pineapple from Del Monte, a ' taro, coconut and banana pudding' steamed in a banana leaf which tasted of nothing much and sank like a brick when we fed it to the fish. A few ladies were busy weaving bowls and hats.
Julie said to me, between spoonfuls of coconut porridge: "It's amazing, they are selling objects aimed at tourists but the market finishes by 7am when most visitors are only just thinking about getting up!"
I got back to Caramor in time to pick Franco up for our 7:30 am dive. This time we explored a reef with very beautiful coral formations. At one point I lost a fin, it felt very strange losing propulsion in one leg. It didn't have time to drop far before I caught it but I got a bit behind while putting it back on. Franco kept an eye on me from about 6m above. When I caught up with the group my ears felt a bit strange.
Our second dive was quite extraordinary, we followed a labyrinth of deep chasms, some very narrow. Down at 12m my ears felt fine but when we surfaced, they became quite painful, somehow they hadn't recompressed. (Usually the problem for divers and their ears is going down, not coming up.)
Franco and I invited the crews of Manna and Muskoka for a pizza night. I had some mascarpone, bought in French Polynesia and wanted to make a tiramisu but nowhere on the island were there any eggs for sale. Cockerels and hens with broods of ex-eggs roamed everywhere but fresh eggs, there were none. We went for coffee at Crazy Uga Café (Uga, pronounced 'unga' is the land crab) and were surprised to see that the menu featured many egg-based items. Franco turned on his charm and returned with three eggs, mind you they cost their weight in gold - £1 an egg.
It was a fun evening and our friends sailed away the next day.
Saturday: The alarm went off, we didn't move. I was still partially deaf, though the pain in my ears had eased, I had conjunctivitis in both eyes and the coral cuts on my hands were becoming infected. Franco was wheezing and coughing. We would miss the village fair down the coast but it was time to slow down, we were exhausted.
It seemed we had both caught some strange bug that congested our chests and sinuses with phlegm, but otherwise had no symptoms. This was why my ears had hurt. It would probably pass in a few days.
At 4pm, we had an appointment on the wharf so we staggered in. Keith, the Commodore of the Niue Yacht Club, and port officer for the OCC came down to meet us. The first thing he told us was that he knows nothing about sailing. (Though he did sail once in the 1960s and so can tell his 'port' from his 'starboard'.) He does, however, know a great deal about moorings as the Niue Yacht Club provides the amazing facility of well-serviced moorings. Without these, sailing yachts would seldom stop off at Niue because anchoring is just about impossible.
Keith gave us a Niue Yacht Club burgee and a bag of homegrown tomatoes
Sunday is a religious day in Niue and tourism activities remain low key. The moorings had emptied in a mass exodus but three new boats had arrived; Serenity, our neighbour in Fakarava South, Sherick, first seen in Bora Bora and Xcel, from Tonga.
Flic and Mark from Xcel came over for morning coffee.
Whale watching is one of Niue's great attractions but the whales didn't know about the Sunday curfew, or maybe they did - there would be no fast speed boats out looking for them. All day a mum hung out near the moorings with her two calves, last year's and her newly born. She mostly floated on the surface, sunning herself, while the two youngsters played around her; spy hopping, fluke waving, tail splashing.The females come up from the Antarctic to give birth, they do not eat the whole time they are in tropical waters while at the same time feeding 500 litres of milk a day to their calf. They must be pretty skinny by the time they get back south!
We were supposed to be working but it was hard not to get distracted. Franco got a load of Pesda work out of the way and I did a load of laundry in the shower on shore.
There was still lots we wanted to do, so Monday morning we landed with the bikes again. There was bound to be somewhere where we could grab some lunch so we had just packed a couple of muesli bars.
We turned off the coast road by the police station and started the short climb up to the plateau. The highest point on the island is something like 58m. As Franco pulled ahead, I groaned, I was still under the weather. We stopped off at the small but interesting museum and learnt about the 150 Niuean volunteers who went off to fight in the First World War. It was a disaster as they had no immunity to European diseases and many died. Eventually they were sent home but the journey took many months and many more succumbed.
The small but excellent museum
We cycled over the centre of the island to the Liku tapu (taboo) forest, an area where nobody must go and guarded by stories of the horrible things that will happen to you if you break the taboo. We took the Vini Vini mountain bike trail through the Huvalu Forest Conservation Area. Although protected, small patches are burned from time to time and taro planted.
Kath on the Vini Vini track (note the banana palm on the right)
Taro crop in the forest
Most of the trees were ones we had seen in the Marquesas which surprised us as we had expected to see different plants growing on this limestone island.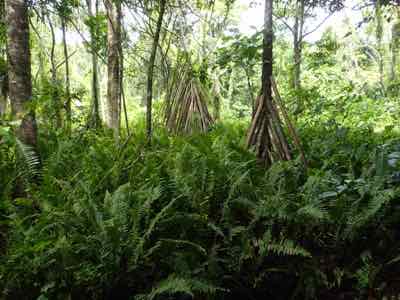 Pandanus palms and ferns
Kolivao (Syzygium samarangense)
A big yellow spider that spins yellow webs
The track came out close to Liku Village which, despite the wheelie bins, was practically a ghost town with many houses abandoned. The population of the island today is 1600 people. In 1914 it was 4000. Many young people have emigrated to New Zealand where the Niuean diaspora is around 6000 strong.
Liku
Unfortunately for me, there was no shop in Liku and the muesli bars were now a distant memory in Franco's belly. We cycled all the way back to Alofi where we were saved by Gill's Indian Restaurant, the only place open at a quarter to four! We'd cycled over 50km on our Bromptons before lunch! Franco had a moan about 'never trusting me to organise a bike ride' but all was soon forgotten as he tucked into a curry roll.
Xcel invited everyone over and we enjoyed a sociable evening.
Tuesday: A whole week had slipped by. The weather forecast convinced us to stay a little longer. We worked in the morning and went in search of Captain Cook's landing in the afternoon. He visited in 1774 and attempt d to make landfall in three different places. Each time the reception was hostile though he did succeed in claiming the island for the king. He left, never to return and named the place 'Savage Island'.
The site of Cook's landing
A fishing canoe
Wednesday: Once more we packed the bikes into the dinghy, Franco was groaning already. Crazy Uga Café was open so we stopped for a coffee (we hadn't even left Alofi yet). We cycled up the hill to the museum and, this time, took the right towards Hakupa. There were fewer potholes.
Hakupa
Franco had checked every road sign on the way from town and everyone, however far, had said 'Alofi 13km', there must have been an offer on. At least he could no longer complain about how far we had come, as we had no idea.
Hakupa green (yes the sign says 'Alofi 13km')
The road to Togo Chasm was carpet bombed but it wasn't too much further.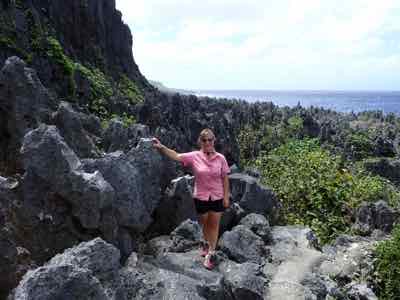 Kath in front of a very rough east coast, you wouldn't want to get ship wrecked here!
In Togo Chasm we recognised the same features we had scuba dived through, except for the coconut palms which take advantage of any spot, however rocky, out of the wind to sprout up.
A coco palm oasis in a chaos of rocks
Looking out to sea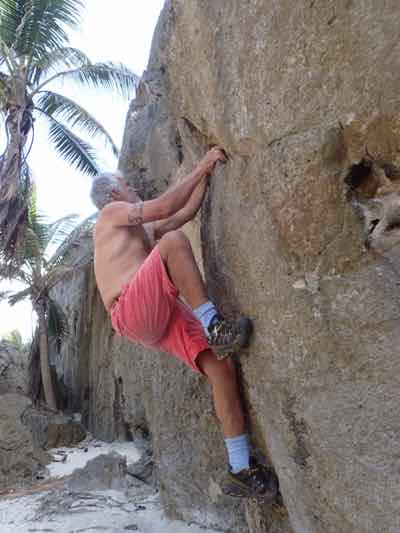 Franco enjoying a bit of rock climbing but the limestone was very hard on the hands
Down the road we stopped off at Anapala Chasm, a fresh water pool at the bottom of a very deep cleft in the limestone. In the past, this is where the villagers came to collect water, using coconut husks for containers. It was very dark and a long way down. Franco was ahead then I heard 'splash' followed by unrepeatable expletives. The water was so clear and still, he'd stepped into it before realising he had arrived.
Anapala Chasm
Thursday: Time to go, we had certainly done 'Niue - Go!'
It wasn't to be, customs and immigration were busy with the supply ship, still unloading at the wharf and didn't have time to process out of Niue.
"Please come back tomorrow." They said.
The moorings with the supply ship
We made the most of it and baked pizza for our friends. Unfortunately the moorings were particularly rolly and at least three glasses of wine were spilt. Having to hold onto you dinner plate at all times doesn't make for relaxed dining.
The wind forecast for Saturday is looking great. The Kingdom of Tonga is calling.
---