Meknes

Caramor - sailing around the world
Franco Ferrero / Kath Mcnulty
Sun 5 Oct 2014 13:09
Meknes (مكناس)

Marrakech, Fez and Meknes were all royal cities at some point in history before the capital moved to Rabat. In the early 20th century, the Sultan would still move his home between the three, depending on the season, to avoid assassination and as part of the arab nomadic lifestyle.

Marrakech and Fez attract hordes of tourists and the accompanying hassle and rip-off artists. It remains a mystery to us why some carpet / souvenir salesmen think hassling tourists (verging on kidnap and sequestration) is good for business. In our experience Moroccans are discrete and helpful people, in the souk, traders advertise their weirs but aren't pushy.

We headed for Meknes, the smallest, least touristic and closest to Rabat.

We caught a train from Rabat central station, on the way we passed goat herders, charcoal burners, a huge industrial estate - miles and miles of commercial buildings and no habitations anywhere nearby, workers are bussed in from towns as far away as Rabat and Meknes. An hour into the journey, the landscape became greener and more hilly as we reached the Middle Atlas, donkeys and mules grazed in the fields while the occasional tractor was parked outside homesteads. Farms and villages were mostly at the top of the hills, probably where the ground is rockier.

Another hour and we arrived in Meknes, a rural town. We approached a taxi driver who quoted "Dh20", I said "Dh15" but he wouldn't lower his price. He had that face I'm beginning to recognise - hard lipped, no smile, no humour which says "I hate you tourists for making me rip you off". When we got to his taxi, a Dutch lady was sat in the back with her rucksack next to her (this isn't unusual, taxis are shared). The driver grabbed her bag and put it on the roof. I leaned inside and asked "you do know he's just put your backpack on the roof?" "The roof? you must be kidding!" Grinning, I insisted he put it in the boot. He glared beautifully.

He dropped her off at her hotel and charged her Dh20 despite having told her he would put the metre on (which he didn't). We had clearly got ourselves a bargain! We knew how much we were paying and two of us were going double the distance. (For comparison our return taxi fare from the other side of town, was just over Dh10 with a friendly driver).

Simon, our B&B host equipped us with a map and top visiting tips and we hit the town. The old part, the medina, is about the size of Caernarfon, entirely surrounded by a high wall. The streets are narrow and winding and generally unsuitable for cars. Goods are brought to the souk (market) by hand cart, pushed at great speed by several fit young men.

We visited the Dar Jamaï Palace Museum, the rooms are beautifully decorated with intricate patterns, it is grander than the Alcazar royal palace in Sevilla. Dar Jamaï, the Sultan's Grand Vizzir (Prime Minister) in the late 1700s built himself this house, not surprisingly it aroused jealousies and he was arrested and imprisoned on spurious charges and his wealth was appropriated by the new vizzir. His brother was treated the same way for simply being his brother and thrown into prison where he died shortly afterwards. Stories of treason and betrayal abound in Moroccan lore and not only in the distant past!

A few photos of Meknes:
Bab Mansour Al-Alj Gate, decorated entrance to the old 'imperial' city of Meknes.
Mosque of the Moulay Ismail Mausoleum, one of only two that non-muslims are allowed to visit in Morocco, peaceful and beautifully decorated.
British Consul Franco waiting for an audience with the Grand Vizir to negotiate the release of British slaves captured off a merchant ship travelling to Gibraltar.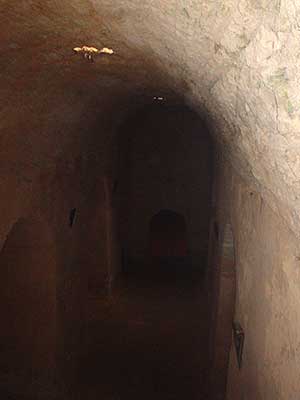 Part of the huge underground prison where up to 30,000 christian slaves used to build the imperial city were kept at night.
"Errr … This is just a visit right?"
The present King of Morocco restored this ancient walled garden - now his private nine hole golf course with the strap line 'the only walled golf course in Africa'.
The main square, complete with snake-charmers and waiters prepared to kidnap customers if necessary.
Our trip to Meknes was my Birthday treat, I am - "hmmm, let's see, errr, no, not enough fingers (or toes)" - young. Not that everyday isn't a treat anyway!

I fancied being a sultana for 24 hours and Franco a raisin ... I mean a sultan. We turned up at Riyad Labhoul run by Simon and Mouna.

Today a Riyad is a traditional hostel (similar to our B&Bs), many have been restored using local craft techniques, such as adobe, tilework, lime plastering and engraving. 'Riyad' means 'garden', Moroccan houses used to face inwards, all the rooms would open onto an inner garden, usually with a tiled fountain which kept the house cool and shady. It was also a way of giving the women some natural light as they weren't allowed outdoors.

Simon is British and a professional drummer specialising in African and Middle Eastern drums. Mouna is Moroccan, brought up in France and is also a musician. A few years ago they thought they would like to buy a small holiday flat in Morocco. Mouna's mother had seen the riyad advertised and ... before they knew it, bought it, moved to Morocco, spent several hard years renovating it and are now running a successful enterprise. As Simon puts it, "our son Solomon, aged 5 was lifted out of Eastbourne and dumped in the middle of the medina", a tough environment. Both Solomon and his younger sister Selima can speak English, French, Moroccan Arabic and standard Arabic and are doing just fine.

After a fabulous meal cooked for us by Mouna; a special beef dish for celebrations, all four of them came in with a fabulous chocolate birthday cake baked by Selima with three candles which I successfully blew out.
The roof terrace of the Riyad.
The fabulous reception room in the Riyad.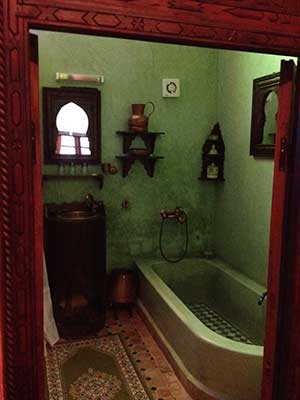 Our bathroom.
Say no more!
---