The journey home (days 6-8)

Caramor - sailing around the world
Franco Ferrero / Kath Mcnulty
Tue 7 Feb 2017 20:59
A breakfast of spaghetti soup saw us on our way as we retraced our steps to Leticia's house.
Patches of clover grew along the path, mixed in with the native plants. I let Estrella graze and she grunted, less with satisfaction than in protest at the deprivation over the last two nights. It is a good thing for us that horses aren't unionised because if they were, we would be facing a strike and Estrella would be the leader.
Green and red parakeets flew off as we passed. I found a horseshoe in a tree, suitable to replace the one Estrella had lost on the way back from Argentina. Unshod, her hoof would wear out in no time, particularly on the road, and Ciro would have to arrange transport for the horses.
As we approached the house, we heard the traditional huaso (Chilean cowboy) call 'yooyooyoo' (it sounds very similar to the Welsh 'feeding sheep' call) and arrived in the meadow at the same time as a young huaso with furry leggings. Ciro asked him if he had any bread or meat. "What about wild boar? I'll go hunting if you like" and off he went with his shotgun armed with solid ball. Neither Franco nor Ciro had much faith and he returned several hours later empty handed. Pablo, the huntsman, lives a few hours ride away with his uncle and is the caretaker for Leticia's house. He invited us in and supplied flour, yeast and salt with which we made bread.
Kath making bread in Leticia's house
Pablo told us about the feral cattle causing problems for the few remaining inhabitants of the valley. At some point in the evening I had one of those conversations with Ciro which make no sense whatsoever. During our first trek with him we had assumed the problem was a lack of shared references since we seemed to be understanding all the words but not the meaning. "Don Ciro, sometimes it is as if we are trying to communicate from parallel universes" I told him. Pablo roared with laughter and added "Communication Ciro, it isn't easy, is it!"
Franco and Pablo with loyal Niebla
Before leaving the following morning, Pablo led 'pony' rides for the girls from a large group camping nearby in the field. None of them had ever ridden before and they were ecstatic. Pablo's horse is a four year old thoroughbred 'Chilean' destined to be a 'media luna' rodeo star (see
http://blog.mailasail.com/caramor/270
). Pablo has been hired to train it to be calm and obedient and once the coaching is complete, the horse will live in a luxury centrally heated stable with no expense spared for its welfare.
"This is the best day in my life!"
Pablo accompanied us to Bandurria (the name for the farm, the area and the local word for the black faced ibis), where he lives with his uncle Tito. This was the farm where Ciro had stopped to order food. Tito had baked bread for us and was willing to kill a lamb and sell us half. The cheese, disappointingly, wasn't available.
Gringa was unloaded, a fire lit and mate brewed, we would be there for some time. I found an abandoned wonky chair and, as long as I sat still, it remained upright.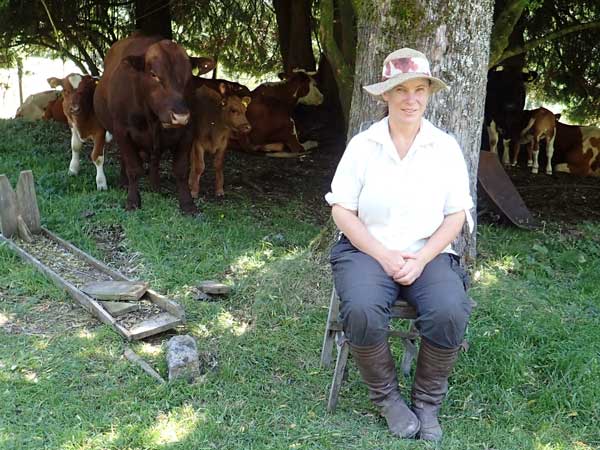 Kath, queen of the cows on her throne
The flock was gathered into the paddock, Pablo threw his lasso and caught a lamb. It was slaughtered without so much as a bleat. The sheep returned to the field, either unaware that one of theirs was missing, or uncaring.
Meanwhile Tito had ridden off, bareback, to look for the oxen. The hay had been cut and the cart was needed to gather it in.
Tito returning with the oxen
Tito and Pablo with the yoked oxen
Tito's house
Small scale hydro scheme
Pablo finished skinning the lamb and brought us half the carcass which we packed in sacking. With Gringa re-loaded, we made our farewells and set off on our way.
Ciro preparing asado
For dinner, we gorged on fresh lamb, then Ciro hung the leftovers up in a tree. Later, Franco and Ciro shooed off a pussy cat (Ciro reckoned it was a 'gato de montes' - native wild cat), intent on a midnight feast.
Our final day was long as we didn't stop by the lake but carried on all the way back to the road. We met a huaso sucking on a pink lollipop and later, a family with a small daughter. They live at the farm across the river from Leticia's house.
Family transport
Estero Reloncavi in the distance
Back on the road at Ralun, we hired a pick-up and driver to take the gear, saddles, Franco and I to Cochamó, while Ciro rode back with the horses. We weren't too disappointed, it would have been a hard slog.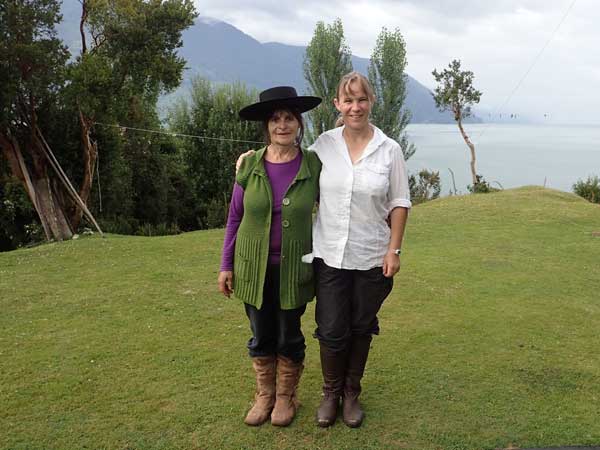 Ida and Kath
Ida welcomed us warmly as always and as soon as we had sat down for a cup of tea, produced a giant cake for Franco. She felt his birthday had been only half celebrated before we left and intended to put things right.
Birthday cake no. 2
We chatted with Guillermo who was camping in the garden. He is cycling down Chilean Patagonia and will cross the Andes at Futaleufu before cycling back up the Argentinian side to Bariloche. He has light-weight packing down to a fine art, including a silicone folding mate cup! (He is Argentinian after all). For years I have been trying to convince Franco that our tent is not the 'light weight backpacking tent' that he believes. In two minutes, Guillermo had persuaded him that it weighs 8kg rather than the two Franco has always claimed. Thank you Guillermo!
Guillermo about to set off
The view from Ida's window
Later that evening, Camilo, an old friend of Ciro's arrived with his wife Erica and their new baby. Camilo agreed to drive Ciro to Puerto Montt the next day so that he could buy some piping and they offered us a lift. We stopped off in Puerto Varas to go to cash machine as we owed Ciro money for the return leg. "Ciro, we need the BCI bank as it is the only one where we can get the full amount at a reasonable bank charge". "Yes yes, the foreigners' bank" he replied. Ciro led us to a building with a large red and white 'Santander' sign flashing about the doorway. "This is BCI" he declared. Ciro can read, he just doesn't bother!
According to the internet, the bus back to Valdivia departs at 12noon. We arrived at 11:10, looking forward to sitting down to a cup of real coffee. At the ticket booth we found out that, in reality, it leaves at 11:15, we had three minutes to spare ...
---