Gritty town in the sunshine

Caramor - sailing around the world
Franco Ferrero / Kath Mcnulty
Mon 28 Nov 2016 12:26
Puerto Montt is growing on us. After a couple of days of rain when we first arrived, it has been non-stop sunshine for over a week and the Rough Guide to Chile sums it up nicely: "on a sunny day, this gritty town is quite attractive".
Caramor is in good shape but she does need a thorough clean and sort out. We still have several months of food left which is a real inconvenience, taking up valuable locker space. We have started the mammoth task but are also taking it easy, catching up with friends and making new ones.
Marianne and Jean-Loup returned from Peru with exciting tales of mules and jungles. The last time we spent time together was in Bahia, Brazil heading up the river. We nearly met up again in Uruguay but in the end they went to Buenos Aires because it was cheaper. It turns out the quote the marina manager had given them was for a three metre boat! Yao! measures thirteen.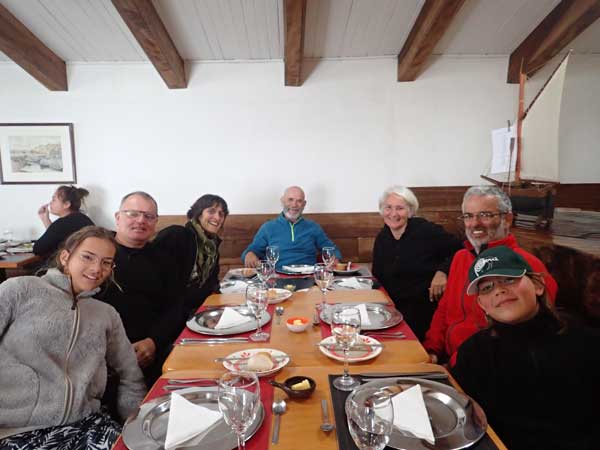 From left to right: Zoe, Thomas, Marianne, Jean-Loup, Birgit, Franco and Leo
Their summer trip through the canales sounds like hell, heavy rain and strong head winds every day, they made progress at two knots with the engine in full throttle. Kalibu was able to sail a little more but her crew suffered from the cold and condensation in their aluminium boat. We realise how very lucky we were.
Although books are hard to come by in Chile, the theatre scene is lively and affordable. Puerto Montt was staging a Tango show which Franco and I were keen to see, having missed out on Argentina. Our friends decided to come too. We bought tickets in advance and were advised to arrive early to queue for the better seats. On the night we were the first. Thomas questioned the need to be so early which somehow led to a discussion on cultural differences in queuing and I told him about the Bangladeshi approach of 'he with the sharpest elbows wins'. Marianne and I started the queue while Thomas, Birgit and the kids went off to buy ice-cream. Franco and Jean-Loup were still on the bus having forgotten where the theatre was.
When the next people arrived I told them that we were the "cola" which means "tail" or "queue" in Spanish. They laughed, in Chile it just means "tail" and "fila" is the correct word to use. Not to worry, it broke the ice and we were chatting away by the time the others got back. I asked my new friend Eugenia whether Chileans were orderly in their queueing. She assured me that indeed they were. When finally the doors opened and we were carried through with the mob I could hear Thomas shouting "It feels more like the Indian way to me".
The dance performance was outstanding. Tango with its strange rhythm called 'duple time' strikes me as a curious mix between wild eroticism and street fighting with the skyscraper heels and kicks between the legs. It is not a sport Franco and I are about to take up, I have horrid visions of skewering his feet with my heels, that is, if I even made it onto the dance floor without being crippled.
We do, however, need to get fit again and Isla Tenglo, just opposite the nautical club offers a car free track which is perfect for a run. The ferry across costs 60p and we panted our way along the beach and up to the large cross which overlooks the city. At least we didn't drop dead so things are looking optimistic.
The Nautical Club with Isla Tenglo in the background
In Puerto Varas, a small town on Lake Llanquihue and a thirty minutes bus journey away, we found the one and only chiropractor in the whole of the Lakes Region. We sat in the waiting room and a big muscly guy came through to call his next patient. "He'll do" said Franco. Mistaken identity, he was the aromatherapist, our man was shorter than me but he did the job alright.
View across the lake from Puerto Varas
Anja and Tomas arrived in Robusta and threw a BBQ. It was a fun evening and a chance to meet the other foreign sailors, mostly French (as always). Disappointingly no Chileans came as they live in town or further afield. The revellers considerately waited until we had gone to bed before singing their rude nineteenth century sea shanties about the Brits. (The French are just bad losers).
Party time! Jean-Yves and Jean-Loup on accordion
Caramor has been lifted out of the water, I'd better go and do some work now.
---