A busy first month in New Zealand

Caramor - sailing around the world
Franco Ferrero / Kath Mcnulty
Wed 21 Nov 2018 09:33
35:43.68S 174:20E
After three days in Opua, we had planned to sail south to Whangarei but when we got up that morning, we felt exhausted. We seemed to be getting more tired each day rather than recuperating from the passage. Our body clocks were still set on 6 hours sleep but we were no longer taking a daytime nap. We decided to stay two more days to rest ... so we went to the chandlery and bought a new cooker for Caramor, then spent the day installing it. The gimbals and the gas supply needed modifying and the guy in the shop was very helpful.
Our fine new crew member: Nelson
Neptune, our old cooker has done us proud and it was a sad moment leaving it at the dump.
We dashed about a bit more in Opua (more about that in a later post) and sailed south on 28 October. After rounding Cape Brett, we spent nights in two sheltered bays; Whangaruru Harbour and Tutukaka.
Cape Brett
The forecast was for strong winds. We sailed out of Tutukaka in sunshine and a light breeze but were soon hit by the first squall. It was followed by others, they came through periodically bringing strong gusts, lashing rain and very poor visibility, nothing Caramor couldn't deal with.
Franco enjoying helming
Approaching Bream Head
As we rounded Bream Head, Caramor heeled right over in the strong williwaws tumbling off the headland. It was exciting sailing and I don't think we've been that heeled since the Falklands! The wind was funnelling straight down the River Hatea and out into the bay. We needed to sail up the river to Whangarei and the tide had already turned in our favour so we needed to press on. We motored into a very lumpy sea, past the Marsden Point oil refinery and followed the shallow buoyed channel towards Whangarei.
One Tree Point
Shortly after One Tree Point, the engine died suddenly. Quickly we prepared the anchor and dropped it just outside the shipping lane. Luckily it held, and Caramor sat at an awkward angle in the strong wind against tide. We could really have done without this. Not used to motoring, we assumed the engine had overheated, but were surprised the heat alarm hadn't gone off. Franco checked the impeller (which drives the sea water that cools the engine) but it seemed okay. We let the engine cool a bit and it started immediately. We had only gone a few hundred metres before it conked out again. Thinking we might need a mechanic, we sailed back down river and anchored off One Tree Point, among some moorings, close to shore. We were tired and fed up. Franco started working through all the possible causes and found that the fuel filter was a little clogged up. The rough sea must have disturbed sediment at the bottom of the tank.
A boat was approaching and, much to our surprise, it was Robusta, a yacht we first met in Brazil and last saw in Valdivia. At the time, Thomas and Anja had been talking about selling her when they got to New Zealand so we radioed, not sure whether they were still the crew. They were, sailing again after a whole year of renovating Robusta. Once the engine was fixed, we dinghied over and Anja cooked us a lovely stew. It was a very pleasant surprise!
Robusta
Caramor's engine was running well and we left early the next morning. The wind had dropped and the tide helped us up the river. As we neared Whangarei, we called up 'Bridge Control'. The road traffic was stopped and the bridge raised so that Caramor could pass below. We felt very important.
The lifting bridge of Whangarei
Two minutes later we were tying up at Riverside Drive Marina. No time to catch our breath, we had a chiropractor appointment, so we got the bikes out and pedalled off.
Thursday was jobs day and on the Friday we moved Caramor to her permanent berth and caught the bus to Auckland. We were on a mission to buy a camper van. There is a Saturday morning camper van fair near the centre and a large vehicle fair further out on Sundays. If we failed to find something we liked, we would visit a dealer on Monday. We also wanted to meet John, an Ocean Cruising Club member living near Auckland, who had been in touch after reading the diary.
First we climbed the Sky Tower, the tallest building in New Zealand and one of the tallest in the world.
Franco bravely stepping on the glass floor at Sky Tower
Looking down
That night we stayed at City Garden Lodge, an overpriced backpackers. The beds were desperately uncomfortable and there was no one at reception when we arrived, nor when we left. When I phoned up about paying, I was told there would be a surcharge because I was paying with a card!
The Saturday fair was depressing, all the vans were very old (20 years or more), most of the sellers were traders and the conversions were badly done. The few private sellers wanted far too much for their heaps of rust.
We withdrew to a café for breakfast and to consider our options. The croissants were good and I decided we needed more fire power so ordered another round. It worked a treat and Franco announced a change of tactics: we would buy a van and convert it ourselves!
On John's advice, we trawled the 'pages' of TradeMe (the Kiwi version of eBay) and after a few dead ends, spotted a van at the right price. We rang the garage and jumped into a taxi. JBU232 was a very nice van indeed. By chance, a vehicle assessor was at the garage checking another vehicle so we hired him for a survey and he gave JBU a clean bill of health. We dashed to the nearest bank and spent thirty minutes extracting cash with every card we own. JBU232 would be called 'Jumbo'.
Jumbo
John invited us to spend the night at his house and it was fun meeting his young family and talking about sailing in Patagonia, an area they are keen to visit in their yacht Atea.
On the Sunday we stopped off at the used car fair to glean a few ideas on how to convert Jumbo into a campervan and then drove back to Whangarei via the strawberry ice cream farm.
Monday morning at 8am we started work. Franco would do all the woodwork and I would wire up an extra battery, make the cushions for the bunk, sort out the plumbing and make sure everything met the 'self-contained' certification requirements which would enable us to 'Freedom Camp' almost anywhere. (More about Jumbo in a later post.)
The ferry to South Island was booked for 4pm on 15 November. It crosses from Wellington to Picton. Wellington is 12 hours drive from Whangarei. We worked 12 hours a day for nine consecutive days and at last at 3pm on 14 November, we left Riverside Drive Marina, on our way south.
The reason for the tight deadline was that our friend Barry from Wales was in Christchurch, on the South Island, visiting his son Adam and girlfriend Cath who have immigrated to New Zealand.
As we queued for the ferry, Barry emailed to say they were heading up to Nelson for the week-end. This would save us a long drive down to Christchurch and we would all meet up at Phil and Lynda's.
Phil and Lynda sail Windora. We first met them in Stanley, Falkland Islands. Later, in South Georgia, we survived the Husvik storm together. Windora is in Norway at the moment but Phil and Lynda are back in New Zealand for their son's wedding.
The amazing thing is that they know Barry and Claire. They met when they were cruising in Ireland and Barry and Claire were kayaking around the island. They invited them on board and Barry and Claire stayed for two days. At some point in the conversation they realised we all knew each other!
From left: Franco, Kath, Lynda, Phil, Claire, Barry, Cath and Adam
It was great to all meet up and we had a fun couple of days together. The team headed back to Christchurch and we finished Jumbo's conversion into a camping van. We then took him for the exam. He passed with flying colours and the inspector was very complimentary about our work and asked Franco if he was a carpenter. Franco was flattered.
Self-contained certificate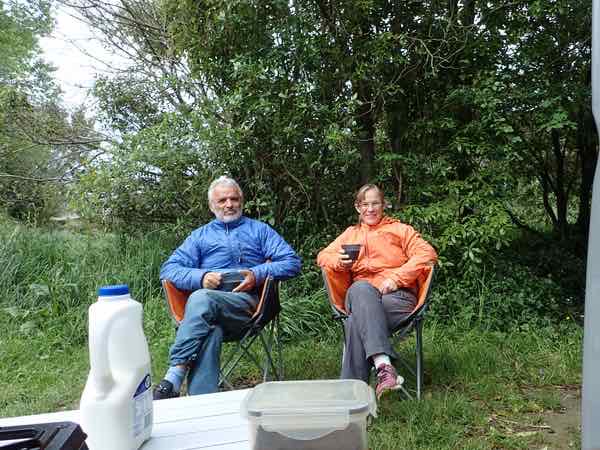 Embracing the comforts of old age (padded camp chairs!)
We drove on to Takaka near the Abel Tasman National Park to check out some climbing but the weather turned cold so we went walking instead. We've just returned from a seven hour hike at the northern end of the Abel Tasman National Park and are wasted.
Our next appointment is with my friend Angie. We will be meeting her tomorrow in Nelson and heading down the west coast together.
---