Outrageous (Skipper's word) sail to Lagos, Algarve

Caramor - sailing around the world
Franco Ferrero / Kath Mcnulty
Mon 18 Aug 2014 15:24
134 NM from Cascais to Lagos - too far for a day sail but given the stiff breeze forecast, less than 24 hours downwind. The 'Nortada', otherwise known as the Portuguese trade winds, is a stiff northerly 'breeze' caused by the difference in pressure between the Azores 'high', out over the Atlantic and the relative 'low' over mainland Spain, it generally blows Force 5-6 but can gust up to the low end of F8 (gale).

We try our best not to arrive in unknown harbours before daybreak so we timed our departure so as to arrive after dawn. Caramor set off at a canter at 12:30 with one reef in the mainsail. Our plan was to experiment with our brand new lighter genoa for downwind sailing in strong winds.

Our No1 genoa (and our only one until this trip) is a 'jack of all trades', to achieve this it is very large:140%* and made of heavy material with a robust sun protection strip sown on the edge to protect it when it is rolled away on the forestay. All this extra weight makes it difficult to handle. Our new No2 genoa is 110%, made of much lighter cloth without a sun protection strip and cut high at the base (Yankee cut).

We dropped the No1 genoa and manhandled it with difficulty into the cabin, then up went No2. We set the sails 'goosewing', the main on one side and the genoa 'poled out' the other side. It worked a treat, Caramor was better balanced and there was little see-sawing as we sailed downwind.

Caramor's canter soon became a fast gallop as the wind picked up, we were flying down emerald waves and the sun shone overhead. A truly delightful sail! We averaged 7 knots over 19 hours and our top speed was 12.4 knots as we surfed down waves, not bad for a heavy displacement boat with a theoretical hull speed of 6.7 knots!



The new genoa

We passed a Norwegian yacht, it had no mainsail up and its genoa was so reefed it looked like a pocket hankie, it had so little speed that it was being broached by the waves! It can't have been much fun onboard. Mugs of tea in one hand we waved with the other - the crew didn't wave back but then neither did they signal to us that they were in distress. They must have thought we were barking, with so much sail up - they were in a 'fast' modern yacht and were possibly finding it hard to keep her facing down the waves, whereas Caramor with her long keel just ploughed through.

Dinner was baked gnocchi in a tomato and courgette sauce with an Azores cheese topping and salad. The salad was a mistake, despite the thick balsamic dressing it was a real challenge to get the lettuce on the fork before it blew away.

I stood the first watch as the sun set so that Franco would be on duty as we approached Cabo Sao Vincent. The moon was having a lie-in so the stars pulled out all the stops and shone brilliantly, the Milky Way was, well, milky.

I spotted some lights, the AIS informed me it was a cargo ship headed for Setúbal. We passed close-by. More lights to port, a fuzzy red glow - now what could that be? as I scanned my memory for the appropriate section in the International Regulations for Preventing Collisions at Sea. "These foreign ships, just no respect for the rules!" ... it was the moon, rising straight out of the sea.

The rest of the night passed without incident and the wind dropped off to a F3 around 6:30 before dying completely as we sailed past stunning limestone cliffs into the beautiful bay at Lagos and anchored outside the eastern breakwater.

We tidied up and fell into bed exhausted until 3pm.

A strange incident occurred the night before we set off from Cascais. We heard a noise, like a rubber dinghy hitting the side of the boat, we both dashed upstairs - nothing. Franco disappeared back down and I eventually followed him after checking the rigging. He was busy searching one of the port side lockers. He pulled out the net bag in which we keep the spare lifejackets, one of which (with a 'sell by' date of 2016) had self-inflated!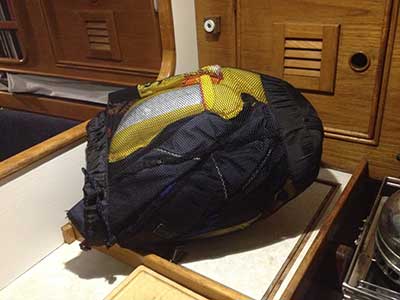 Self inflated life jacket bundle - prize for the best suggestion on how to get it out without cutting the bag

* Genoa measurements are usually given as a percentage. 150% means it is one and a half times the fore triangle of the rig which is the space between the forestay (a wire between the deck and the mast at the front of the boat to which the foresail is attached) and the mast.

Kath

---