Pueblo chico, infierno grande

Caramor - sailing around the world
Franco Ferrero / Kath Mcnulty
Wed 26 Oct 2016 03:01
By 8am we were packed and ready to check out. The hostel was rather down at heel for the price and we were confident we could find better. We didn't bother with the breakfast, an extra £6, as we would find a nice café in town.
Chile Chico at 8:30 on a workday morning was dead as a dodo. The odd zombie stared at us as if we had landed in a flying saucer. All the shops were shut and the tourist café was boarded up. Lured by Insight Guides to Chile (1991)'s "Chile Chico has a quiet rustic charm that can be quite beguiling. Many travellers find themselves staying for several days, enjoying the sunny days and taking the occasional dip in the icy waters of the lake," we had booked our return ferry for three days later.
We walked down the main street and back along the lake, noting the signs every ten metres 'water not suitable for swimming'. What were we going to do for three days?
At nine a small supermarket opened. The fruit and veg shelves were bare; a few rotten cabbages, one brown cauliflower, desiccated oranges and bruised apples was all that there was. The 'orchard' of Patagonia had less to offer than frigid Puerto Williams. We bought buns and yogurt and picnicked on a bench. We then checked out a few hostels, all were shut. We never found the two listed in the Rough Guide (2014). A coach pulled up and a stream of people with suitcases flowed out of an alleyway. We retraced their steps and found a hidden entrance to the Victoria Hostel where we were able to check into a lovely plywood lined room with a comfy mattress, en-suite bathroom and wifi.
Sitting under a cherry tree in a shady orchard gouging on fresh fruit was off the agenda but maybe we could do what other tourists do (not that there were any). A shop selling fishing gear and kiddie's bikes had a sign offering tourist transfers. Maybe they offered tours as well. "May I help you?" "Please, Sir, could you book us a horse ride?" I begged. "The nearest horse ride is 80km away" he replied. We asked him to suggest something we could do instead. "Do you have a car? Do you enjoy fishing?" He scratched his head, he wanted to help, but it wasn't going to be easy. "You could walk up to the viewpoint" he offered. He also recommended walking along the river, a few miles away. "What about the orchards?" I asked. "The side roads are lined with apricot trees but the fruit won't be ready until December" he explained.
On our way to the brightly painted concrete viewpoint, we were surprised by the amount of construction work going on. Home renovation requires money but what was generating it? it wasn't agriculture.
Chile Chico from the viewpoint
The landscape at the back of town
The countryside around was very dry, practically barren. The town, it is true, had many trees, mostly poplars.
On our bus journey we had passed through fabulous landscapes dotted with small holdings offering B&B, if only we had stopped sooner. There was one big plus point though, I had now seen what most of Argentinian Patagonia looks like and no longer felt the urge to travel overland to Puerto Madryn. We had missed Welsh Patagonia and that was that. Franco was taking the situation with considerable composure.
Through the internet I found PatagoniaXpress. I dialled the number and someone answered. "Can you organise a tour for us tomorrow?" "Where do you want to go?" "Anywhere."
In his office an hour later he introduced himself as Andrés and told us his story.
Back in Santiago, a woman broke his heart. His employer packed him off for a year to the far reaches of the country (Chile Chico) to study the situation of vulnerable children and pull himself back together again. He soon realised that his own problems were minute compared to those of the youth he was working with. After six months, Andrés decided he was staying. He set up a one man tourism business specialising in day trips and became chair of the Chamber of Tourism. He became concerned that the nearby gold mine, the main employer could close and there wouldn't be any work. Andrés believed that a sustainable tourism network could provide part of the solution. The local beekeeper would supply B&Bs with his honey, the hostel landlords would promote tours, one of which would be a visit to the apiary. I was listening intently, it sounded like a great scheme. As he promoted his idea, Andrés realised it wouldn't work. Mrs P would not work with the beekeeper because his grandfather had once had an argument with her grandmother. Mr X didn't like the beekeeper anyway and besides Mrs P's father-in-law's cousins had supported Pinochet. "Pueblo chico, infierno grande" he concluded, a Chilean saying that means 'small town, big hell'. I know a few places in Wales that would qualify too.
Andrés went on to explain the unique microclimate of Chile Chico. The cold dry air generated by the high Andes drops down the eastern flank and meets the large expanse of water of Lake General Carrera. "This is why the climate in Chile Chico is arid …" At this point both Franco and I were thinking "that doesn't make sense, surely the water vapour would condense, creating moisture." Andrés continued "yes, arid. Beyond Chile Chico, Patagonia is a vast desert."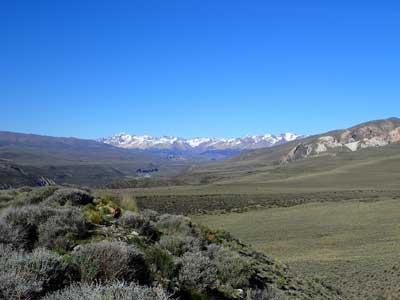 Looking west across the reserve
The next morning Fernando, our guide pulled up outside the Victoria Hostel. We were heading 25km south down a dirt track for a 10km walk on the edge of the Jeinemeni National Reserve. We parked by Jeinemeni River which marks the boundary between Chile and Argentina and headed into the hills.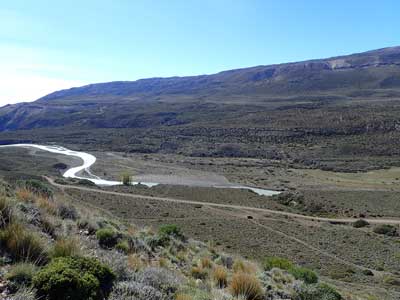 Looking across the river into Argentina
Fernando has been leading walks in the area for the past seven years, and on four occasions has seen a puma. I had higher hopes of seeing a viscacha which looks like a rabbit with a long fluffy tail. Fernando identified many birds and plants for us. At one stop he pointed out an iridescent male lizard. "How do you know it is male?" I asked (stupidly). "Because in the animal world, males are always more beautiful than the females" he grinned. Franco, who had seen it coming was in stitches. Our guide was interesting and knowledgeable and his views on nature conservation were similar to ours.
These columns were formed by 'fumeroles' on the seabed
La Piedra Clavada
Viscacha
La Valle Lunar with Lago General Carrera in the background
View from La Valle Lunar
Fernando's grandparents moved to the area as pioneers. When he isn't guiding, he runs a business offering eye clinics in remote villages. He hires an ophthalmologist, drives him around and organises the lab tests and feedback. He told us about the eruption of the Hudson Volcano in 1991. It barely registered on the international news as a minor 'volcanic event'. Around midday on the first day of the eruption, ash started to fall onto Chile Chico. By the evening there was no water supply, no electricity and no phones. The following morning the town was buried under one and a half to two metres of ash and it never got light. For the residents, this minor 'event' felt like the apocalypse.
8,000 year old hand prints in La Cueva de los Manos
The nearby Argentinian town 'Los Antiguos' was also affected and a day later, Menem, the then president of Argentina visited both communities. Within hours food aid was being supplied from the other side of the border. A whole month went by before the first Chilean politician visited and when he realised food was being shipped across the border he ordered it to cease on the grounds of sanitation. He narrowly escaped the Chile Chico lynch mob. It took years to clean up the town and fifteen for the surrounding countryside to recover.
It had been a fabulous day and made the trip to Chile Chico well worthwhile.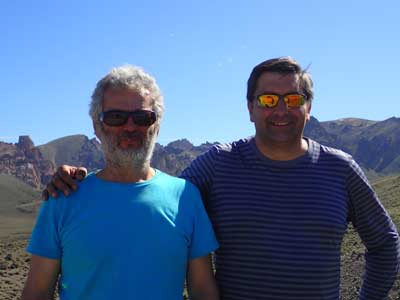 Franco and Fernando
Back in Chile Chico we were no longer strangers, people recognised us and greeted us as we went about our business. It was beginning to grow on us.
---