Cochamó Valley horse trekking - The People of the Andes

Caramor - sailing around the world
Franco Ferrero / Kath Mcnulty
Sun 11 Dec 2016 15:23
41:30.44S 71:52.06W
Margarita Montero and Carloncho Bahamonde welcomed us warmly into their home and soon we were sitting in front of a large bowl of soup. Margarita is the niece of Ida Delgado (Ciro's wife). Montero, Bahamonde and Delgado are three surnames that appear frequently in the history of the valley.
Carloncho, Margarita and Franco in front of their home
The valley was settled at the start of the 20th century. A German-Chilean company 'The Chile Argentina' had plans to use the Cochamó Pass to facilitate the transport of livestock from the rich plains of Argentinian Patagonia across the Andes to the Chilean ports on the Pacific. The company engaged 400 people to build the infrastructure; a horse track and telegraph connection between Cochamó and El Bolson. The trading project never took off and so the route was only ever used by company employees, many of whom settled in the valleys, and by smugglers and cattle rustlers.
Margarita's house is neat and tidy and decorated with pictures of horses and family. Both types of rodeo are depicted and we learnt that the Chilean style is called 'media-luna' (half-moon) and is very expensive to take part in because you need a very specific (expensive) type of horse, one you wouldn't ever use to gather cattle for real. It has become a sport for the wealthy; large estate owners and business men. The other type, known as 'jinetía' (horsemanship) is Argentinian and affordable as the sponsors supply the (wild) horses. This is the type we saw in Uruguay. Carloncho proudly told us that Margarita is a jinetía rider but when I asked her about it, she was too modest to say much.
Carloncho has a collie for working the sheep and four other dogs he uses for the cattle or to hunt wild boar. We told him we used to have a dog (Oz) that looks like his puppy and that his collie is identical to a British border collie. He was puzzled, his dogs are Chilean, how could they be like those from Europe? Later, Franco asked which breeds of cattle he keeps. "Hereford and Aberdeen Angus" - our turn to look surprised but not as much has Carloncho when we told him they were British herds.
There are no roads nor power lines to Lake Vidal Gormaz. It had taken us three days to ride there and we wondered how long it took the family. "Two days over the pass or 3-4 days down the Manso Valley," they told us. "The going is easier but it's awkward because you have to take the ferry across Lake Tagua-Tagua". Margarita added that they had crossed over the pass as late as May, after that it is cut off by deep snow for four months. "And to sell the cattle?" we asked, "Over the pass to Cochamó and then by lorry to the fair near Puerto Montt."
We wondered if they would like a road built. The answer was an emphatic "No!", it would mean the end of the lifestyle they love. Margarita explained that although she enjoys going to Puerto Montt, to see her sons and family, do a bit of shopping maybe, as soon as she gets there, she wants to be home again with her dogs, cats, chicken and horses.
Timber is plentiful by the lake but there are no sawmills. To import construction materials would be expensive and impractical by horseback so they built the house using planks they cut by chainsaw. As with all homes in Chile, there is no insulation and in places the wood has shrunk leaving large gaps between the floorboards and around window frames. The bedrooms must be rather cold and draughty in the winter.
Family life centres around the log range in the kitchen. This is where bread is baked, soup prepared, clothes dried, 'mate' shared and stories told. In the corner there is a VHF radio and every evening people up and down the valley call each other to exchange jokes and share news. The neighbours are excited about the fiesta that will take place in El Leon in a couple of days' time, it will be a cross border event with the mountain communities from Argentina, a chance to buy and sell crafts and share an asado (roast lamb).
On the back of the kitchen door is an old newspaper cutting. It is about schooling in the valley. The nearest one is at El Leon, seven hours by horseback further up the valley. The families ride there, drop the kids off in lodgings and return home with the horses. It can be several weeks before the children see their parents again, something they find difficult, according to their testimonials. Margarita has four sons, Victor who lives at home and works on the farm, the next two have moved to Puerto Montt and the youngest is at secondary school in Cochamó.
As the night drew in, Victor inflated the lamp. It is a solar powered LED light set within a blow-up lampshade. We saw one in a yachting catalogue a couple of years ago, very handy. Margarita lit a candle and served up the final meal of the day, a delicious lamb and noodle stew with a superb green salad picked from her garden.
After dinner, Margarita showed me her spinning. In the winter months, particularly during June and July when it rains continuously, apart from looking after the horses which are kept indoors, she knits and weaves. She promised to teach me in the morning if the weather was still bad.
Our bedroom is the sons' room, now used as a guest room and storage. There is no furniture apart from the beds, so clothes, jackets and ponchos hang from nails around the walls. These people have avoided cluttering their lives with junk, the little they have is of good quality. From the ceiling hangs a low energy light bulb but the wire is no longer connected. Maybe once upon a time, when the children were still young, Carloncho had a generator, but he doesn't bother with it anymore.
Disappointingly for me, the weather the next morning wasn't too bad and Ciro was intent on a trek. The horses were given the day off, they deserved it. I'll learn to spin some other day. Ciro had borrowed Carloncho's mobile phone and if we walked over a couple of mountains, we'd get to a view point overlooking El Leon where there is a mobile phone signal and he could phone Ida. Margarita told Ciro that she can walk it in two and a half hours but (looking at us) it would take us a lot longer. "We shall see" I thought indignantly.
Ciro may be 65 but he is lean and very fit. He set off at a brisk pace jabbering all the way and then would stop for ages, purportedly for us to catch our breaths back. We rebelled; we needed more walk and less talk and that worked fine for all of us. The viewpoint was impressive and, had the weather been fine, we would have been able to see the Tronador, a large volcano bridging the border.
Ciro phoning home, the valley of El Leon in the background
On the way back, downhill, Ciro went even faster. We kept up with him but by the end my thigh muscles were burning, the price of being boat bound for five months. His version of a trek was more like a fell run.
The following day, Day 5, the horses were rested and the weather was improving but the air remained cool. Victor traveled with us until lunchtime. He had loaded up his small mule with goods to sell at the fiesta and was on his way.
Kath packing the saddle bags on Estrella
Kath looking the part
Victor
Lago Vidal Gormaz
Estrella tackling some tricky steps
Grano and Franco, unphased
At the end of a fairly easy day we arrived at Freddy's by the side of the Torentoso River. Ciro negotiated a price for camping and grazing and we settled down. Freddy lives on his own, at 43 he hasn't found a wife yet. He doesn't seem to mind, he likes living here, it is peaceful and he can grow all the fruit and meat he needs. Not everyone in the valley is as contented, we later met Sebastian, waiting for the ferry. He was still wet from the six hour horse ride in the rain, from his home to the bus stop. When his wife died a few years ago, his mother moved in with him but now she has returned to her native Argentina and he is lonely. He intends to sell his land to a friend from Norway who wants it as a holiday home, and buy land closer to town.
Franco and Grano crossing the Torentoso River
Freddy invited Franco and me to share his lunch. We were still full as we had stopped to eat our sandwiches just two hours before. Ciro insisted that we accept while he only drank 'mate'. Franco was annoyed and left most of the food, apologising to Freddy, who wasn't worried. After that, Ciro did stop trying to force feed us.
Freddy's home
Freddy's land - every holding has planted poplars
Freddy's ox cart
Freddy couldn't sell us any meat, he'd just slaughtered two lambs for the fiesta which were hanging in a tree. Remarkably there were no flies. His brother Roberto who lives on the next holding was able to provide us with a quarter.
The tree fridge
Around the fire, waiting for the asado to cook, we listened to Chilean country music on Ciro's stereo. It is a little box the size of a small tin of Coleman's mustard. Ciro was delighted when Franco joined him for a boogie. He tried to teach us the steps for some of the classics but it was a dead loss. We discussed land prices. In the mountains, an acre of good agricultural land costs about a thousand pounds but the difference to Wales is that if you own land in Chile, you can do whatever you want with it, including build a house. In these parts, you can subsist on 70 hectares, with 25 cows and the same number of sheep. This is the size of most of the holdings but it can only support a very simple lifestyle that very few people in Britain would be content with. Most farmsteads have a few horses, a vegetable plot and chickens. Some keep pigs and geese as well. A small minority run a few dairy cows but they only sell milk during the two summer months, the markets are a long way away and they often have to transport it (by horseback) at night to keep it cool. To me, this area is a small holder's paradise; a good climate (warm and sunny with enough rain throughout the year, even if very wet in June and July), no slugs, no flies (as in blow flies) and foxes aren't a problem (the Andean chilla or grey fox is rare, protected and apparently not interested in livestock, possibly a consequence of past persecution).
Before setting off the next day, Ciro made an emergency repair to La Gringa's shoe.
Emergency shoe repair
After crossing a very wobbly suspension bridge over the Torentoso, we headed for El Leon. The word means 'the lion', and is the name given to the puma in South America.
The first of several wobbly suspension bridges
Franco and Grano tackling a steep uphill section
First glimpse of the River Manso
The grandest house we passed has been abandoned
We caught up with Freddy who had set off early to deliver his two carcasses for the fiesta. He was chatting with some friends who were waiting for the delivery of a brand new three piece suite, feasible here as the road from Argentina isn't too far away. When the delivery quad bike and trailer arrived, our horses looked on in disgust. We were probably witnessing the end of an era.
La Gringa looks on in disgust as 'progress' arrives in the valley
The route we followed is high up above the river and surprisingly the land is fairly level. We crossed through several pleasant small holdings. I was expecting a village but there isn't one, just a higher population density along the valley bottom and on the flatter sections of slope. We passed the church in a clearing then later the primary school with the government building nearby. In the distance we could see the road in Argentina, ending at the border. For people living in the El Leon Valley, the fastest way to Puerto Montt is over the frontier to Argentina then by bus into a different valley system and back over the border into Chile.
The view towards Argentina
El Leon's church
Ciro stopped by a gate, we had arrived. A lady appeared on the doorstep of a larger and plusher house. Her name is Hortensia and she is married to Osvaldo Delgado, cousin to Ida. Hortensia made us tea with jam and bread. We would have to wait until the man of the house returned before knowing for sure whether we would be able to camp there overnight.
The house is large and solid, the inside walls are lined with tongue and groove boards and the windows fit well. The range is still the centre piece in the living room but was unlit. Off to one side stands a gas cooker which Hortensia used to boil the water for the 'mate'. The house has electric light bulbs, a satellite TV, a small fridge and other mod-cons. Osvaldo generates his own electricity using a water driven pelton wheel and supplies his neighbours with the surplus.
Osvaldo returned, a jolly chap who told us tales about Ciro, who looked a little embarrassed. Camping was no problem, of course, but machismo is still alive and well in the mountains.
After sharing 'mate' with Osvaldo, Ciro asked if he could buy some lamb. Osvaldo explained that it would be difficult, for all sorts of reason. Ciro cut him short "don't worry if it is a problem." Later, a quarter of lamb materialised. By not appearing too keen, Ciro had kept the price down.
Hortensia's vegetable plot is immaculate (I am so envious). She also has some fine pigs that wander freely, the boar's nose has been wired (rings are used in the UK) which prevents him from digging but he seems happy to eat grass and scrounge off campers when he can. The piglets were delightful and didn't mind having their ears tickled.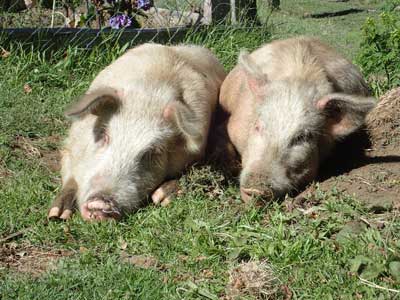 Love is ...
One night, home alone, Hortensia heard a racket in the orchard and went to investigate. She found a wild boar trying to mount her sow. Furious, this tiny woman killed it with an axe! The 'wild boars' aren't native to South America, they are the descendants of escaped pigs and, remarkably, are reverting to type.
The boar's head, Hortensia and Kath
---