Epiphany

Caramor - sailing around the world
Franco Ferrero / Kath Mcnulty
Tue 6 Jan 2015 22:00
E- ... what? I hear many of you ask. No, not the latest Electronic gadget rather the christian celebration of the arrival of the magi (wise men, kings) who visited Jesus after his birth, bearing gifts of gold, frankincense and myrrh.

Here in the Canaries, Epiphany is a major fiesta, children receive presents and on the eve several towns hold processions where the kings arrive by dromedary. The local news over the last three days has mostly been about the shortage of camels on Tenerife. In the past they were used extensively in agriculture but became redundant with the advent of tractors and banana plantations, now there are no longer enough to serve as royal steeds. Government permission and EU movement licences applied for, a caravan of camels was duly shipped over on the ferry from Lanzarote. A seasick dromedary simply doesn't bear thinking about.

In the UK Epiphany is barely noticed, we are usually back at work trying hard to make up the time we have enjoyed off.

As there are a few bits and pieces that we need from Santa Cruz, I hired a car for the day. My thinking was "Monday to settle down, tuesday they'll be keen for business". The motorway seemed a little quiet, by the time I reached the outskirts of Santa Cruz I was the only car on the road … "Had something terrible happened? Had the capital been evacuated? Was El Teide about to erupt?" I parked in a deserted street and headed up-town, all the bars were shut.

At last an open bar, delicious aromas diffusing into the street, I was dying for a wee and a coffee. My six drinking companions were nursing large measures of spirits and spoke in that loud, slow, slightly slurred way that all drunks have at 11am. Perfect for Spanish practice. The barman was friendly, he told me he was cooking tuna with rabbit but it was the tuna that smelled so good. I took his word for it.

Slowly chicharreros (people from Santa Cruz) started appearing on the streets, each one carrying a box under an arm. I felt left out, I wanted a box too. I worked out they were carrying roscón de Reyes, a special ring-shaped cake eaten on January 6th. These things are rare, you can't just buy one, you have to order it in advance. Eventually I found a bakery willing to sell me one, "do you have a small one?" I begged. A customer had failed to collect theirs, happy baker, happy Kath. I walked around proudly with my box, needless to say none of the businesses I had come to see were open, not even the one I had made an appointment with last week.

I drove up to the Anaga mountains, there was a sign in the car park which said "do not leave valuables in the car" so I walked around some more with my box, I even took a photo of my pretty roscón.



Roscón de Reyes; hidden inside are a bean and a small doll, s/he who finds the bean pays for the cake, s/he who finds the doll is crowned king (queen?).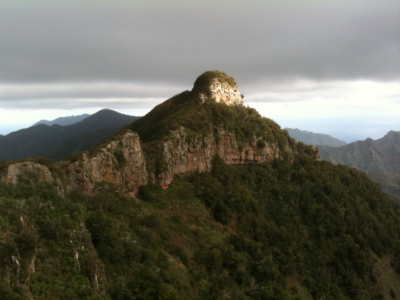 Back at the marina I surreptitiously hid my box in the laundry room while I visited the Ladies. The guard saw me emerge and probably thought I looked shady (I did). He headed straight for the wash room where I caught him red-handed looking into my box. "It's mine" I blurted out, then feeling sorry for him I asked if he would like some. "I've got one at home," he said, "I'll look after yours".

I cut the cake in half and delivered it next door to Joe and Debbie on Avocet. I got the bean (only fair, I paid for it) but the jury is out on who will be king of pontoon B.

Meanwhile Franco is in Cyprus for his daughter Anna and Yannick's wedding, he has successfully purchased a suit and has been sightseeing in the rain.

Kath
---