Biking to Moray and Maras salt pans

Caramor - sailing around the world
Franco Ferrero / Kath Mcnulty
Sat 14 Oct 2017 00:58
All tourist brochures for Peru feature photos of the strange concentric depressions of Moray. I found them both beautiful and intriguing.
Moray
As with all Inca ruins, very little is known about the site. The Incas had no written language and the Spanish invaders were hardly reliable witnesses, especially as it was the height of the Spanish Inquisition and they were intent on eradicating what they considered a heathen culture.
The most accepted theory is that Moray was an Inca agricultural experiment station, to study the effects of different climatic conditions on crops. The design and orientation results in a temperature difference of 15 degrees between the top and the bottom of the terraces.
KB Janecek in his excellent guidebook 'Hiking and Biking Peru's Inca Trails' suggests that Moray was a ceremonial site used to grow sacred crops. He is convinced that the Incas already knew where the best place to grow each product was, in their vast empire.
Erich Von Däniken, the Swiss author who wrote 'Chariots of the Gods' probably believes Moray was a landing pad for extraterrestrial helicopters!
My theory is that the Inca was sick and tired of eating potatoes, rice and chicken or spaghetti soup and by the time bananas and mangoes arrived from the jungle by llama, they had rotted. One day he ordered his chief of staff 'to deliver fresh fruit, or die'. The chief of staff press ganged all the villagers of Maras and elsewhere to build a set of raised beds in a sheltered spot so that his Highness could enjoy the delicacies he craved.
We didn't fancy the standard tourist minibus tour and a search online suggested we could visit by bicycle for ... US$239, or US$150. It seemed expensive, after all we would be doing most of the work. A tour of the Cusco agencies yielded a variety of prices: US$139, 500 Soles (£125), US$40 (but no trip the day we wanted) and US$45 or hiring bikes for fifteen dollars each.
We signed up for 45 bucks and enjoyed a fabulous day with Sotelo, our excellent guide.
It turns out he charges the agencies US$30 per person, regardless of what their mark-up is and it has been awkward for him at times when people on the same tour find out they have paid vastly different amounts.
Sotelo met us in the main square, he hailed a taxi and we headed for his home where we collected the bikes, tough mountain machines. A five minute ride downhill and we arrived at the bus station where the bikes were hoicked onto the roof and made fast.
An hour later we got out, shortly after Chinchero, at the highest point on the plateau between Cusco and the Sacred Valley. We crossed the main road and were straight onto a dirt track, hurtling downhill through villages and fabulous scenery.
Lake which provides most of Cusco's drinking water
A gentle start
Shortly before Moray there were a few short sections where we had to peddle but otherwise it was all downhill.
Moray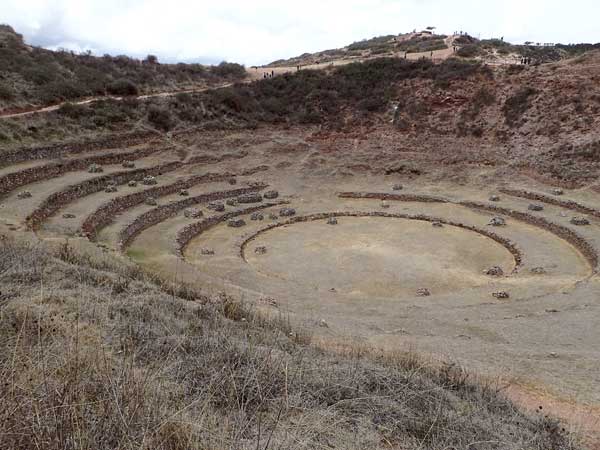 Moray unrestored
Kath, Sotelo and Franco
The next section was a little more technical. The first hurdle was an irrigation ditch which Franco cleared nicely, only to commit an operator error and dive over the handlebars. No harm done luckily and he dusted himself down.
A couple of tricky downhills were followed by ups and you really feel it at this altitude on heavy bikes. Still, no pain, no gain. Finally we rolled down to Maras for lunch. We passed the carcasses of a Mercedes tourist minibus and a bus that had crashed that morning. Incredibly the driver of the minibus had survived, though his knee was crushed, as there was nothing left of his side of the van. The passenger behind him, a local guide, wasn't so lucky and was killed. Sotelo was visibly shaken, a reminder of how dangerous Peruvian roads are.
Lunch was included in the price, Sotelo informed us. Lucky really as we had scoffed our sandwiches while walking around Moray.
Sotelo told us he was from the Apurimac region to the west of Cusco. When he moved to Cusco he was surprised by how apparently catholic it was; Saint this, Saint that. In his village Catholicism is a very thin veneer for the native religion, the worship of Pachamama, Mother Earth. Christmas is when rival communities settle scores for the past year. The young men from the respective communities fight each other during a two to three day fiesta with music, dancing and a lot of beer. The situation often escalates and It is rare for the party to conclude without someone being killed. Bloodshed is part of the ritual, a sacrifice to Pachamama to ensure soil fertility for the coming year.
We also discussed politics; most former presidents of Peru are in prison for corruption, Sotelo told us.
"But at least they have been caught and punished," we said.
Sotelo, like Santiago, bemoaned the return to power of previous presidents that had robbed the country.
"But why do the people vote for them?" We asked.
"It is down to poor education," Sotelo explained, "it is easy to dupe an ignorant population."
The political class has no interest in raising the level of education, hence teachers are very poorly paid, and the best find work elsewhere.
Maras, where we ate a very nice meal
The ride down to the salt pans was exhilarating, with tight bends and vertiginous drops.
Start of the track leading down to the salt pans
Salt pans
Every family in Maras Village works a salt pan but this is only possible five months of the year during the dry season. The main income though is not from selling the salt, rather from tourist takings which is divided up between community members.
We continued on our ride down to the valley bottom where we crossed the Vilcanota River and cycled to Urubamba along the main road. We caught the bus back to Cusco and got off uphill of Sotelo's home. A short ride downhill and we were back at his home. Sotelo ordered a taxi to take us back to our hostel and we parted good friends.
---