Williams

Caramor - sailing around the world
Franco Ferrero / Kath Mcnulty
Tue 12 Apr 2016 14:36
Our sail from Picton Island to Puerto Williams was very pleasant, a light easterly wind pushed us gently up the Beagle Channel. The area isn't famous for light or easterly winds so we will no doubt cherish the memory over the coming months as we battle against the strong westerlies funnelling down the channels.



A delightful sail down the Beagle Channel
Puerto Williams from the sea
For the time being we are enjoying 'Williams' (nobody here calls it Puerto Williams), a small navy town on Isla Navarino and the headquarters for Chilean Antarctica. Caramor is rafted up at the local 'marina' the 'Micalvi'. An ammunitions ship built in 1925 for the Chilean navy which was pensioned off in 1962 and transformed into a warehouse and pontoon in Puerto Williams. The bridge and large cabin downstairs are remarkable rooms, lined with timber where us yachties can socialise and use the free wifi. There are also showers and a small workshop. We feel privileged that the navy allow us to use such a special space.
The Micalvi, a very unusual marina with the sailing school on the other shore (timber building with green roof)
The Micalvi from the bow, Caramor is off to the right (navy blue sail cover)
View from Caramor towards the Dientes de Navarino
Follow me on a tour of Williams!
Our first job was to sign in with the Chilean Navy at the Capitania
We were directed to the government building to register with the Immigration Police, after that we went to declare any fresh food onboard at the Ministry of Agriculture. Chile is keen to avoid importing pests and diseases, especially in the Cape Horn District where the environment is still fairly pristine.
Ministry of Agriculture, just off the Plaza Bernardo O'Higgins
Plaza Bernardo O'Higgins. He was the first President of Chile and was half Irish
The Plaza is where you run if a tsunami is forecast - "Argh! what about Caramor?"
Tsunami early warning station. Apparently no tsunami has reached Williams in living memory. "Phew!"
On our way to the supermarket we passed the school.
The school
A mural at the school, the woodpecker with the red head is the male of an endangered species. Williams is full of references to the Yagán, the native people.
A supermarket
View of lower Williams from the new walkway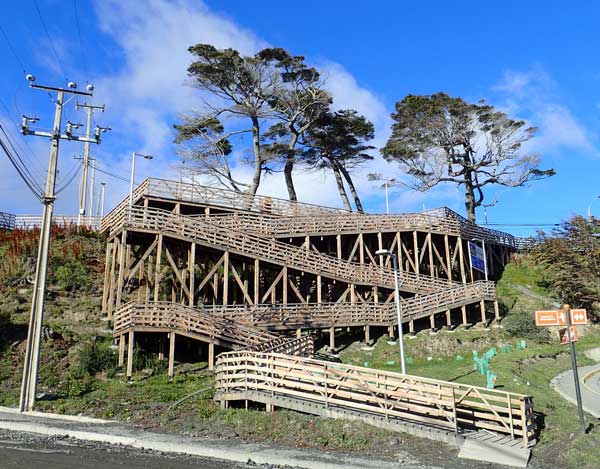 The walkway connects the port area from the centre
On the way back we passed the oldest building in Williams, the church and the ethnographic museum.
Oldest building in Williams (1953)
The church
The free museum which describes the history of the Yagán. It is also a pleasant space to work from.
From Williams, there are many tracks into the countryside that we have enjoyed walking.
A waterfall, just thirty minutes away
---