"Cry Havoc ... "

Caramor - sailing around the world
Franco Ferrero / Kath Mcnulty
Sat 18 Nov 2017 01:08
21:26.4S 65:43.2W
A friend in Cusco had recommended going for a horse ride in Tupiza. As it was only an hour or so from the Bolivia - Argentina border we decided to make our way there. It is a small not particularly touristy town, which the 'Tupizeños' are rightly proud of – unlike most Bolivian towns there was very little rubbish. We really liked the place.
Another bonus was that, if you factor in cost, the 'hostal' we stayed at (The Butch Cassidy) was the best in Bolivia. Butch Cassidy and the Sundance Kid (bandidos gringos) were killed by Bolivian soldiers about 100km from here. The film starring Paul Newman and Robert Redford was a huge boost to tourism here in Bolivia. The hotel owner and staff were friendly, smiling, and very efficient. The beds were comfortable, the rooms spotless, the showers hot and the breakfast delicious! What more could one ask for?
We were so impressed that, when we learned that they owned their own stables, we immediately booked for the seven hour tour.
"You are experienced riders? Excellent!" was the owner's parting comment.
The next day we met the owner in reception and were introduced to Przemo and Camilla, a lovely Polish couple from Ireland, who had opted for the three hour horse ride, a walk and a jeep ride. We were driven to the stables where Kath and I were introduced to our guide, 21 year old Adriano.
"You are experienced riders – yes? Excellent we can use the younger horses, they like to run."
I was introduced to my horse for the day, a young three and a half years old, big gelding who looked a little skittish. (To give you some idea, Ciro, our guide in northern Patagonia, wouldn't use horses with tourists until they were seven years old.)
"We call him Estrago (Havoc!) because he can cause problems for inexperienced riders. He is curious, he looks right, he looks left ... he can catch you by surprise. But you are an experienced rider!" said Adriano, flashing an amused looking smile.
Estrago is a big horse, and I could only just get my foot in the stirrup. Adriano insisted on helping me up and it was only afterwards that I realised that he was concerned for a client who was nearly three times his age and the same age as his father who had long retired from horse racing and only went for gentle rides. The arrogance of youth!
As it turned out, Estrago was a great horse. It didn't take long for him to realise that I wouldn't put up with any nonsense, and I was able to ride him on a loose rein, mostly controlling him with leg pressure ... and he loved to gallop! The only times I had to use the reins was to stop him galloping, and occasionally when his curiosity would get the better of him.
Kath had a six year old mare called Pajomina. She was also a pleasure to ride and very comfortable when trotting. Adriano was mounted on his own horse. A small exuberant stallion, whose father is a 'quarter mile' racing horse and whose mother is used for jumping.
The countryside is spectacular; rugged red mountains, bare and dry with the odd cactus and bush. The valley bottoms are flat, and where there is water, with bright green fields of well-tended crops. Most of the mountains looked impassable on horseback and tough on foot. I was curious as to how Adriano would contrive a circular route through this terrain.
The first section was along a dirt road. Most of the time it was quiet, but occasionally we were passed by a motorcyle or a large truck, and usually the trucks were moving at full speed. Estrago was unfazed but Pajomina would move as far as she could to the side of the road and refuse to move till the vehicle had passed. Very sensible if you ask me!
Dirt road
Naturally, as it was a long route and we had to move at a pace that wouldn't over-tire the horses, we mostly moved at a walking pace. However, on long straight sections where he could see that there were no vehicles, Adriano would twist around in his saddle, flash a big smile and shout:
"Quieres trotar?" (Would you like to trot?)
To our delight the bouncy trot would soon turn into a far smoother canter and then to an exhilarating gallop. The month riding bareback in Chiquito had certainly paid off. Staying in the saddle is mainly balance, and a little bit of thigh pressure when needed. The stirrups help steady you and correct if you lose it. We were definitely far better horsemen for the experience.
When Adriano began to slow the pace, Estrago would quickly catch up with the other horses. I soon learned to slow him down a little earlier or he would come to an abrupt halt just behind the other horses and I would have my work cut out to stay in the saddle.
Looking out for Comanches in the dry riverbed
Eventually we turned off into a nearly dry riverbed, Estrago slightly further along than the others as a donkey had aroused his curiosity. We picked our way up the riverbed, where only a trickle of water was running, and headed up to a narrow gash in the rocks, the entrance to 'Cañon del Duendes' (Goblin's Canyon). The scenery was straight out of a western movie and I kept expecting to see Comanches around every bend.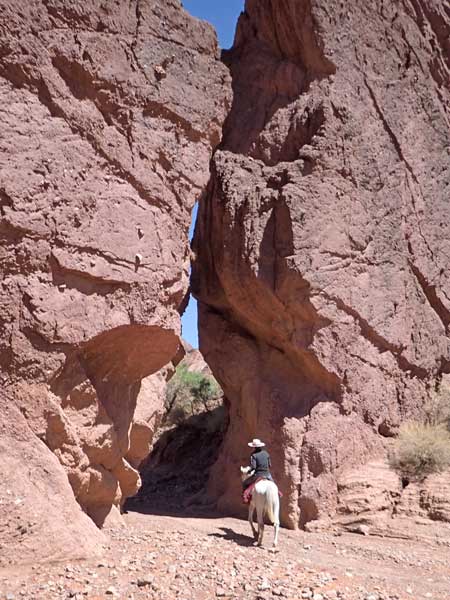 Approaching the Cañon del Duendes
"This is the entrance to Cañon del Duendes, from here you can explore on foot. Thirty minutes there and back, no more. When it is too steep you turn back. I will wait with the horses."
Conglomerate spire with hard rock hat in the background
Deep in the canyon
It was an enchanting place. Conglomerate rock towered above and thin pinnacles of rock, where harder rocks formed a protective 'hat' that stopped the rain from eroding the softer mudstone, soared above us. After fifteen minutes or so, when the bedrock steepened and we decided that Adriano's instructions hadn't taken into account that fact that we were rock climbers, we reluctantly turned back.
Gaucha chic
Back at the entrance we remounted, retraced our steps to the dirt road and rode on. The cavalcade moved on through a small village and down to a lovely shaded meadow next to a river. Here we waited for the jeep that would bring Przemo and Camilla to join us for lunch.
A shady spot for the horses
While we waited, we quizzed Adriano about the local horse scene. We had seen very few horses in the highlands of Bolivia, but it seems that there are plenty in the valleys where they are mainly used for racing and jumping, and are therefore ridden 'English' style. The exception is the Chaco region where they are also used for working with cattle, and are therefore ridden 'Western' style. Adriano was a successful jockey till he grew too much and weighed more than 55kg. He still races his own horse, but doesn't earn much from that. He works during the day guiding tourists and studies from 7 till 10 every weekday evening to become a vet. There's dedication for you! I was even prepared to forgive him for previously treating me like an old man. As long as he didn't try and help me up again!
Lunch spot
Adriano
After a delightful lunch (no chicken and rice!) we rode across the shallow but wide river and then made our way down the valley. Sometimes along the edges of the fields and sometimes along the riverbed, occasionally fording the muddy river. On one of these occasions, while wading between two sandbanks, Pajomina's front legs dropped into a hole, and as she staggered to recover her balance, Kath, who was busy taking a photograph, nearly flew over the horse's head. Lightning fast, Kath dropped the camera and despite flying out of the saddle, managed to wrap her arms around Pajomina's neck and stay on. So now the poor horse had her legs in a hole and a Kath on her neck! With a wriggle of her bottom, Kath managed to work her way back into the saddle, so it is still 3-0! Luckily, the camera landed on the sandbank and came to no harm.
Following the river
Later, I watched as the other horses picked their way carefully down into a streambed and up the other side. I reasoned that Estrago was more experienced than I was at this sort of thing and gave him a very loose rein, as if to say:
"You choose your own way."
Next thing I knew he took a few strides to gather speed and leapt over the gap. On landing on the other side I burst out laughing, a mixture of elation and relief. Adriano chuckled and with a huge grin said:
"Oh yes. I forgot to mention that he loves to jump too."
Eventually we left the river and to my surprise followed a railway line. It didn't look abandoned to me and I strained my ears to hear the conversation that was going on up front.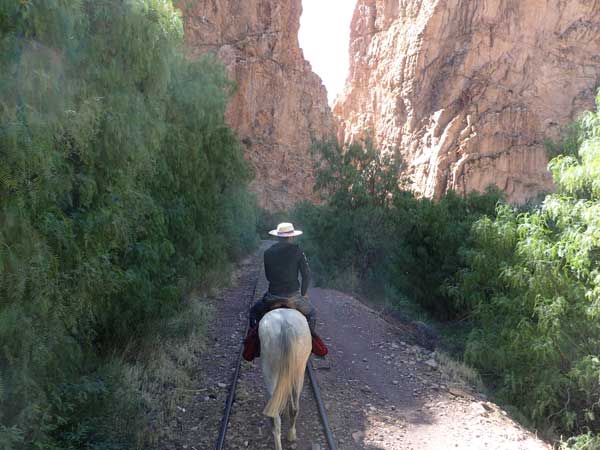 Kath: "Are there any trains on this line?"
Adriano (helpfully): "Yes."
Kath: "Do you know what time they run?"
Adriano (reassuringly): "In the afternoons, anytime".
Kath: "What do we do if a train comes?"
Adriano (grinning manically): "We gallop, but a little ahead it narrows. So we gallop as fast as we can through that bit."
I told myself that he was just winding up the gringo tourists. Sure enough though, a little further on the railway passed through a tunnel and a narrow, one train wide, defile.
"¿Quieres trotar?"
With the usual warning, Adriano shot off. We followed suit and galloped through the chasm as fast as if all the demons in hell were chasing us. About four hundred metres further on, we slowed to a trot and then a walk. It was the fastest I had ever ridden on a horse and I couldn't help laughing for the sheer joy of it. It was ... glorious!
Out of the defile
The rest of the way back to the stables we carried on with the walk, trot, gallop rhythm. Here we parked the horses in the shade and took off their saddles. Finally, we thanked Estrago, Pajomina and Adriano for an unforgettable experience.
Adriano in Tupiza gaucho clothing
Post by Franco
--
PESDA PRESS
FRANCO FERRERO, PUBLISHER
CAERNARFON


---