The other jungle experience

Caramor - sailing around the world
Franco Ferrero / Kath Mcnulty
Sat 4 Nov 2017 00:28
12:35.38S 69:11.12W
The ride to Puerto Maldonado was rough. Although the bus was fairly modern, the road, the same we had travelled to Tinke for our Ausangate horse trek with Bernabe, is a winding coil of switch backs and the terrible motion was magnified by sitting on the upper deck. At some point in the night, as I staggered back from the toilet, the options were 'sleep or throw up'. Luckily I slept.
At 7am, a little tired, Franco and I stepped off the bus in Puerto Maldonado and looked around at our fellow passengers. There were four or five other Europeans, all younger than us, and they looked wrecked, a couple of German lads were still green from the motion! We weren't doing too badly after all.
A lady waiting in the luggage queue said:
"Welcome to Puerto Maldonado!"
As we walked into the terminal, a middle aged man greeted us:
"Welcome to Puerto Maldonado!"
How nice! I was beginning to like the place already.
We caught a moto-taxi to a breakfast restaurant in town. We were looking forward to freshening up and charging the camera and computer batteries, Franco needed to do some Pesda work after all the gallivanting.
"Sorry, there is no water nor electricity all day in Puerto Maldonado." The waitress apologised.
... The next day we would be back in the jungle, groan, not to worry.
We ordered egg sandwiches and much to my delight, and Franco's horror, they came with fresh tomato slices neatly piled on top of the egg. I ate the lot and Franco ordered a new one, this time remembering to specify 'tomato free'.
Puerto Maldonado
The hotel Suzanne had booked us into was a cut above our usual accommodation so we made the most of it and had a snooze while we waited for Suzanne and Charles to arrive.
Suzanne and I met in 1981, she was my gym teacher at secondary school. A few years later, at the age of 17 I joined a rock climbing club in Geneva and Suzanne joined the following year. We have been friends ever since and get together sporadically. Charles is the great guy who married Suzanne.
They had arrived in Peru a couple of weeks earlier and spent time visiting sites further north. We had agreed to meet up in the jungle and Suzanne had organised everything.
At 5pm, Percy arrived to give us a prep talk, he was the rep from from Eco Amazonia Lodge where we would be spending the next three days.
"The boat leaves at 12:30 so we'll collect you at 10 to take you to the market." he offered.
No thanks, we preferred to visit the market on our own.
By now It was dinner time. Charles told us a crazy story; when they visited Machu Picchu, the guards wouldn't let him in. It turned out that the travel agency had bought him a student ticket. Luckily their guide was able to negotiate and they allowed him in. To apologise for the inconvenience, the agency was buying them dinner at the best restaurant in town.
"As long as there is something other than chicken on the menu, we don't mind," we said, conciliatory.
At the restaurant, the good news was that the agency was buying dinner for all four of us. The bad was that it was chicken, that it had been cooked some time ago and was already cold. To go with the chicken was a buffet of cold dishes that really should have been served hot, such as chips and roast potatoes.
In a country that prides itself for its food, and where most visitors suffer at some point from travellers' diarrhoea, it always surprises me how often food is left lying around, even in the best tourist joints.
The chicken was tasty enough but I wouldn't go again.
Puerto Maldonado is a small jungle town at the confluence of the rivers Madre de Dios (downstream of Manu) and Tambopata. Thousands of tourists arrive at the airport every year but few spend any time in the town, they are immediately whisked off to the jungle lodges along the rivers. With Eco Amazonia Lodge, a trip to the market seemed compulsory, either on the way to the lodge, on the way back to the airport or both. The market has everything one needs including a good selection of tropical fruit and veg and 'aguaje' juice (the palm fruit that tastes like smoked cheese - we didn't fancy it). It also has, in common with markets all over southern Peru, a good selection of juice bars. This is where Franco and I head; mango, papaya, strawberry, you name it, or any combination thereof, with milk, water or orange juice, delicious! Neither Suzanne nor Charles were tempted, having both suffered from travellers' diarrhoea in recent days. (I rest my case.)
Suzanne and Charles on the boat to Eco Amazonia Lodge
After seven days in Manu, arriving at Eco Amazonia Lodge, an hour's journey by boat down the Madre de Dios River, was a bit of a culture shock. I don't think it was quite what Suzanne was expecting either.
"Where is the 'eco' in Eco Amazonia Lodge?" She asked several times.
Eco Amazonia Lodge
The dour manager 'welcomed' us in the spacious lounge and served us a glass of delicious tropical juice. He soon had us four down as the awkward squad, after Suzanne knocked her glass onto the floor where it broke into a thousand shards, and Franco, suffering from crowd phobia, corrected his terrible English (something our friends do all the time for us in Spanish). The by now seriously sullen manager left us to find our cabin. We were guided by the self-appointed deputy manager.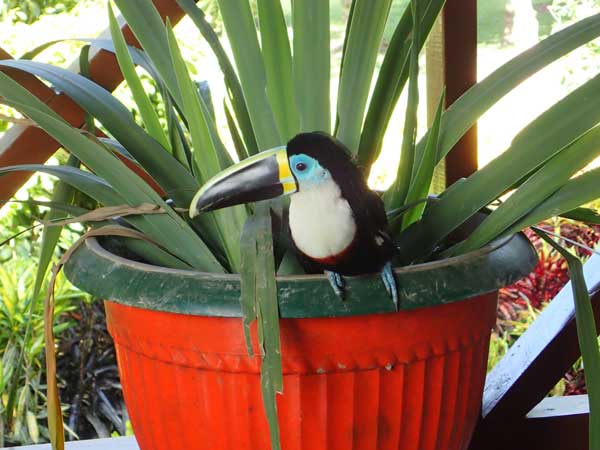 No, it isn't a fake!
Inside, the cabins were simple and well made. Ours held a little surprise in store for us, we were all sharing a room, the most expensive dormitory any of us have ever slept in! We like each other, but not that much! Our plea to the management went unheard, despite the paperwork from the agency, which clearly stated we would be in two-person cabins, and my explanation that Franco and I were on our (extended) honeymoon. There were fifty(!) other people staying and there was no spare room at the inn.
Back in our cabin which looked onto the jungle, we soon got over our disappointment when Franco heard, and then spotted, a group of brown capuchin monkeys moving through the canopy. They were hard to see but this was what we had come for.
Brown capuchin
Charles warned us that Suzanne snores and I was dreading a Franco kept awake all night. The truth is Suzanne sounds more like a purring pussycat and Franco didn't hear a thing.
The food served up in the enormous refectory was delicious and I particularly enjoyed the buffet style meals (no chicken and rice for me!) but it did feel like we were sausages passing through a sausage machine. We had been warned, Tambopata National Reserve is very different to Manu National Park.
Serried rows of cabins
The large refectory
At the lodge, I felt claustrophobic and hemmed in by the manicured hedges, but out in the jungle, searching for monkeys and tarantulas, I felt at ease again.
Victor, our guide, was a great asset once we convinced him to stop translating into both English and French, and I think he enjoyed leading us, a fitter than average group.
Victor
Our group was the four of us, plus a Dutch couple who enjoy active holidays. There were four others, but they seldom joined us on the walks. They were a strange bunch from the USA; two of the women were originally from Puerto Rico and we got chatting to them in Spanish. The third was very unfit and never came on any of the walks, she seemed to be some kind of self-appointed guru and claimed to have lived at the lodge ten years ago. She spent the whole time on the boat to the lodge flapping her arms, telling everyone she was reconnecting with the jungle like a condor. The male was even weirder, the only time he spoke was to complain at having spent 14 hours on a flight from the US to Peru.
After lunch, Victor led us down a trail at the back of the cabins to a small shallow lake called 'Cocha Caiman'. On the way he gave us a running commentary about the trees and animals we came across. He knew a lot about the plants and their uses which I found fascinating.
Fire tree - it is hollow and inhabited by fire ants, used to make blowpipes. A traditional punishment was to tie an offender to this tree naked and wait for him to be killed by the ants.
Liana
Cocha 'Caiman' was true to its name and we saw many, some very close up. Caiman inhabit Central and South America and are related to alligators. Most species weigh between 6 and 40kg and measure 2 to 2.5m but the black caiman, which we saw in Manu, can grow to 5m and weigh up to 1,100kg. They feed on fish but also eat insects, birds, small mammals and reptiles (Wikipedia). The caiman's predators are humans, jaguars and large anaconda snakes. The female lays between 10 and 50 eggs and once they hatch, she takes her babies to shallow water where they learn to swim and hunt.
Caiman in 'Cocha Caiman'
The 'cocha' was barely more than a muddy pond, and there were far more reptiles than one would expect for such a small area of water.
"Do you feed them?" I asked.
Victor could name and describe things fairly well in both English and French but his ability to understand either language was limited. He wasn't really expecting questions from his clients, it was going to be a tough few days for him, my nickname at work wasn't 'the Rottweiler' for nothing.
Victor denied that the caiman were fed, a claim that seemed even more unlikely after one ran up the bank chasing a stick he had thrown at it. Since when do fish arrive from the sky? (OK, in Brazil we heard about fish that travel overland to find a pond when theirs dries up, but …)
We didn't really care either way, seeing a caiman close up was fantastic.
On the way back we happened to meet a tortoise
Eco Amazonia Lodge holds a 20 year concession from the Peruvian Government for 4,798 hectares of boggy jungle. It sounds a lot, in fact it is just double the size of Windsor Great Park and the size of one single ranch in California worth US$32 million. It isn't pristine rainforest but it is a haven for wildlife as hunting is illegal and only a fraction of the area is accessible to humans, as a result the animals are not frightened. Without the tourism interest, the trees would probably have been cleared to make room for a giant cattle ranch.
Butterfly larvae
After tea we boarded a boat and went looking for more caiman, this time on the Madre de Dios River. Their eyes glow red in torchlight.
Tree frog
The next morning breakfast was early and we headed off on foot again, this time to Lake Apu Victor (named after our guide?). On the way, Victor attempted to lure tarantulas out of their burrows by tickling them with a stick (great work if you can get it!). He showed us many different jungle fruits, one of them is inedible to humans but a particular insect lays its eggs inside and the larvae allegedly taste like coconut.
Tarantula (the bite is like a wasp sting)
Unfortunately(!) there weren't enough to go around but those who did sample the delicacy confirmed this was true (though the look on their face seemed to suggest something much less pleasant). We also found 'huito' the fruit Lucho had been looking for in the village of Diamante. Victor told us it was good for making temporary tattoos. Franco mentioned we had heard that it was a natural insect repellant.
"How do you know that?" Asked Victor.
"Last week we were in Manu and our guide told us." Franco explained.
"You were in Manu! And now you are here!" For Victor, Manu is the place to be, he knows he is only playing at being a jungle guide.
Kath's huito 'tattoo' (it was meant to be a sun but Victor's talent left to be desired)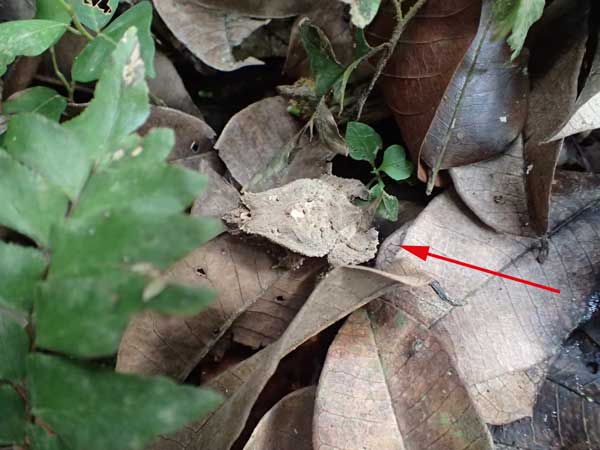 Camouflaged frog
Frog with fake eyes on its bottom
The very large owl butterfly (I think), the size of my hand
Lake Apu Victor was also full of caiman. We saw a few interesting birds but nothing like the diversity and numbers of Manu. We climbed the tower and looked out over the canopy. After a while, Victor said:
"Lets get back into the boat." He'd spotted the anaconda that occasionally visits the lake.
An anaconda! the snake that strikes fear into the hearts of Cesar and Lucho, our seasoned jungle guides. The boat was grounded in the mud but we were still a long way from the creature. My photos would be disappointing and I longed for a better zoom lense. At this point Victor rolled up his trouser legs and stepped out of the canoe into the caiman infested pond. I admired his bravery. He took Sylvia (from Puerto Rico)'s camera and waded through the water to take a closer shot.
He'd been standing in the water for some time and hadn't come to any harm ...
I have an absolute phobia of things eating my toes. I hate rock-pools because of crabs, I would never enter water infested by piranhas, but I really fancied taking a closer look. Gathering up my courage, I whipped my trousers off and boldly straddled the side of the canoe.
"There goes a truly liberated woman," exclaimed one of the Puerto Ricans.
Caiman in Lake Apu Victor
Wading through the mud wasn't as difficult as I had imagined. I tried not to think about the 50 young caiman recently arrived at the pool with their mother to learn how to hunt. I caught up with Victor and followed his instructions as to how close we could approach. The snake eyed us coldly.
Anaconda
Later, Suzanne told me she had been proud of me, two years being my teacher have left their mark. Franco had been more concerned about the threadbare state of my now rather tattered M&S panties.
"Your pants are see-through, everybody was looking at your bottom," he berated me.
Charles chuckled quietly, he had noticed too.
Kath's bum (courtesy of Charles)
Tarzan
Back at the lodge, we had an hour to kill before lunch, just time to take a dip in the swimming pool. Diving in was out of the question, the unheated water was cold enough to take your breath away, a great way to cool down after the sweltering jungle. We had it to ourselves and it was bliss.
The deputy manager had decided corporal punishment was the only way to deal with us
In the afternoon we took the boat a short distance to Isla Monos (Monkey Island) in the middle of the Madre de Dios River. The island is part of Eco-Amazonia Lodge's land but is also visited by other tours. Days without visitors must be rare.
We landed and set off down a very overgrown path, with Victor ahead, hacking a way through with his machete. He was having fun. After a few hundred metres we joined the main path. Victor had been making the most of leading a fitter group to clear a path fast falling into disuse.
Victor hacking a way through the jungle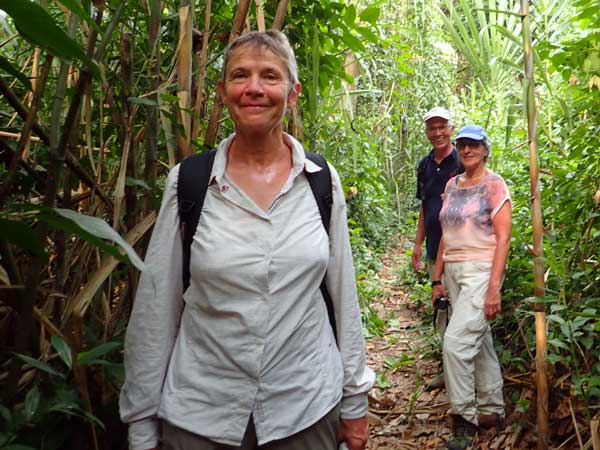 Suzanne and our Dutch friends
The monkeys were not native to the island. The first ones to be released on the island, now many years ago, were ill treated pets that were rescued or monkeys injured by hunters. Their descendants are the current inhabitants and some of the youngsters are of mixed breed with parents of two different species of capuchin.
Black spider monkey
Suzanne offering a banana to a white fronted capuchin
"Oops I have a banana, and you don't."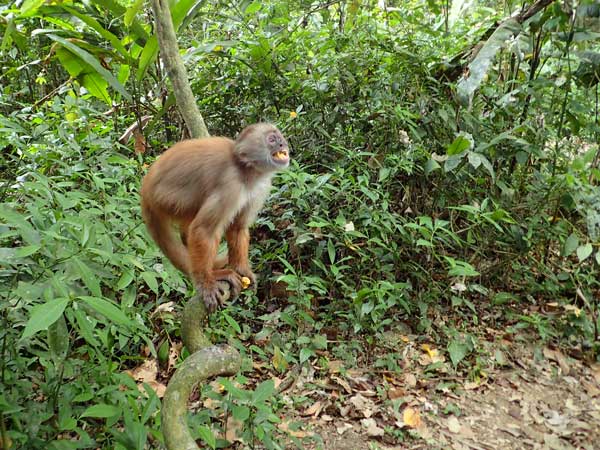 "Hahaha I have a banana and you don't."
Brown capuchin
Meeting 'wild' monkeys this close was a very special experience.
On the way back to the lodge, Suzanne said:
"All that we are missing now are the macaws. Victor, when will we visit the macaw clay lick?"
The documentation supplied by the travel agency included a stunning photo of colourful macaws at a clay lick, unfortunately the closest is 5 hours by boat from Puerto Maldonado on the Tambopata River, we weren't even on the right river! Mis-selling in Peru is common, we had met a young couple from Germany on the 4-day tour to Manu who had been promised an African style safari with large mammals!
The colourful photos of macaws visiting clay licks are everywhere, at bus stations, in every tour agency, in hotels. They give you the (wrong) impression that seeing macaws is guaranteed. The reality is that the licks are far apart and deep in the jungle. Even if you get that far, there is no guarantee there will be any birds, it depends on the weather, proximity of predators, time of day, etc. Moreover, the hides are usually a fair distance away and without powerful binoculars and a good zoom camera, it will be hard to see any detail.
Suzanne invited us to the bar that evening to celebrate her first encounter with monkeys.
Most people who visit Eco-Amazonia Lodge depart after only one and a half days stay. We were lucky, we were staying an extra day.
We got up early the next morning. The rainy season had arrived. It eased a little as we set off, enough to give us hope we weren't wasting our time. Like humans, animals don't like getting wet. We walked seven kilometres to Cocha Perdida, a narrow lake, possibly an oxbow where we jumped into a canoe and paddled around under aguaje palm. Slowly the rain was easing and birds started to appear.
Charles and Suzanne on a bridge in the forest
A large toad the size of large dining plate
Saddleback tamarin on the way back
We didn't walk back the way we had come, instead, we paddled down a long narrow stretch of water in yet another canoe. This time we saw several kingfishers. We arrived back at the lodge by early afternoon and after lunch I dragged everybody around the 'arboretum', disappointingly the interpretation wasn't very good and it was hard for us to learn much.
Boarding a canoe
Early the next morning, we boarded the boat back to Puerto Maldonado. We said goodbye to Suzanne and Charles. It had been fantastic meeting up with them and enjoying time together.
Franco and I found some shade in the main square where several local people came to talk to us. All were delighted that we had taken the time to visit their town. Later that night, we caught the night bus back to Cusco, it would be our last visit. It was time to start the long journey back to Caramor in Valdivia, Chile.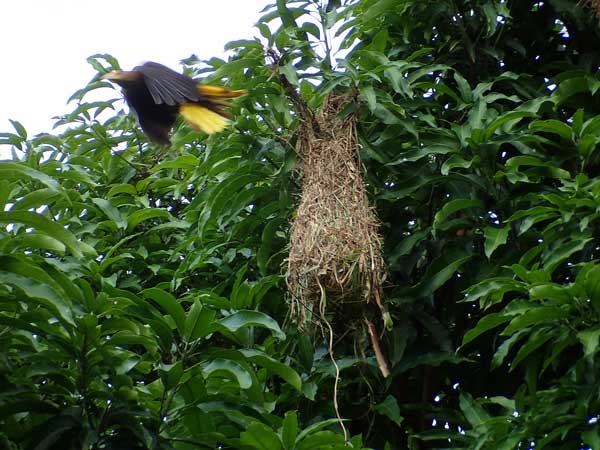 Oropendola and its hanging nest
---