Cochamó Valley horse trekking - The River Manso

Caramor - sailing around the world
Franco Ferrero / Kath Mcnulty
Wed 14 Dec 2016 17:48
41:40.59S 71:57.44W
The next morning, as we were breaking camp, Andres, a good friend of Ciro's turned up. At his peril, he decided to advise Ciro on how to load a horse.
Loading La Gringa - "I'm saying nothing" thinks Franco
It's not so much that Ciro subscribes to the "there are only two ways of doing things, the right way and the way everybody else does it" school of thought, more that his way of checking that something is correct is by doing it himself.
This day we would retrace our steps as far as Torentoso and then turn left down the valley of the Manso River ('manso' means calm in Spanish). On our way through El Leon, we passed small groups of people on foot heading for the fiesta. "You're not coming to the party?" They asked. Sadly we were not, Ciro had another booking in a few days' time and it wouldn't be fair to ask him to delay. We called on Amerigo, Ida's nephew who gave us ice cold water and a present for Ida.
Amerigo outside his home
The weather was hot and humid and the horse flies were becoming annoying. As we headed downhill along a difficult and slippery slope, I was looking forward to swimming in the emerald green river, which looked so inviting. It was not to be, as soon as we reached the bottom of the valley and crossed over a tributary, we clambered back up the other side. A herd of cows appeared along the narrow path, they had just wandered out of the woodland where they graze freely. Cattle, by nature, are woodland beasts and they certainly are in Chile, yet I am always surprised to see such large creatures emerging from seemingly impenetrable forest.
Tributary joining the Rio Manso
Franco the cow boy
The land we were crossing is privately owned and sporadically we passed through gates which needed closing. Both Franco and I had become fairly competent at the task, so Ciro no longer waited for us.
Ciro opening a gate (this is how you are supposed to do it)
We were trotting along at a good pace when my hat got hooked by a low branch. I stopped Estrella and went back to pick it up. No sign of Franco, the last time I'd looked he'd been just behind me. I caught up with Ciro and we waited. Still no Franco.
Meanwhile Franco was having the full 'jinetía' experience.
Franco's jinetia ;-)
He'd asked Grano de Oro to turn around so that he could shut the gate but Grano refused. Franco insisted and Grano, concerned he was being left behind by the other horses, reared up, head butting Franco in the process. He reared again but this time Franco was ready for the miscreant. After a severe talking to, the rogue settled down and Franco realised his glasses had fallen off. Luckily he found them, still intact.
By late afternoon we reached a meadow with two large elder trees and a small abandoned house. We set up camp under the watchful eye of a very large bull and the curious gaze of the calves. One in particular was dying to come closer, but would lose its nerve within three metres and dash off to join the others. Although apparently very tame, these cattle are practically wild. As in Europe, farm animals in Chile have to be declared to the government and ear tagged, the bull was the only one with a tag.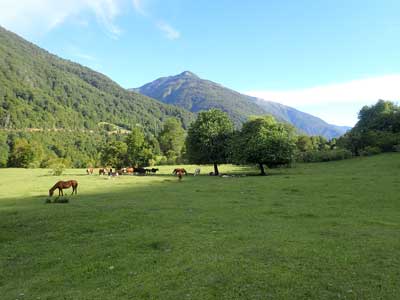 Our campsite under the trees
Ciro was a great companion and guide on this trip. Always in a good mood, he has a great sense of humour and is always up for a laugh. He had us in stitches every time he spoke 'Inglishi'. As a Spanish teacher, however, he is unreliable. A few days before I had referred to my woollen poncho as a "poncho". Ciro had corrected me, "that is a 'manta', the waterproof capes are 'ponchos'". The day was cooling down so I put on my 'manta' and, as we prepared the fire, I asked: "Ciro, in Spain a 'manta' is a blanket, what is the word for a bed blanket in Chilean?" His reply: "You are wearing a 'poncho' and a bed blanket is a 'fresa'". Franco and I looked at each other, we were really confused. It seemed a poncho could be either a 'poncho' or a 'manta' and that a bed blanket was a 'strawberry' (in Spanish). To confuse things even more, strawberries are called 'frutillas' in South America. Back in Cochamó, Elena, Ciro's daughter-in-law informed us that the South American word for a bed blanket is 'frazada' but as is often the case in Chile, words are shortened.
As it got dark we heard calls. Two young women in their mid-twenties arrived from the direction of the valley. They had got lost and turned back hoping to ask for directions at one of the farmhouses. Nobody was in, as everyone had gone to the fiesta in El Leon.
We invited them to share our campfire. Cousins from Santiago, Valeria is a lawyer and Natalia an engineer. Ciro gave them directions and we cringed. He could picture the route in his mind's eye, but how the two would ever make sense of his explanations was beyond our imagination. They kept asking questions, trying to make sense of it all. The next day Ciro said to us "those city girls must have been on drugs, they couldn't understand a word I was saying". Despite his banter, he was quite concerned when we didn't pass them on the way down.
The next day was Day 8 and we were all feeling the many miles travelled. The heat was stifling and the horse flies a plague. They are about the same size as a bee and the sound they make is similar. Standing next to a horse was like standing in my apiary back home with a hive open and the angry bees buzzing around. They didn't bite us that much and the pain inflicted was less than a European horse fly but the horses were distressed and Grano was rolling his eyes. The two males seemed to suffer most. Franco and I spent some time swatting the pests, they were easy to hit but they seldom died, our blows would just bounce off. Franco got one and I picked it up to take a photo, as it lay on my knee it recovered! It had been knocked out for about 20 minutes.
Chilean horse fly
The route, high up on the valley side, followed the Manso River. In places the narrow path was hanging over a vertiginous abyss, and looking down made me feel dizzy. Slowly we were losing height but there were many small rivers to cross on the way, each one in a deep valley with steep slippery ground on either side. The horses were sweating and bleeding so we stopped for a while in the shade to rest them. I finally worked out how to kill the flies, as they land on the horse they are easy to catch and explode when squeezed between thumb and forefinger. I spent an unpleasant hour but owed it to the horses who had worked so hard for us. My hands were covered in blood.
The descent to the River Steffen was the worst so we walked it leading the horses. Once back up the other side, the ground levelled out and we passed several small holdings. A helicopter hovered overhead and we wondered if it was searching for Valeria and Natalia. It is owned by the company that is building the dam, an unpopular venture. On the other side of the valley we could see the new access road cut into the mountainside. We found out later that the two women had made the bus safely.
Small holding near Rio Steffen
We stopped in a beautiful pasture by the side of the Manso. The leaves rustled in the light breeze, native bumble bees collected nectar in the warm sunshine, the horses wandered off to graze and we dived into the refreshing water for a wash and a swim.
The Manso River
Native bumblebee
As the rain clouds gathered after dinner, we squeezed up in the tent to make room for Ciro. Our final day would be a short ride down to the roadhead where a lorry would meet us to load the horses. We would then cross Lake Tagua-Tagua by ferry and catch a bus back to Cochamó. Nursed by the soothing sound of rain on canvas we fell asleep and dreamt of wild horses.
---