Day 1 Towards Puerto Mont

Caramor - sailing around the world
Franco Ferrero / Kath Mcnulty
Mon 15 Aug 2016 03:29
51:54.64S 72:59.39W
The forecast was for settled weather for some days. This was too good an opportunity to miss. So with our new heater fitted we motored back to the Terminal Pesquero in Puerto Natales. Here Kath topped up our fresh food supplies while I went to the Capitania and sorted out our Zarpe (permission to leave harbour and navigation plan combined). Back at Caramor we took on 80 litres of water and then went out for a final 'night on the town'.
The next day we woke up to a steady north-westerly breeze. This was manna from heaven and we sailed 20NM to Paso del Sur the entrance to Canal White. It was great to see the landscape we had missed in the fog on our way in. Our timing was perfect and we arrived just before slack water, while the very last of the flood was flowing through the narrowest part. Unfortunately this coincided with the wind dying and when we started slowly moving backwards we turned the engine on.
Sailing in Golfo Almirante Montt
Canal White is the other entrance to the Golfo de Almirante Montt where Puerto Natales is situated. Like Angostura Kirke it has very strong tidal streams. Angostura White, the most constricted part, is spectacular, narrow and craggy with views of the mountains of Peninsula Roca, the east side of Estero Las Montańas.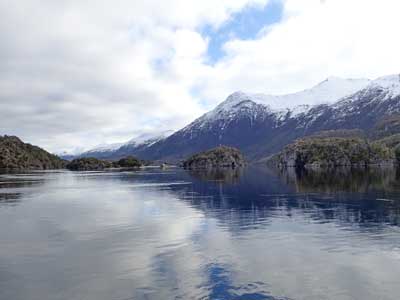 Approaching Angostura White
Five nautical miles later we dropped the anchor in Caleta Chandler. It isn't the best sheltered in the area but in the settled conditions it is fine, and it has a good stream from which we were able to top up our tanks. Just 20 miles west of Puerto Natales there are far more trees and no sign of the drought.
View from Caleta Chandler
Franco
---