Day 88 A grey day

Caramor - sailing around the world
Franco Ferrero / Kath Mcnulty
Thu 10 Nov 2016 00:43
42:47.13S 72:55.97W
This morning we sailed off the mooring in Puerto Auchemo and got off to a good start. A fishing boat crossing our path had to think again and pass behind us, once he realised we were travelling at a fair speed - 6.9 knots.
Then, as we drew level with the small town of Chaitén the wind disappeared. Yes, just like that; one minute we were making over 6 knots then the next we were wallowing in the chop and drifting around in circles.
In 2008 Volcán Chaitén erupted and caused a mudslide which made the Blanco River overflow, flooding a large part of the town of Chaitén. The community was evacuated, the town officially abandoned, and a new settlement constructed a few miles up the coast in Santa Barbara. However a few hardy residents refused to move and reverted to a lifestyle without electricity or running water. Gradually others returned and the population now numbers around eight hundred, and the town is once again the regional government centre.
Franco soon gave up all hopes of going any further than the next possible anchorage, on Isla Talcan.
We motored for a bit then a light breeze picked up and we made the last few miles, slowly, under sail. The Pilot says "to enter on a rising tide because of the extensive shallows". Finding the entrance proved difficult, from a distance, the shoreline looked like one continuous beach. As we got closer we were able to guess where the passage was but a sandbank with waves breaking barred our route. We decided to approach from the right, only to realise there is now an overhead power line across the entrance and no way of knowing how high it is. There were also two very new looking houses on the shore either side of the passage, built since the pilot was last revised.
It was too late in the day to head for another anchorage so we dropped the pick in the bay. The forecast for the night is for light winds so, fingers crossed, it should be fine.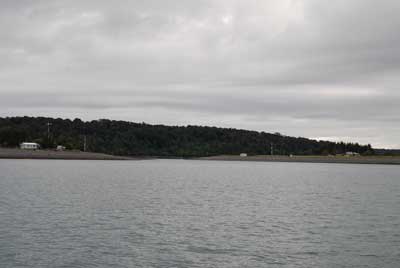 Isla Talcan anchorage
It looks very narrow, note the orange balls used to make the power line more obvious
---