Rio de Janeiro

Caramor - sailing around the world
Franco Ferrero / Kath Mcnulty
Thu 23 Jul 2015 11:19
22:55.00S 43:06.20W



Making landfall at Rio de Janeiro after a night's sail from Cabo Frio



Sailing past Sugar Loaf



Caramor in Botafogo Bay with the statue of Christ the Redeemer in the background

Through the night the wind slowly decreased and on the morning of Tuesday July 14 we sailed into the entrance to Guanabara Bay past the best possible view of the iconic Sugar Loaf Mountain and the statue of Christ the Redeemer. Somehow Rio de Janeiro seems like a major milestone in our voyage and it was very satisfying to sail into Botofogo bay and drop anchor under sail right under the Pão de Azucar (Sugar Loaf). Cai, who designed our 'running tortoise' mascot obviously thought so too as he sent us a drawing of our mascot doing his impersonation of the famous statue.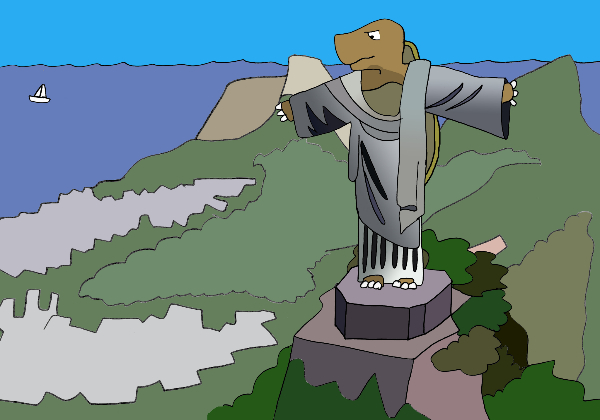 After having coffee and photographing Caramor with the famous backdrop, we moved over to Niteroï and the Rio Sailing Club where we picked up a mooring. This is probably the only purely sailing, as opposed to motor boating club, in Brazil. It was founded in 1914 by an emigrant Englishman and the members are remarkably friendly and generous. The Commodore, Alan, spoke excellent English and informed us that all foreign boats are welcome to stay for a week and use the club's facilities free of charge, and that after that we could stay up to a total of 30 days for about £10 a day. The only reason they introduced the 30 day limit is that some live-on-boards outstayed their welcome and stayed for over a year!



The view from the sailing club - in this light you can't see how badly polluted the water is!

We stayed for 9 days, did a lot of sightseeing and eventually met up with Kath's Mum who is joining us for 10 days.



Copacabana beach from Sugar Loaf (what's all the hype about? It's just a beach)



Selaron, a Chilean artist, decorated this stairway. He was murdered after refusing to pay protection money



The Botanical Gardens



A Brazilwood tree? These were sought after by Europeans for the red pigment in the bark. Their harvesting was a major contributor to the destruction of 93% of the Atlantic Forest.



A Ceiba, also known as kapok, tree. Used to make dugouts in the south of Brazil.



Resident of the botanical gardens



In the middle of a path, it looks just like a snake.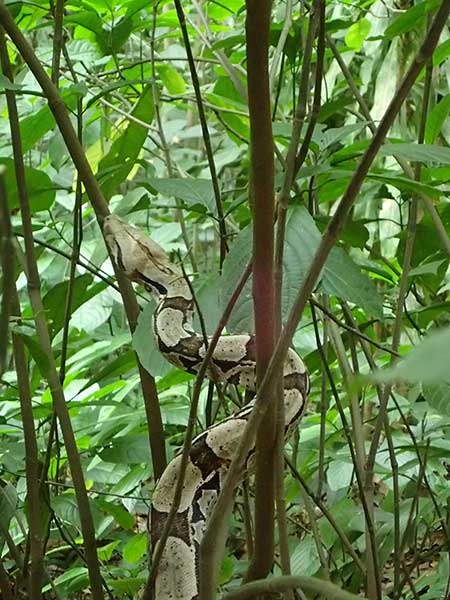 It was a snake! This boa was about 2m long and apparently a very rare sighting here.



Romulo, the Ocean Cruising Club's port officer kindly held our mail and entertained us at the exclusive Iate Clube de Rio de Janeiro.



The statue of Christ the Redeemer



Ring tailed lemur in Tijuca National Park



Joyce and our excellent guide Heitor at the top of Pedra Bonita in Tijuca - getting up there was quite an achievement for her.

Post by Franco
---