Salar de Uyuni photos

Caramor - sailing around the world
Franco Ferrero / Kath Mcnulty
Fri 17 Nov 2017 02:48
A few more photos of our 'Salar de Uyuni' trip
It wasn't just about flamingos.
Can anybody tell me what this is?
but it certainly was about desert landscapes.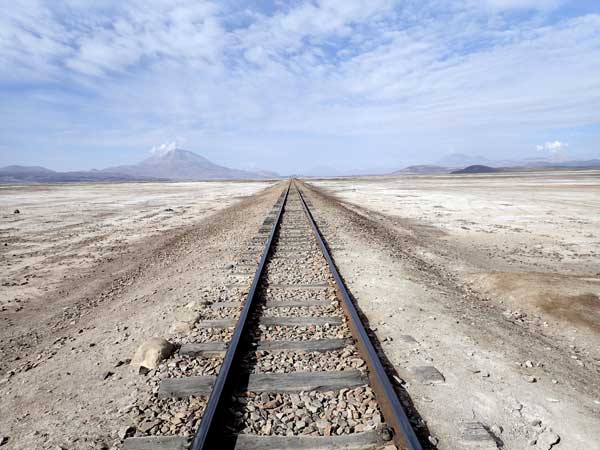 The disused railway line to Chile
The volcano on the border with Chile
Another salt lake
The 'stone tree' - a core of harder rock, everything else has been eroded
Kath after a scramble
We stopped for lunch at a rather dismal 'eco-hotel'.
So-called 'eco' hotel
Andean fox near the track
Franco and I had the impression that the fox knew food was coming its way, possibly something to do with the strange practice of tying the lunch rubbish to the rear windscreen wiper. Our vehicle still had its bags.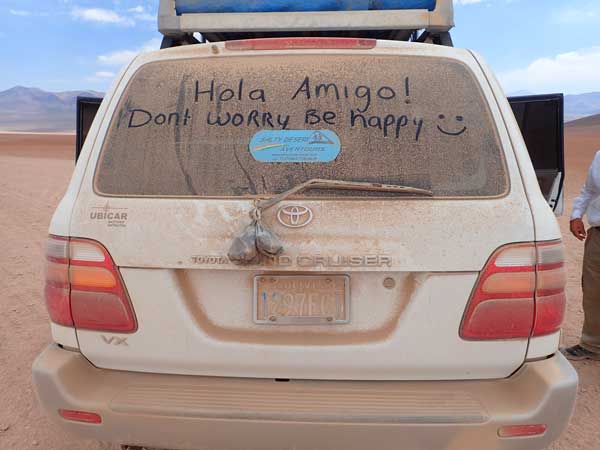 The vehicle we travelled in
Javier knew how to use a slingshot and agreed to teach us. My stone went flying off backwards. Yann did a little better.
Javier teaching Yann
Franco was outstanding!
More desert
We hadn't realised how many people and vehicles would be on the same trail
Laguna Colorada
Young llama near the national park entrance
Amazing red caused by algae, but only during the afternoon
On our final day we passed through a geothermal active area, it could have been the crater of a volcano.
A steam geyser
Sunrise over a desolate landscape
Earth belch hole
Fumaroles everywhere
We stopped for breakfast near the hot springs. Just as we arrived, there was a large group of Koreans sat around the pool soaking their feet and picking off hard skin. This put most people off, so we had it to ourselves though Margaux and Franco decided to pass.
Yann, Michel, Elise and Kath
Kath and Franco in the desert
The landscape which is supposed to have inspired Salvador Dali
Franco feeling on top of the world
Laguna Verde (toxic to wildlife because of the naturally occurring heavy metals)
It had been a great few days, thanks to the marvellous people we met.
From left to right: Kath, Margaux, Franco, Javier, Michel, Elise and Yann
Heading back to Uyuni on the desert motorway
---