A climber's best kept secret

Caramor - sailing around the world
Franco Ferrero / Kath Mcnulty
Tue 9 May 2017 02:16
33:37.11S 69:30.36W
When Franco and I travel, there is always a plan. This time it was just a lot more vague than the quasi-military operation of my mother's visit or the detailed schedule of our road trip with Julie and Angie. In our year spent in Chile, I have learnt two things: there is either no or wrong information on the web and there is a bus to everywhere (sooner or later).
Our idea was to head south through Argentina, spend a few days climbing somewhere and eventually re-cross the Andes back into Chile.
A vast area of pink granite known as 'Los Arenales' seemed to be our best hope for climbing. The only concern was that it is at an altitude of 3,000m+ and the guidebook gives the climbing season from September to April. Franco wondered if we were too late in the autumn. However the forecast was good and South Americans feel the cold, so we decided to go for it.
We bought food for four nights' camping and caught the 9:30 coach to Tunuyán, a small agricultural town recently emerged as the centre for some of the best Malbec wine produced. An hour and a half later we hopped onto a local bus to Manzano Historico, a tiny village of eighty inhabitants.
Manzano Historico means 'Historic Apple Tree'. Sometime in the 1810s, it is alleged that José de San Martín, the liberator of Argentina sat under the shade of an apple tree somewhere in the vicinity, on his way back from a decisive battle on the other side of the Andes against the Spanish.
The guidebook (14 years out of date) says 'Hire a freight taxi to take you the 14km up to the Canyon Los Arenales'.
We are familiar with freight taxis as they are available everywhere in rural Chile, a sideline for anyone who owns a pick-up truck. We asked around and were pointed to a house. Franco went to inquire and came back a moment later, grinning.
"The taxi will arrive in an hour."
Manzano Historico with the Argentinian plain in the distance
Waiting for the taxi in Manzano Historico
There was a small shop in the village, so we bought an extra day's rations: saucisson, eggs and some stale bread. Franco also found oranges and bananas, we were in business.
Our taxi arrived, a decrepit transit van. The driver introduced himself as Yagua.
"I need to meet some people. We'll eat an empanada then get on our way." He announced.
A table was laid in the street with freshly baked and fried empanadas (the best we have tasted so far), a bottle of local table wine and a litre of Coca-Cola. Yagua and a few other villagers were meeting with a small delegation from Malargüe, a town further south, to discuss a joint tourism initiative.
Yagua was trying to set a date for some work to start and suggested Tuesday. The visitors agreed. The locals acquiesced in a 'mañana, mañana' sort of way.
"Yeah, Tuesday or Wednesday is good."
"Where are you heading next?" We were asked.
"Malargüe and then by bus to Neuquén." Our new friends looked dubious.
"There's nothing in Malargüe, Neuquén is really ugly and I'd be surprised if there was a bus," They enthused.
As we drove up the dirt track into the Andes, Yagua pointed out groups of trees.
"I planted those with my mates twenty years ago," he said. "We were known as 'Los Siete Locos' (The Seven Crazys). We weren't really mad, just different."
Yagua was born in Buenos Aires and after several years of moving around settled in Manzano Historico thirty odd years ago. He is angry with the way most Argentinians treat the environment.
"They throw litter everywhere." He added "In Europe you destroyed everything but maybe you understand now. In Argentina we are still destroying the environment and there is little awareness."
We were beginning to realise that Yagua wasn't your average rural taxi driver.
In a country where there is little free public access to land, Yagua bought Los Arenales to secure free access for all. He then handed the land over to a foundation 'Piedra Libre' to manage it for posterity.
"If you need anything, my daughter is up at the refuge. If anybody knows Los Arenales, she does. She was practically born here." He offered.
We passed the Argentinian border check and showed our passports, we would be in no man's land for the next few days. Yagua dropped us off at the best camping spot and showed us the path to the rock face we intended climbing. He sniffed the air.
"There's no wind ... snow is on its way." He pronounced.
"Before Monday?" we asked, concerned. He couldn't say.
Welcome to Los Arenales
Looking down the valley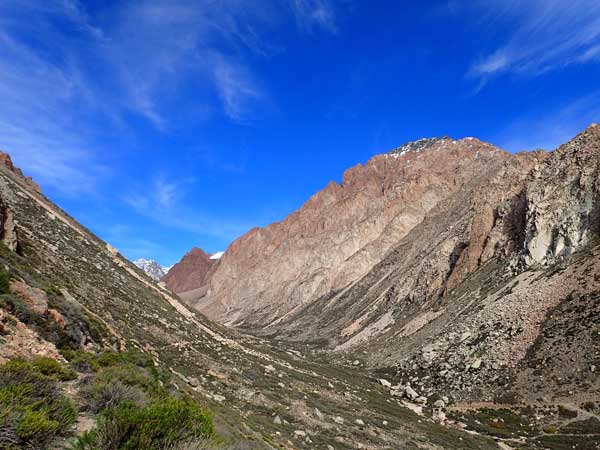 Looking up the valley (our tent is on the green patch at the bottom right corner of the photo)
As the sun dropped behind the peaks, the temperature plummeted and we shivered in the canyon.
Cold camping
Mitria Wall
In the morning we trekked up to Mitria Wall. The pink granite is beautiful though not as grippy as the volcanic rock we climbed on in Bariloche. From the base it looks like there are plenty of hand and foot holds but most are 'slopers' and smooth rounded 'pinch grips'. I found it unnerving, I felt like I never had quite enough to hold onto (but then I like 'jugs' - holes you can stick your whole arm into). Franco looked at home and was climbing confidently. Apparently the rock is similar in Jersey.
Franco studying the guidebook at the base of Mitria
Lunchtime visitor (some sort of rodent)
That evening, back at the camp, Franco spotted movement out of the corner of his eye. He followed the animal from a distance and eventually it stopped, out of cover. It was an Andean fox (Lycalopex culpaeus) and was observing our neighbours' tent. From time to time it looked back towards us.
"I'm a little peckish. You wouldn't tell on me if I raided the tent, would you?" It seemed to ask.
Andean foxes are substantially larger (95-132cm long) than European foxes (45-90cm long) and are sometimes called wolves. We congratulated ourselves on such a good sighting.
While we were eating our breakfast on the Friday, a group of gauchos turned up. They were rounding up the cows to take down to the valley. Did they know something we didn't? Watching them ride across the steep slope, we wondered if the horses were a special breed with two legs shorter than the others.
Back at the wall, we warmed up on a single pitch before climbing the first three pitches of 'Paso del Condor'. We couldn't climb the top pitch because we only had one rope and the pitch would have been too long for us to abseil back down. In the deep blue sky above a condor circled ... the first we have seen since we left the far south. Chino and Oracio, on a nearby route, were ecstatic.
From a ledge, way up above the valley, we watched mist riding up from the plain. As soon as it reached the customs post, it retreated hastily. A while later it returned with reinforcements but each time it reached a certain point, it was defeated by the high altitude down draft. We were relieved, it was cold enough at night without fog.
Franco abseiling off the third pitch of 'Paso del Condor'
Kath abseiling off the first pitch of 'Paso del Condor'
Oracio and Chino celebrating completing their route
Oracio had seen a weather forecast. He told us that the zonda (warm, high altitude wind that blows in the Andes) would blow for a while, then a front would come through Sunday evening, possibly bringing snow.
Dinner that evening was scrambled eggs. I stirred the mix with a metal spoon, making a fair amount of noise. When we looked up, the fox was sat watching us.
"Scrambled egg? I like scrambled egg. You have no idea how difficult it is to get eggs around these parts." It drooled.
Andean fox
We watched each other for quite some time until it decided that Franco didn't look like the kind of guy who would share his dinner.
On our third day in the valley, we decided to walk up the canyon as far as sensible. A day off climbing was no bad thing and we wanted to admire the towering pink granite spurs and get a feel for the vastness of the place.
The refuge with the canyon beyond, more rock than you can shake a stick at!
The view towards Chile from the moraine blocking the top end of the canyon
Down the canyon from the moraine
After lunch, the mist started coming in but although a little cloudy, the weather remained fair.
Cloud coming in during the afternoon
In the middle of the night I awoke suddenly. I thought a wild animal was pawing at the tent. I shouted something incoherent and Franco told me he was knocking snow off the tent.
Snow in the night
Our climbing was over. We didn't have suitable footwear for snow as we were travelling light (if you don't count the several kilogrammes of climbing gear). Yagua was due to pick us up the following day but we weren't sure his van would make it if it snowed more. We decided to walk out.
Half way down we met Yagua, on his way to pick up his daughter and her friends. He gave us a lift and we caught the bus back to Tunuyán.
Walking out
The snow clouds are clearing
---