Crossing from Sal to São Nicolau

Caramor - sailing around the world
Franco Ferrero / Kath Mcnulty
Thu 12 Feb 2015 11:34
16:33.3N 24:05.5W

65 nautical miles: we set off at first light, a long day sail and most of the fishing boats have no lights at all.

For passage planning we work on an average of five knots, Caramor can sail much faster but this averages out for those hours with less wind. In the tropics we have 12 hours of daylight but at sunset, the sun just falls out of the sky and it is dark very quickly.

Our first three hours were fairly good, averaging just over 5 knots but then the wind eased. "Franco did you see that weird bird? It was black and white and had long tail feathers, definitely not a booby". Our ETA (Estimated Time of Arrival) was getting later and later. Carriçal, where we were heading on the island of São Nicolau is barely charted and not somewhere you want to anchor in the dark.

We needed to do something radical - like fly the spinnaker. Usually just preparing everything is enough to get the wind blowing again. Atlantic spotted dolphins turned up; as we weren't going quite fast enough they played a different game, they would swim astern from Caramor, catch a wave and come surfing back at speed to pass under our bows.

We were ready to hoist the spinnaker but I was uneasy. Earlier we thought we had heard thunder but the sky was just lightly overcast, nothing threatening. At yacht-master school I learnt all about cirrocumulus, altostratus, warm fronts and occlusions but this far south the weather didn't attend the same classes as I did. Then we saw it: lightning strike ... and again. It is very difficult to estimate distances at sea. We counted for the thunder but we didn't hear any.

We shelved the spinnaker project, within minutes Caramor was sailing on a broad reach in a force 5. It was short-lived though as the front passed through. This time we didn't have misgivings. We got the spinnaker up, nearly without glitches and Caramor just took off! A fabulous ride bringing our ETA back the right side of darkness.



8.4 knots by the GPS (left screen) under spinnaker - yipee!

Good things don't last for ever and the wind was strengthening, at 20 knots (real speed) it was time to call it a day. I steered downwind and released the guy-rope while Franco rugby tackled the spinnaker to the front deck.

It wasn't long before we were reefing the sails, Franco went up to the mast. All seemed to be going well but then he was sat on the coachroof and I could hear groaning. He waved that he was ok and eventually made it back to the cockpit. He had head-butted a sharp corner of a winch. Nothing too serious but very sore.



Franco's dinged forehead



... But still smiling

It started to rain, proper Welsh rain, and we put in a second reef. The island was in sight.



São Nicolau in the rain

We followed the south shore to Carriçal, or at least to where it was marked on the charts (both paper and electronic) but there was no village there. This part of São Nicolau is barren, brown bare soil, the very sparse vegetation is on inaccessible ledges, where goats can't reach. We found the village of Carriçal a couple of miles further west in the bay of the same name. We headed for the next inlet and finding it to our liking, dropped anchor in 3.5 metres. It was still raining heavily with strong wind squalls.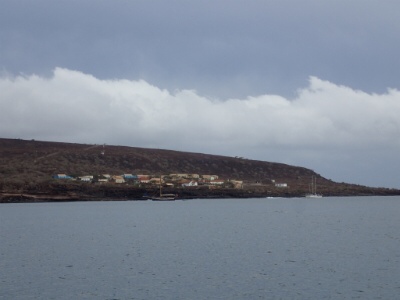 Carriçal (2 miles west of charted)



Kath in tropical sailing gear (once I stopped pretending it was warm) at our Carriçal anchorage

"Look Franco, there's one of those birds again, the one with the long tail feathers ... oh no it's not, it's a flying fish!" Amazing! I thought flying fish just leapt around out of the water. This thing, the size of small seabird, actually took off, FLYING two to three meters above the water until it flew out of sight.

It rained all night. (If it keeps this up much longer the island will turn green.)

Friday the Thirteenth

Needless to say, we went nowhere. Franco, a rational man turns into a rather superstitious sailor.

Still raining: like a wet summer's day in Wales, one of those days when you go to Pete's Eats in Llanberis to eat cake rather go for a mountain walk, that's if you got out of bed in the first place!

Time for a piece of Thelma's Christmas cake.

Kath
---