Ausangate, the mountain of the gods

Caramor - sailing around the world
Franco Ferrero / Kath Mcnulty
Tue 10 Oct 2017 02:17
13:47.19S 71:13.52W
In Cusco, we had chosen Arcopata B&B as our home away from home. As you come through the door, there is small display of leaflets advertising the numerous activities on offer in the area. Discarded to one side was a tray with a jumble of old tourist brochures and programmes, right at the bottom, an A4 sheet caught my attention.
"Horse riding in Ausangate with Mr Bernabe Turpo" it read.
"$40 per horse, per day, that's cheap!" I said to Franco, thinking it was US$.
I rang the telephone number, Bernabe answered speaking more Quechua than Spanish but somehow we managed to understand each other. The price was in Peruvian Soles, even cheaper.
A few days later, after visiting Machu Picchu, we were sat in a café in Aguas Caliente when my phone rang. It was Bernabe, he would be in Cusco the next morning and would meet us at our guesthouse at 8am.
Together we hatched a plan; we would ride five days, right round Ausangate Mountain. Bernabe insisted on bringing his large tent as well as a table and chairs so we would need a horse each plus two to carry the gear, five in total. In addition to the 40 Soles per horse, Bernabe charges 40 Soles per day for his time but offered to throw in a horse for free which seemed very generous. We agreed to meet in Tinke in a few days time where we would purchase the food to his specification (I was keen to avoid a re-run of Morocco where our muleteer wouldn't eat any of the food we had brought). We shook hands on an agreed daily rate of 200 Soles, it was a good deal.
A couple of days later we caught the minibus to Tinke. The driver appeared quite sane until he sat behind the wheel - it was a crazy ride, overtaking on blind bends, taking horseshoe zigzags on the wrong side of the road, driving through roadblocks and failing to stop when ordered by a policeman. Somehow we arrived alive three and a half hours later in Tinke. Bernabe was in town and took us to his daughter's hostel. Here he told us he had made a mistake and that we would have to pay for the fifth horse after all. We were not amused, a deal is a deal, especially as we hadn't asked for a free horse. We agreed to split the difference. His son, a sensible man, took us aside:
"Sorry about this, my dad is a fantastic horse handler but he is going a little gaga," he apologised.
The local restaurant was advertising 'lomo saltado' (stir fried steak) among other dishes and Franco was licking his lips. As we sat down, the waitress brought the obligatory noodle soup, rather than a menu. No lomo saltado on offer, just the set meal of tough chunks of chicken in a runny sauce with rice.
We slept well but were awaken around 5am by loud lorry, bus and car horns, Peruvian drivers show little consideration for those still in bed. We met Bernabe at 7am and went shopping. In addition to the groceries, we bought a large gas cylinder. As we were about to leave the store, a younger man came over and offered to carry our large sac to the waiting horses. Bernabe packed us off to a café for breakfast (he had already eaten) and told us to meet him in half an hour.
When we arrived at the agreed rendez-vous, we found only two horses and Bernabe drinking beer with the lad who had carried the bag and one other. This was not a good start.
"This man has just bought that horse," Bernabe told us pointing at one of the two horses, "we'll have to walk to the other horses", he added.
"How were we going to manage with only one pack horse?" we wondered.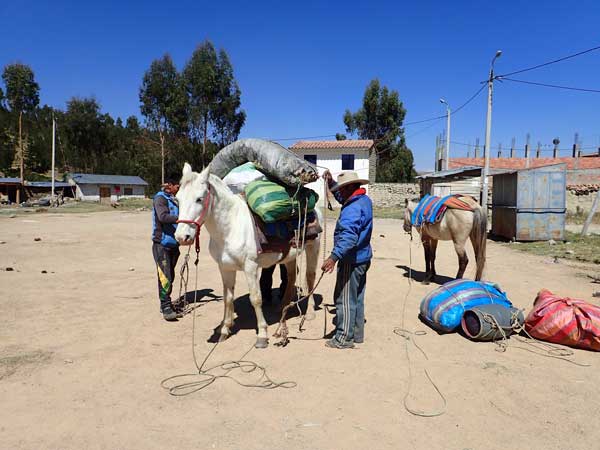 Loading the white horse, the other had been sold to the man on the right
Somehow both were loaded and we set off on foot. We passed the Ausangate check point where we paid our 10 Soles fee and soon the road became quieter. On a bank, three small horses awaited us. Mine was called 'Black Good' (it was black and a good horse), Franco didn't quite catch the name of his but the next time he asked he was given a different name so in the end he called it 'Arthur' which the horse didn't seem to mind. (Short for Arthur McFarter because it had flatulence problems.) Bernabe's horse was 'Ausangate', except later this became the name of the white packhorse.
River running through Tinke
None of the horses had reins or bits, instead the leading rope was cleverly tied around the horse's head to make a halter and reins. The saddle was fairly small and very uncomfortable for the rider though well padded for the horse and none developed sores in the five days. The stirrups were minimalist and our shoes too fat to fit comfortably. Only the front hooves were shod, Bernabe told us this was to save money, and this was a problem as 'Black Good' had very tender back feet.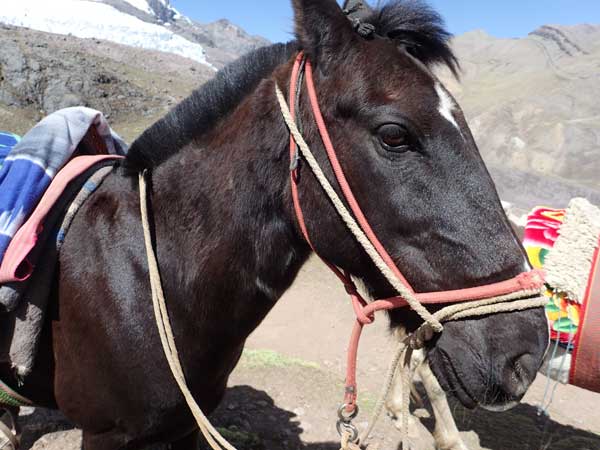 Makeshift bridle and reins on Black Good
The vast landscape was beautiful and we caught sight of Ausangate Mountain as we headed out of town. We passed a flock of alpacas, which contrary to appearances are not llamas crossed with sheep, instead they are a domesticated version of the wild vicuña.
Alpacas
Looking beyond Tinke
Ausangate Mountain
Up ahead, sat on a rock, was the man who had bought our pack horse. He was accompanied by a good looking mule. We swopped the loads over, 'Mula' was very well behaved for a mule. The man told me he also wanted to buy 'Black Good' because she is a strong and gentle horse.
"Not until Tuesday," I warned him firmly.
He explained that he was hoping to start running horse treks for tourists and wouldn't we want to go with him? He went off to the right on his new horse and we continued up the valley.
Franco with Arthur
We were getting to know 'Black Good' and 'Arthur', they are tough little horses that are responsive and don't mind a jog or a gallop on soft ground. On marshy land they choose their route carefully so as not to get bogged down. On the climbs they plod steadily up, despite the lack of oxygen at these altitudes.
After the village of Upis, the land started to change from agricultural to pastoral and by mid afternoon we arrived at our campsite, near hot springs known as the thermal waters of Upis.
The landscape has changed
After setting up camp, we rode up to the lake for a photo shoot!
In traditional costume at the base of Mount Ausangate
Franco, Kath and Bernabe
Back at the camp three groups of hikers had arrived. An American with her guide and mule driver, three fit young guys hiking independently and a large organised tour group.
Bernabe knew all the muleteers as well as the people living at the hot springs so we shared afternoon tea with them in Bernabe's large tent, an essential communal shelter.
The hot springs were very hot and great for relaxing sore bottom muscles, unfortunately the changing rooms were disgustingly dirty.
Bernabe's tent at our first campsite with Ausangate behind
Hot springs source, the water is boiling (water boils at 80˚C at this altitude)
Back at the tent, Bernabe had prepared soup followed by fried chicken and rice which we shared with his friends. One man had a radio so we listened tensely to Peru's World Cup qualifier match against Argentina. It was a draw which I thought was a good outcome but our Peruvian friends were devastated.
From our tent we could hear Bernabe lamenting late into the night, then around two in the morning we heard him talking again. Other friends from isolated communities had arrived to share their sorrow. They departed at dawn.
In the morning our guide looked wrecked. 'Mula' was loaded up with the gas bottle but as we descended after the first pass, it kept falling off. Her gait is a little bouncy but she is also mischievous; she stops to eat until the next rider is about to catch up with her, then she trots off, jiggling her load.
Heading up the first pass
The mountain over to our right, known as 'Rainbow Mountain' because of the amazing soil colours, is a popular excursion from Cusco and we were grateful to be on the Ausangate side, away from the hordes. Above us, an impressive hanging glacier dominates this flank of Ausangate. As we headed down towards our next campsite, impressive storm clouds were forming above, threatening snow.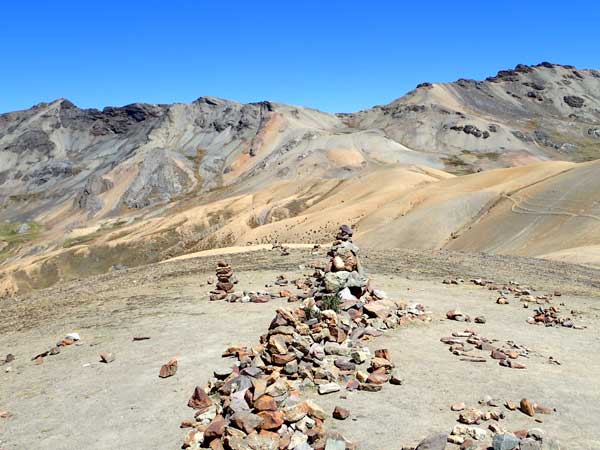 First pass looking towards 'Rainbow Mountain'
Heading down the other side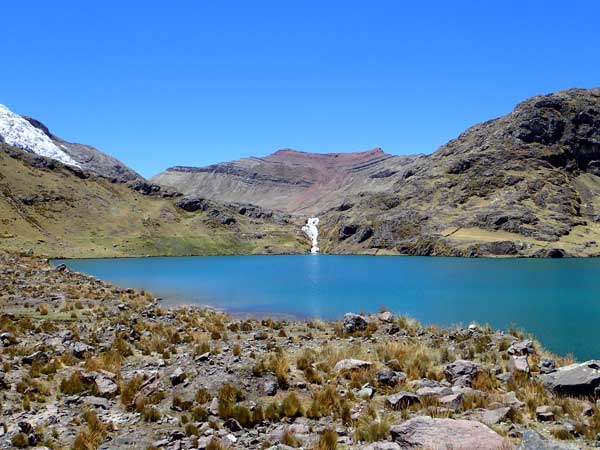 Mountain lake
Ausangate glaciers
We were the first party to arrive and Bernabe set up residence in the small room next to the toilet block. A small fluffy puppy appeared out of nowhere and kept us entertained. I offered to help cook and Bernabe gave me the carrots to peel. He wasn't happy with the result, his idea of peeling carrots is to cut large chunks off each side until the carrot is square (I've since seen other Quechuans doing the same). I told him it was wasteful so he expelled me from the 'kitchen'.
Outside the wind was gusting hard so Franco and I decided to wait for it to drop before erecting the tent. Time is a luxury the muleteers with large groups don't have; everything has to be ready by the time the trekkers arrive. A strong gust ripped a large orange tent out of the hands of two lads who were trying to put it up and wrapped it around two of the horses. Blinded, they panicked and took off across the site. Chaos reigned until at last the wind eased and the horses untangled themselves.
I wasn't busy so I wandered over to give them a hand put it up. We were missing a tent pole, which we eventually located fifty metres away!
A lady came down the mountain chasing after three alpacas, they got half way across the river and stopped. From the bank she threw stones at them but they wouldn't budge. I decided to help so started crossing the river on the 'stepping stones' which spooked the alpacas. They turned back and ran past the woman. I was concerned I'd sent them the wrong way but she was delighted and strode off after them. In minutes she was out of sight.
There was practically no grazing for our five hungry horses so Bernabe gave them the whole bag of hay we had brought with us.
Horses enjoying the hay before the frost has had time to melt
Our altitude was 4,800 metres and when night fell, so did the temperature, to well below freezing.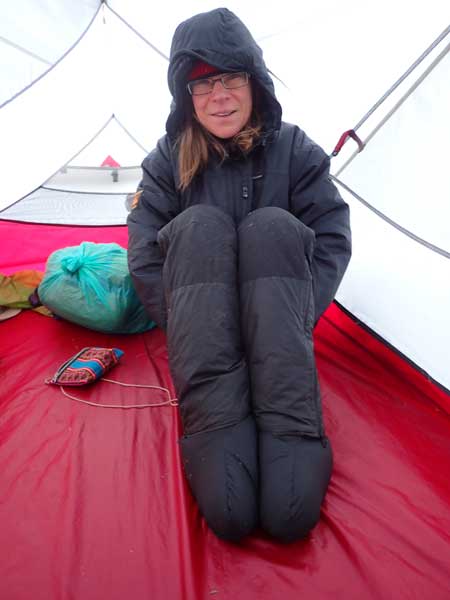 Kath in her pyjamas
On the morning of our third day, we shook the ice off the tent. There was more cloud cover than the day before which meant that it was colder. This day we would cross over the Palomani Pass at 5,200 metres, the highest point on our route and the highest Franco and I have ever been, not in an aeroplane. (Franco did come close though, when he climbed Mount Kenya at 5,199m.)
We ate a light breakfast because the plan was to stop for an extended lunch on a pasture the other side of the pass so that the horses could eat their full. Bernabe insisted that Franco and I take an orange each as they were running out fast. He had generously been giving them away to the people who visited us. I had bought extra to give to any children we met but the adults were just as appreciative.
We soon realised that Bernabe's 'generosity' was a form of 'Ayni', the concept of reciprocity among people of the Andes, when one member gives to another, s/he is entitled to receive something back. In this case it was usually help loading the mules.
Lower level adobe house
We came across adobe brick houses with thatched roofs. The mountain herders have three dwellings at different altitudes. In the summer (rainy season) the high passes and slopes are covered in snow so the people and animals move to the lower slopes.
At the top of the pass I snapped a few photos but Bernabe was anxious not to delay. We dismounted and walked down with the horses. The Peruvian mountain saddles are not as secure as the Chilean ones and riding down the steep slopes could be dangerous.
Franco and Arthur at the Palomani Pass (5,200m)
The other side of Palomani Pass
We dropped down to the lush grassland but we did not stop. There was another pass ahead of us, before we get to our next campsite and it had started to hail. One of the muleteers who was wearing a good quality jackets grinned at me:
"It's raining!" He said gleefully.
I didn't find it so amusing, despite my waterproof coat, I was freezing. I could only guess that he either wanted to test his jacket or he had land that would benefit from the downpour.
The storm eased as we approached the campsite.
"We must put the tent up, we must put the tent up," shouted Bernabe, running away from us. His leather jacket was waterproof but he had nothing to keep his legs dry and was fully aware of the risks of hyperthermia in these mountains.
Franco systematically searched through all the sacks looking for it, it wasn't there.
Bernabe returned still shouting.
"Where is it?" Franco asked, by now thoroughly frustrated and getting annoyed.
"Here." Bernabe said, unrolling it. He'd asked the other group to carry it for us! (Another case of 'ayni'.)
From the shelter of the tent we watched the landscape turn white. The two passes we had crossed were now covered in snow. We spared a thought for the group that hadn't arrived yet.
Bernabe cooking
Bernabe is a great guy, full of enthusiasm but sometimes we struggled to communicate. He often would start a sentence in Spanish and finish it in Quechua. His lack of front teeth didn't help. The main problem though was more a conceptual one, he would understand my question but not why I was asking, probably because what I wanted to know was completely obvious to him.
For example, there is a black maize sold in the market, its main use seems to be to make 'chicha morada', a slightly alcoholic drink. As Bernabe was making popcorn over the stove, I asked him if the black maize could also be used to make popcorn.
"We haven't got any, we didn't buy any," he answered, slightly panicked, worried that I would be disappointed.
Some other time we mentioned our friend Santiago (from Chucuito).
"You know Santiago? That's amazing." He interjected.
To Bernabe there is only one Santiago, the one from Tinke.
We were ok with questions like "what are we eating tonight?" or "why do the horses only have shoes on their front hooves?"
There may also have been an element of shyness. For 35 years he has worked as a muleteer for travel companies and our Salkantay trek experience suggests that only guides are allowed to talk to the customers.
Many of his friends who visited our tent spoke good Spanish and were keen to chat with us.
Luis asked us: "Do people in Britain eat cat?"
He may not know where Britain is or its dietary customs but I would bet my bottom dollar that he can name all the players in Manchester United. Football is after all the first religion in Peru.
Viscacha (rabbit like rodent with a long tail) populate the rocks around the campsite
Even cactuses are hairy at this altitude
The weather wasn't improving and it was a long time to dinner time so Bernabe cooked some potatoes and as we munched he told us a bit about himself: He is 52 and owns land, twelve horses, mules and cows (which makes him a well-off man by Andean standards). He trades livestock when he isn't working as a muleteer or guide. When he is away his (younger) wife looks after everything. In addition to the son and daughter we met in Tinke, he has a son studying in Cusco.
Peru is home to the potato, there are 4,000 different varieties. Peruvians prefer the floury varieties but we found them difficult to swallow and digest. Rice with potato chips is the staple diet for most people in the altiplano but chicken is increasingly available. Guinea pig is considered a delicacy and eaten at celebrations.
Shepherd dogs hanging around hoping for titbits, they wouldn't come near
The temperature that night was way below freezing and it took a long time for the snow to melt the next morning. The sky was clear blue once again and the snowy peaks dazzling in the bright sunlight.
Looking towards the last pass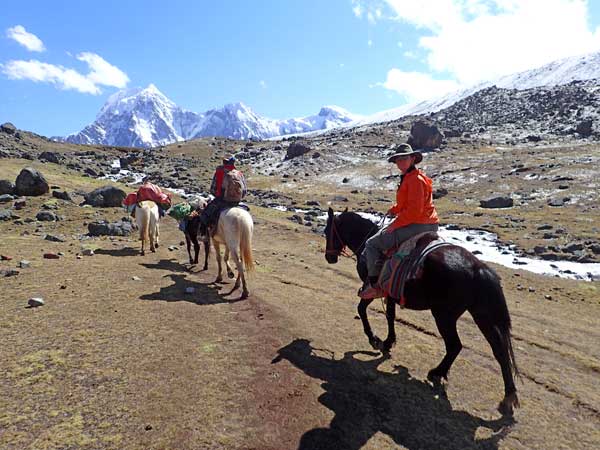 Bernabe and Kath heading uphill again
We set off uphill to cross our last mountain pass of the trip. Before long the clouds started building and shortly after we passed into the next valley it started snowing. It was bitterly cold. Ahead of us Bernabe had dismounted and we guessed it was because he was warmer walking than riding. The weather was deteriorating further with lightning and thunder very close by so we got off too and encouraged the horses to trot with us so that we could gain lower heights quickly.
We arrived at Pajchanta where we would spend our last night. As we entered the village, we passed the hot springs which were packed with Peruvian tourists, and a man stood on an upstairs balcony doing extreme spinning - he was using the whole height of the building to drop his drop spindle.
Pajchanta
Outside each house was a low structure covered by a large plastic sheet. Under the tarpaulin was a weaving loom. As I walked back from the hot springs I heard my name called. Bernabe was looking out from one of these plastic covered shelters. He invited me in to meet his nephew who was weaving a pure white cloth. They'd eaten a packet of crackers and saved me the last one.
After we'd all had a long soak in the steaming baths, Bernabe started to cook. Suddenly he went to the tent entrance and called out. Next, a man appeared in the tent and immediately started preparing a bolognese sauce. Bernabe explained that he was a good friend who had helped when his mule fell over the cliff. Once the food was ready the man left despite us urging him to eat with us. He returned later with his young son and luckily there were enough leftovers for both of them.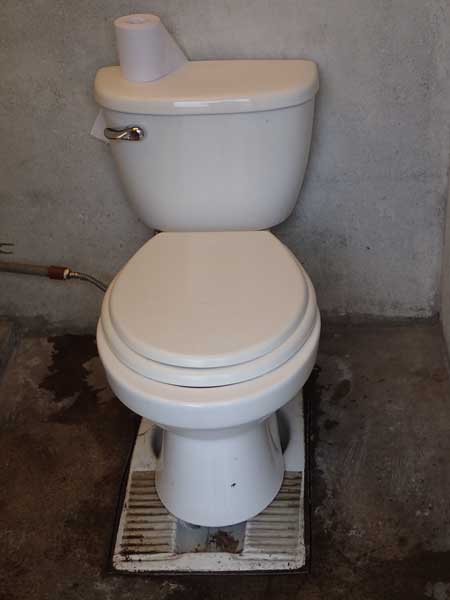 Flush toilet placed on top of a squat toilet, when flushed the water runs out the bottom - only in Peru!
"What time is it?" Bernabe asked us, large wrist watch sticking out from below his cuff.
"You're the one with the watch!" I pointed out.
The watch was out by two and a half hours. Bernabe didn't know how to adjust it, not surprising as it was terribly complicated. A nice touch was the cock crowing alarm which I set for 7am.
Just the night before I had been reading Mark Adams' excellent book 'Turn Right at Machu Picchu' where he describes the cook waking him up at 4:15 rather than the agreed time of 5:30. He later realised that the cook's watch was off by three and a half hours.
By morning the sun was back and we rode down into the valley, through villages made of adobe and fields of maize and potatoes.
The sunshine is back in Pajchanta
Breakfast in the sunshine in Pajchanta
Field patterns
The long road to Tinke
We said goodbye to Bernabe and the horses on the outskirts of Tinke, there hadn't been enough grazing at the campsites and he was keen to get them to pasture as soon as possible. We walked down to the market, chatting about the wonderful experience we had just been through, and caught the bus back to Cusco.
Women on the road to Tinke
---