Uyuni Salt Flat

Caramor - sailing around the world
Franco Ferrero / Kath Mcnulty
Wed 15 Nov 2017 03:33
20:27.46S 66:49.26W
Over one last hill and down from the altiplano to the vast Uyuni plain, the bus trundled. We were leaving dark leaden skies behind us, ahead the sun shone brightly. As we approached the small town of Uyuni, the only thing that grew was rubbish, tonnes of it, strewn across the landscape as far as the eye could see.
The last hill before Uyuni
The bus drove through the suburbs, unpaved streets of single storey, unfinished buildings, veiled by swirling dust. Without a doubt, Uyuni was high up the list of worst place I have ever been to.
As we waited for our luggage to be disgorged, a very pregnant women in shabby clothing accosted us.
"Salar de Uyuni tour?"
Well, yes, that was why we had come. We had heard so many glowing reports from fellow travellers:
"It was the most amazing place I have ever been, better than Machu Picchu." They had raved.
Since we were passing by on our way back south, it seemed a shame to miss it.
"Ok," I said to the woman, "we'll grab a drink and see you at your office."
She couldn't quite believe we were going to buy a tour from her, she thought we were trying to give her the slip. She was about to become one of those nagging touts that you just want to kick, when she thought better of it and backed off. (Maybe she had seen Franco's face.) We had heard that the tours were all more or less bad, for pretty much the same amount of money, it was 7pm and we had no desire to spend the next three hours touring agencies to find a trip leaving the following morning. Choosing the person who had bothered to turn up at the bus stop was as good a selection process as any.
Her name was Sandra. "You will be sharing a Land Rover with two other couples, from Denmark and South Africa," she said. We didn't care.
As we filled in the paperwork, I glanced at previous bookings, I couldn't see anyone from Denmark or South Africa, but since we really didn't mind who we travelled with, it didn't matter.
She also sold us a cheap hostel room and walked us to it.
"Wait here in the morning, the Land Rover will pick you up at 10am," was her parting shot.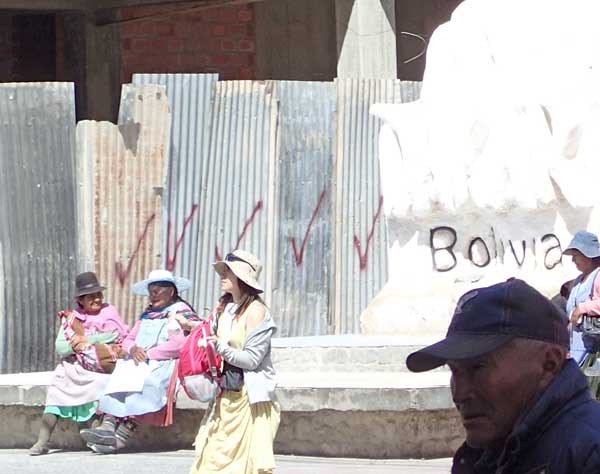 Uyuni
At 9am the next morning we returned to the office and paid Sandra the balance of what we owed.
Back at the hostel, we waited. A Belgian girl who had booked a longer tour with Sandra was also there. Ten o'clock came and went, 10:15, 10:30, still no vehicle. Then at 10:50, Sandra came waddling down the street.
"What are you doing here? You were supposed to be at the office," she admonished. "Your Land Rover has gone without you!"
"Yeah, right," we thought.
She hustled us into a car and we headed out of town. Franco and I were annoyed. Calmly I explained to Sandra that telling lies is no way to conduct business. She listened, but is unlikely to change her way of doing things.
There had never been any Danes or South Africans, Sandra is a middle woman, she sells tickets and buys up spaces with other agencies. As it turned out, we were lucky.
We were dropped us off by a load of derelict locomotives and several dozen Land Rovers. This was the train cemetery, the first stop for all the tours. We were allocated to one of the cars and the driver introduced himself, his name was Javier and he seemed like a nice guy. Soon the four passengers returned, they were Michel and Elise from the Netherlands, and Margaux and Yann from France. The company we had landed with was 'Salty Desert Aventours' and the service Javier delivered was excellent.
Our bad mood soon lifted as we got to know our new companions and it wasn't long before we were jabbering away in English, French and Spanish.
Salt springs, salty water bubbles to the surface
Javier stopped for lunch at the salt museum. It had been a hotel but was closed down after raw sewage polluted the surroundings. The concern then re-invented itself as a meeting venue in time for the Dakar Rally that passed through in 2014 and every year since. (Despite its name, the race has been held in South America since 2009 because of security concerns in North Africa.)
Dakar Rally salt monument
Flags left by rally competitors
By chance, the Swiss and Welsh flags were on the same pole
The Salar de Uyuni is the largest salt flat in the world. It was formed when a large prehistoric lake dried up. According to Wikipedia, it contains 50% to 70% of the world's known reserves of lithium and the Bolivian government is exploring how these resources can be exploited, possibly bad news for the three species of flamingo that breed here.
The light reflecting off the salt was dazzling and the complete lack of perspectives started to affect our sanity. It wasn't long before we started seeing things.
Mirage
For centuries the salt flat was an important trading route between the Aymara of the altiplano and the jungle people. It would take llama caravans a week to cross the harsh salt desert. At night the travellers rested on 'islands' covered by giant cacti (Echinopsis atacamensis) and populated by viscachas.
Incahuasi Island
A forest of cacti
Giant cactus with Franco for scale
Tree hugging - not recommended
Viscacha
Sunset over Uyuni Salt Flat
It was dark by the time we reached the edge of the salt flat and our salt hotel. The building was nicely laid out but salt gravel instead of carpet was not my idea of luxury.
Salt Hotel
---