Day 86 The home stretch

Caramor - sailing around the world
Franco Ferrero / Kath Mcnulty
Tue 8 Nov 2016 01:31
43:52.27S 73:02.35W
We motored out of Canal Jacaf and into Canal Moraleda, the main north-south thoroughfare. At this northern end, it is a 'channel' in name only as it is very wide and feels like the open sea. In the distance we could see the most northerly islands of the Chonos Archipelago and beyond the Golfo de Corcovado with the island of Chiloe barely discernible in the haze.
Leaving Canal Jacaf
It feels like we are on the home stretch now, only 140 nautical miles in a straight line to Puerto Montt but Caramor isn't very good at 'straight'. A light breeze got going few miles up the coast and we entered Canal Refugio with several good anchorages (there aren't any on the main channel). Perfect wind doesn't happen often in southern Chile, so when it increased to a stiff breeze sprang we made the most of it and sailed all the way to the last anchorage in the channel.
Volcano seen from Canal Refugio
The landscapes continue to be be very beautiful and today we passed a couple of spectacular snow clad volcanoes. We also spotted several small villages and many fish farms, a huge industry here. Throughout the day, we met other boats; fishing launches, small ships carrying heavy goods and speedboats which service the fish farms.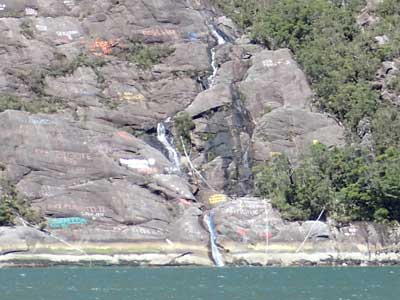 Fishermen's watering spot, the equivalent to the yachties wall in Horta, Azores
We have run out of 'canales' now. Ahead of us lies the Golfo de Corcovado which separates the island of Chiloe from the mainland. The anchorages along the mainland are few and far between and one strategy could be to 'hopscotch' between Chiloe, small islands in the gulf and the mainland to make the most of the wind direction. One concern was water but Franco spotted a fisherman's pipe and Caramor's tank is now full to the brim.
Pink skies at night, sailors' delight
---