Getting to the jungle

Caramor - sailing around the world
Franco Ferrero / Kath Mcnulty
Fri 27 Oct 2017 17:15
12:15.48S 70:54.32W
Last May I convinced Franco that we should book a very expensive tour to Manu National Park, one of the most diverse places on Earth, in the Peruvian part of the Amazon Jungle.
"The company is owned by a Brit and his Peruvian wife, nothing can go wrong. What's more, the guy is a famous ornithologist." I explained.
The seven day tour was perfect, it departed from Cusco and finished in the jungle town of Puerto Maldonado. In addition to the Manu River, we would navigate most of the Madre de Dios River between the small port of Atalaya and Puerto Maldonado, I was very excited.
The company's website was clear: "Departs every Monday." It said.
We paid our deposit and arranged to meet our friends Suzanne and Charles, who were flying out from Geneva to meet us, in Puerto Maldonado.
A month later we received an email from the company informing us that unless at least two more people signed up for the tour, it would be cancelled... or we could pay half as much again(!) for a private tour.
No one else signed up so in the end, when we got to Cusco, the Anglo-Peruvian company refunded our deposit without quibbling.
Cash in pocket, I said to Franco: "Lets go on our own."
We made enquiries; getting to Atalaya by bus didn't sound too difficult, then we would have to hire a boat which would be very expensive. The most interesting section, the Manu Reserved Zone would be out of the bounds because we would need government permits and a guide.
"... And there are dangerous trees," added the lady at the tourism office.
Dangerous animals maybe; jaguars, caimans, poisonous snakes, spiders - but trees?
We toured the numerous tourism agencies in Cusco, in search of a suitable alternative trip.
"Abseiling from an observation tower in the jungle?" - No.
"Rafting down the River Madre de Dios?" - No.
"Gawking at indigenous people?" - Certainly not.
"Too expensive."
"Wrong dates."
Franco went back to the hostel to do some work and I stepped into the small office of 'Vilca Espediciones'. A man with silver hair greeted me warmly.
"We have a seven day, an eight day and a four day trip departing the date you want. The seven day trip includes three days in the reserved area," he explained.
SOLD. No other agency was offering 3 days in the reserve for a 7 day tour, it was only ever two days. The price, well, it was a third of the original tour we had booked. The only downside was that we would be returning to Cusco rather than finishing in Puerto Maldonado. Somehow we would have to make our way to Puerto Maldonado to meet our friends.
Franco was up for it, so the next day we returned to the agency to pay. A young man signed us up and took our money.
"You realise the price you have been given is extremely good. If anyone asks you, please tell them you paid more," he pleaded.
A week later, at the agreed time, Lucho, our guide to be, rang the intercom at Arcopata Guesthouse. A pleasant guy with a great sense of humour, he gave us a map of Manu with lots of photos of wildlife.
"This is the menu," he said with a big grin.
He told us one other, a gringo who spoke good Spanish, was booked for the eight day tour and we would be together until the last day when we would return to Cusco a day earlier. We would share transport to Manu with a couple going for four days and their guide.
The next morning at 5:30, we made the mistake of waiting in the street for the Vilca minibus to pick us up. The usual swarm of taxis was already plying for work and each one beeped us as it drove by. The neighbours must have been cursing us.
We piled into the van. There was a youngish Brazilian couple, Bob from California, Climaco, the cook, sleeping against his pile of provision boxes, Lucho, Manuel the other guide and José the driver.
Bob, our Californian travel companion
We stopped at Huancarani for some breakfast, most people in the restaurant were tucking into chicken soup but just the thought made my stomach churn so I ate my banana outside. Franco asked for fried eggs and there was a moment of hesitation... had the chickens been killed before the eggs laid? At last a couple were found.
After a several hours drive along a rough dirt road, we paused in Paucartambo, a fairly large market town in the middle of nowhere, where mountain and jungle people meet to trade. Manuel led us down a maze of cobbled streets to the small and excellent museum which showcases the different cultures as well as the amazing three day wild fiesta held every July in the name of the 'Virgin of Carmen'. The visit was a bit rushed... we still had a long way to go.
Up and down barren semi-arid mountains we went, until suddenly we were on a ridge in the clouds and, on the other side, forest dropped vertiginously to the Amazon. Lucho told us that the altiplano would be covered in the native trees and shrubs, if only the grazing was reduced.
The cloud forest (I wasn't kidding!)
The single track contoured around the steep valley, gradually losing height. As we entered a short tunnel, Franco spotted a couple of colourful parrots. As we descended, the vegetation became increasingly dense and temperate. We stopped in a lay-by for lunch; chicken and rice with potato. A few kilometres further on we jumped out, binoculars in hand to visit a bird hide where we saw the males of a most extraordinary bird species, the cock of the rock, Peru's national bird.
Cock of the rock
José pulled up outside a very comfortable lodge in the jungle village of Pilcopata where we would spend our first night. From 4,100m we had dropped down to 600m. Dinner was fried chicken with chips and salad.
After breakfast the next day, we went looking for birds before the final few road miles to the small port of Atalaya on the River Madre de Dios. Franco and I were fascinated by long pendular nests hanging from trees. When we asked Lucho, he told us they were made by oropendolas which are common as muck.
"But not to us Lucho, we have never seen them before!" we protested.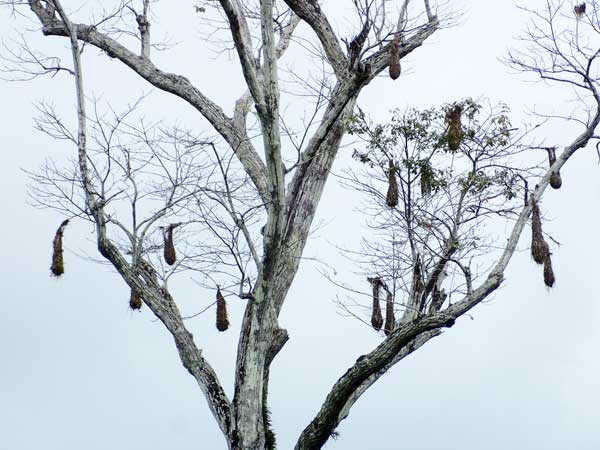 Oropendola nests
Black vulture
Upper Madre de Dios River (before the cataract)
Atalaya
A surprising sign in Atalaya warning you not to approach indigenous people
Madre de Dios River and the Manu National Park
Atalaya is the entrance to Manu and our boat was ready and waiting. Our crew were skipper Cesar and abled body river-man José aka 'Charlie'. Cesar is a jungle man, ethnically Machiguenga, he also speaks Piro, the completely different language of a another ethnic group. José is Quechuan from the highlands.
A short distance downstream we dropped off our Brazilian friends and their guide at the lodge where they would spend their four days.
The Madre de Dios River flows fast, down numerous rapids and Cesar navigated with great skill. Lucho was expert at spotting wildlife and we soon realised he is a walking edition of the book 'Birds of Peru'.
Kath on a fairly fast section of the Madre de Dios River
A couple of hours downriver, still in the so-called 'cultural zone', we were surprised to see a lorry on a shingle beach. Through the trees we could make out a small village, this was as far as the road went. The opposite bank appeared well wooded but Lucho told us that beyond the narrow strip of jungle, were hectares of cattle ranching.
At 1pm Cesar aimed the boat at the shore and we enjoyed a box lunch of chicken and rice before going looking for burrowing owls. We didn't find any.
On the left bank the Manu National Park jungle extended for miles. An area where groups of people roamed that had never come into contact with so-called western 'civilisation'. Although the 'national park' status offers them some protection, the Manu core zone is closed to strangers, helicopters are sometimes heard flying over, possibly to do with narco-traffickers.
We passed a large shingle beach, on the opposite shore there were benches and a small hut. A few years ago, a previously uncontacted group invaded a nearby village armed with bows and arrows and stole machetes and food, mostly yucca roots. This happened again a few weeks later and they killed a young man who tried to take a photo, shooting him with an arrow. Understandably the villagers were angry so, to avoid reprisals, the government set up a monitoring station (the hut) which would be permanently staffed by Piro native speakers. The attackers spoke Mashco-Piro which is related to the Piro language. Whenever members of the uncontacted tribe (they cannot swim) would appear on the gravel spit, the observers would paddle across in their canoes bringing bananas and other food.
A lagoon off the Madre de Dios River
"Let's go to Diamante," Lucho announced.
Diamante is a village populated by Machiguenga and Piro people. We arrived at the village boat landing and scrambled up the steps. At the top, there was a path; right to the Machiguenga part of the village, where Cesar headed to visit family, and left to the Piro village, the direction we took.
In the past these people didn't live together in permanent villages, they moved around distinct parts of the rainforest, hunting and gathering. Settlers arrived, cleared the forest and started to farm cattle. They enslaved the people they found in the forest. The Machiguenga and Piro tribes decided enough was enough and moved to the other side of the Madre de Dios River where they founded Diamante and fought for their right to the land.
Lucho wandered through the village greeting people. We followed behind, slightly uneasy, we had no purpose here and felt a bit voyeuristic. An elderly man invited us to try 'aguaje', the egg sized fruit from a type of palm tree. His wife had boiled them for ten minutes which makes the skin soft. Lucho handed them out but didn't take one himself.
"We aren't eating them if you don't." Bob told him.
Lucho giggled. "If you eat too many you turn into a woman." He explained. (Later I checked the internet, 'aguaje' contain phytoestrogens and are marketed to women to improve their curviness!)
We scraped the scaly peel off. The yellow flesh was a thin layer over a large stone and tasted a bit like smoked cheese.
We continued our walk through the Piro village. Lucho was looking for 'huito' a fruit which when the flesh is rubbed against the skin, makes it go black. It is a natural insect repellant and lasts over a week. Nobody in the village had any. On the way he pointed out small huts built by an NGO (Non-Governmental Organisation) that were meant to be flush toilets but since there was no water, they are used to house poultry instead.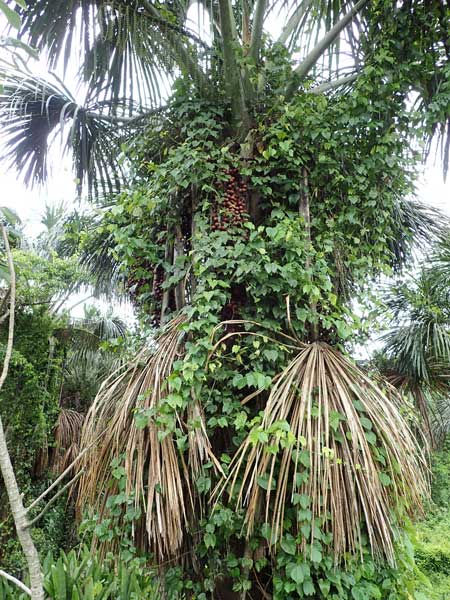 Aguaje from the moriche palm
The sun had started setting when we finally reached the junction with the Manu River. The colour of the water turned from steely grey to mud brown. A kilometre further on we pulled up alongside other boats, we had arrived at Boca Manu, the village where we would spend our second night.
Lucho at the lodge in Boca Manu
---