Day 40 Arrival in Puerto Natales

Caramor - sailing around the world
Franco Ferrero / Kath Mcnulty
Mon 1 Aug 2016 02:35
51:44.51S 72:30.5W
Caramor was hairy with hoarfrost this morning as freezing fog had reduced our world to oblivion once again. We went back to bed in disgust.
hoarfrost hairy
Just before noon, the grey above our heads turned to blue and soon after the shore became clear. We weighed anchor in sunshine but it didn't last long and by the time we arrived off the Puerto Natales fishing harbour, we were back in thick fog.
We asked if we could come in but were turned down. The weather is stable and there is no wind at all, so we anchored south of the fishing port pier with a metre under the keel.
No room at the inn
Caramor can add 'mountaineering' to her list of exploits which so far include 'ocean cruising' and 'antarctic exploring', since she has now crossed the Andes. Not many boats sail across mountains. Somewhere in the fog we missed the transition.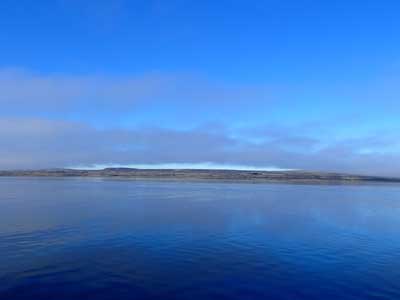 The flat landscape east of the Andes
Puerto Natales is a small sprawling town and a lively tourism gateway to the Torres del Paine National Park. We will spend a busy few days here as we will need to cross the border into Argentina to renew our visas and restock on fresh food, fuel and gas.
---