Trendy Stanley in the Falkland Islands

Caramor - sailing around the world
Franco Ferrero / Kath Mcnulty
Fri 18 Dec 2015 01:59
How times have changed! No sign of mutton on any menu here! The Globe pub still exists but is
now surrounded by cafés and bars, including the most southern LGB bar in the world, serving top
quality cappuccino coffees, posh cakes and tapas.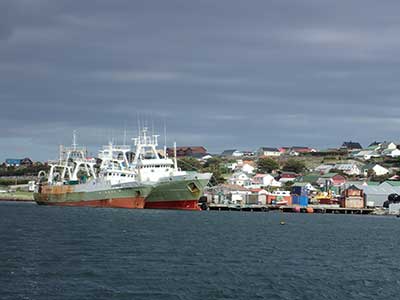 Stanley
Stanley is the capital and only town of the Falkland Islands. The majority of the islands' population
of 3,140 lives here. The Falkland Islands make Uruguay feel crowded! Over half the size of Wales
but with a thousand times fewer people. The archipelago is made up of two main islands and many
tiny outliers. West Falkland which accounts for nearly half the land mass has just 120 inhabitants.
We have been here just one week, every car driver waves and everywhere we go we bump into
friends we have made since we got here. It's a friendly place with very low crime rates, the court
cases reported in the local newspaper 'Penguin News' are mostly to do with young men, alcohol
and Saturday nights.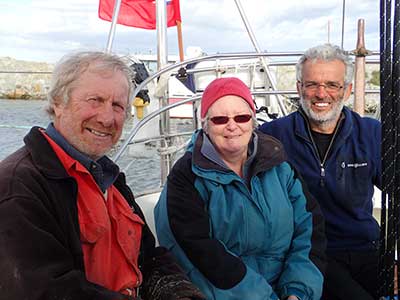 Carl, Dianne and Franco
Dianne and Carl are the volunteer Port Officers for the Ocean Cruising Club. They came to meet
us on the public jetty where we had to sign in. They told us about their private marina 'Maiden
Haven', a 'hole' they have dug in the shoreline where they and a few friends keep their boats and
invited us to join them. It is very sheltered and we could safely leave Caramor here for several
days if we wanted to, a much better option than being anchored in the 'harbour' (a sea loch) at the
mercy of the weather.
Maiden Haven
The weather deserves a few words, possibly not very polite words. It is mid summer here, the
equivalent of mid-June in the northern hemisphere and we are wearing ski-touring kit (thermal
underwear, fleece jumper, windproof layer, waterproof top and bottom, hat and gloves) just to cycle
the two kilometres into town. The temperature has been dropping to below zero on some nights
with ice on the decks. The wind varies between 'not a puff' to 'gale force' within seconds, with very
little in between. Occasionally the sun comes out, casting beauty over the landscape and luring us
into a false sense of summer. Cautiously we step outside, only to be battered by hail stones a few
moments later.
The tourist brochures says about the weather: "The Falklands are as close to the South Pole as
London is to the North Pole. On average, the Falklands are cooler than London in the summer, but
warmer in the winter. Summer is a wonderful time, with long daylight hours similar to England's
southern coastal regions. Summer temperatures reach the mid 20sC." - Well not this week, they
haven't.
So if we aren't eating mutton, what are we eating? Fancy fish platters, crostinis, lemon meringue
pie, and all day breakfasts! There are two large supermarkets offering a large selection, including
Waitrose, Suma and other well-known UK brands, though many items are out of date. We are
stocking up on Heinz Baked Beans and chutneys which aren't available in South America. Fresh
food is hard to come by, for five days I searched for bananas, none were to be found then suddenly
they appeared in every store ... priced £1 per banana!
I discovered a large fridge full of marscarpone cheese. I was very excited, just what I needed to
make a tiramisu for our cockpit party, if a little surprised it hadn't all been snapped up ages ago. On
closer inspection, it was past its sell by date (by several months) but the seal was intact. When I
opened the pack, the texture was granular, as if at some time in its long life it had been frozen. We
called the result "Falkland marine tiramisu" (marine because the alcohol was rum instead of
Marsala wine). Nobody complained.
Our first party as Rear Roving Comodores! Franco, Dianne, Carl, Jan, Cecilia (Yacht Lady Free from Norway) and Ted (Yacht Denique, NZ)
Kath, Bob (Falklands Sailing Club), Leneke (Yacht Denique, NZ) and Janet (FSC)
The war certainly put the Falkland Islands on the world map. Soon afterwards wool prices dropped
reducing the profitability of the farms. As a result the largest landowner, the Falkland Island
Company started selling off some of its less productive real estate while around the same time its
trade monopoly came under scrutiny. The system up until then had been semi-feudal with the
company controlling the land, employment, and all food shops on the island and most other
businesses. Farm managers were very powerful, they decided whether you worked, where you
lodged, had sway over which children pursued their education and which didn't. In those days,
elderly people from 'camp' (the countryside - everywhere which isn't Stanley) retired to the town
where the medical services were slightly better. Camp was where work was, where you could earn
a living. Today Stanley is where you live if you want to make money!
Most weeks see the arrival of one or two cruise ships which disgorge up to several thousand
passengers for the day. They certainly help keep the economy ticking over. But relying on cruise
ships for your income is a fickle business as it is so weather dependent. We arrived in Stanley just
behind the "small" cruise ship Hanseatic. The 40 knot winds were too strong for the ship to pass
through the narrows into the harbour. The Captain stood off over night and was able to enter the
following morning. Our Swiss friends from Piriapolis Ruedi and Cristina were less lucky. They are
travelling on a larger ship due to arrive last Thursday and we were hoping to meet up. That
morning the local radio announced that the ship would not be entering the harbour because of the
gale force winds, and off it went!
The local radio makes for great listening, in addition to the daily anagram, the presenter reads out
the passenger list for the flights and the ferry between the islands. As George from Georgia
(Russian, not South), the Stanley cab driver said: "its friendly and everyone knows everybody's
business".
On our crossing from Uruguay, we passed many fishing boats and heard Chinese voices on the
VHF radio. One man sounded very angry but we couldn't understand what he was saying. At one
point we were on a collision course with one of these trawlers. We radioed to ask them what their
intentions were but never received an answer. We thought it possible that nobody on board could
understand English (which is the international maritime language).
Most of the boats are from Asia (Taiwan and Vietnam) and are fishing for squid. The fishing
process is semi-automated so most of the jobs onboard are to do with fish packing. The fishing
licences money is extremely important to the Falklands as it pays for all the services provided here;
the hospital, the schools, the government. Everyone we have met is aware of this and disturbed
that conditions on some of these boats is close to slavery. Many of the sailor/fishermen have not
stepped off the boat for two years and sometimes they are fed poorly and treated badly. It is not
surprising that occasionally some will (literally) jump ship as it is leaving Stanley harbour. Survival
time in the water is 11 minutes. Few make it alive.
Stanley's population is surprisingly diverse with people from all over the world (though not too
many from Argentina) which makes for a pleasant atmosphere; locals (descended from Scots,
English, Irish colons who came here in the early 19th century), 'contractors' (mostly from the UK or
New Zealand who are here on Government contracts for two or three years), Philippinos, Chileans,
Chinese who work in the restaurants and hotels, George and his sister from Russia, my Indian
friend from Norwich who is a nurse at the hospital, and at the moment a large team from Zimbabwe
who have been clearing land mines.
At the excellent Historic Dockyard Museum, we got chatting with the two lovely ladies who sell the
tickets: "Yesterday three Argies came in here. They weren't pleasant, their behaviour was
threatening. They were demanding to pay in Argentinian pesos!" We never did find out what
happened, but my guess is the three Argentinians are buried somewhere under the building. Do
not mess with a Falkland Island woman.
Argentinians are taught at school that the Falkland Islands belong to Argentina and are Spanish
speaking. Those who travel here are in for a shock. You don't get more British than the Falklands;
Tetley tea, mince pies, cheddar cheese, the pantomime, driving on the left and a particular sense
of humour.
.
---