A Giant Leap for Caramor's Crew

Caramor - sailing around the world
Franco Ferrero / Kath Mcnulty
Sun 25 Jun 2017 18:31
45:31.35N 122:36.58W
Via Houston, Franco and I had flown to Portland in Oregon. Glyn and Sue, Franco's good friends from university days, picked us up from the airport.
A few moments later we were sitting down to lunch in a nice café in Northeast Portland. Glyn and Sue explained that they intended to give us a thorough introduction to 'gourmet' Portland (sounded good to us) and had decided to postpone our first expedition – 'canoeing on the disappearing lake' for a few days.
I was relieved. The plan had sounded great sat on Caramor in winter sodden Valdivia but after an uncomfortable night on a plane, I was less enthusiastic. Unlike 'Mr Fast' who'd spotted 4 unoccupied seats in a row, and spent the night lying down, I'd sat up all night and had a crick in my neck to show for it.
We'd signed (with fingerprints) into the USA at 5am that morning. It was something we had been dreading; over the past few years we have heard so many horror stories of tourists being turned away at the US border and were concerned it might happen to us. We had biometric passports and had applied to the visa waiver programme, but even with the right documents, it could take just one grumpy immigration officer for us to be sent back to Chile. In the end it was just fine, the US officers we dealt with were professional, polite and friendly, even when we produced an apple bought in Valparaiso (you would have thought that we would know better by now!).
Next we stopped off at a small supermarket. It wasn't quite what I had expected to find in the USA. Nothing like Walmart, instead, all the fruit and veg and most of the milk and dairy products were organic, many of the lines were locally produced and most of everything else looked wholesome.
Sue and Glyn's home
Sue and Glyn's home is located in a pleasant neighbourhood where many of the houses were built around 1918 in the 'Craftsman' style (American Arts and Crafts movement). These typically have open porches, projecting eaves and a low-pitched gable roof. Since then, many of the houses have been renovated but the original style has been kept and new houses have been built in the vernacular. Inside, the house is airy and Sue and Glyn have decorated it with strong colours and impeccable taste.
The elegance extended into the garden, a labour of love, where we relaxed in the shade of a large walnut tree. Occasionally the peace was shattered by squirrels harvesting the walnuts, shredding them and throwing the bits at Sue.
Downtown Portland
Glyn and Franco walking down a residential street near the city centre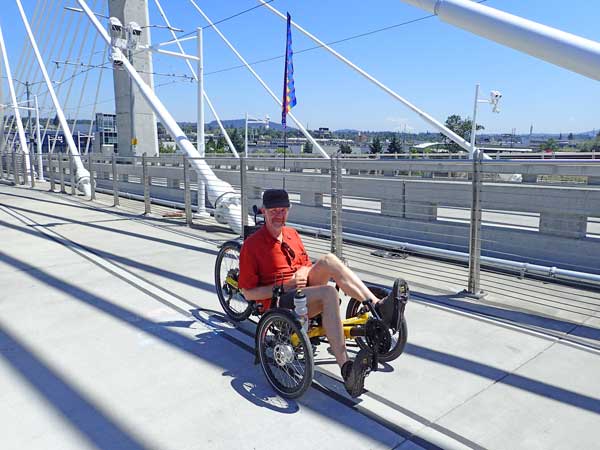 Glyn cycling across the new bridge reserved for buses, bikes and pedestrians
Even the graffiti has a cycling theme
Portland was first settled in the 1830s. Settlers, farmers, miners, ranchers, businessmen, and their families travelled across the continent in horse drawn carts, following the Oregon Trail, a 2,170 mile route, originally opened up by fur traders taking their wares to the eastern markets.
The Willamette River and the great native forests were an incentive to stay and forestry fuelled the city's early development. Not all was perfect and by the early 1900s, Portland had a reputation as one of the most dangerous port cities in the world. The Second World War brought new trade and gradually the city cleaned up its act.
Today Portland is known for its liberal political values and its unofficial slogan is 'Keep Portland Weird'.
Franco and I had a fun time spotting people and institutions that subscribed. The first prize went to a woman with stubble wearing a brightly coloured t-shirt which said "I am that scary lesbian that the media warned you about". A close runner up was the guy pedalling a two-wheel recumbent tent.
Pedalling a tent
Another weird aspect of Portland is that it has legalised cannabis, when the rest of America is still spending upwards of $36 billion on the war on drugs every year. Pseudo-pharmacies have sprung up all over town offering marijuana in a variety of forms.
Cannabis shop
Horses have of course played a very important role throughout the history of the United States so we weren't too surprised when we came across a horse tethered to the pavement. These rings date back to the early part of the 20th century when people still rode around town.
Horse tethered
A nice Portland variation is the tethered dinosaur!
Street dinosaur
Finally I guess I need to mention Trump. We certainly talked about the man a great deal. It was refreshing to understand that most of the residents of Portland share our views.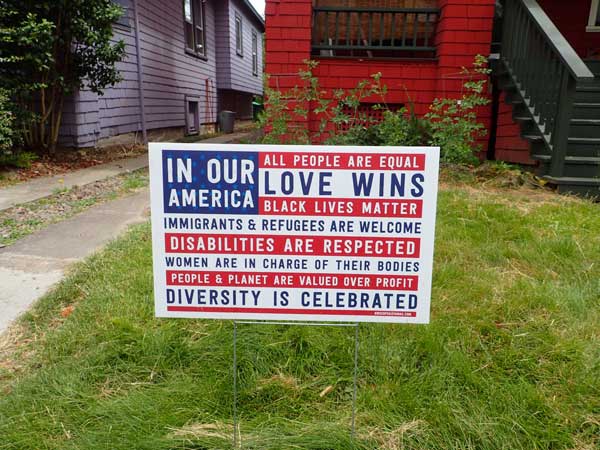 Reclaiming the flag for a better world
… and yes, we did get to try all sorts of nice food.
Franco waiting for his dinner at a food pod
---