The Bariloche chocolate test

Caramor - sailing around the world
Franco Ferrero / Kath Mcnulty
Tue 25 Apr 2017 02:22
39:49.45S 73:15.06W
South America has a hang-up for Europe, the more 'European' something is, the better it is considered to be. (Europeans, on the other hand, are just 'gringos'.) In Argentina, although there is great pride in being Argentinian, there is also a kind of nostalgia for Europe, the place most Argentinians came from.
Bariloche, with its mountain setting, takes this obsession further. It aspires to be, it seems, the 'little Switzerland' of South America. The streets are lined with chocolate shops, the square filled with St. Bernard dogs waiting to pose for photographs (I'm not kidding, we counted five at Easter!), the main hotel is the Edelweiss, restaurants offer 'fondue' (it's disgusting), and the house at kilometre 1.050 on the road out of town is called Gstaad (the village of the same name in the Swiss Alps is at an altitude of 1,050m).
After five months sailing the Chilean channels on our own, we are still enjoying meeting people and joining in with festivities. Bariloche over the Easter week-end seemed like a good place to visit but we hadn't imagined quite how popular it would be especially during the three day 'Festival of Chocolate'.
Our coach back to Valdivia left at 2pm so we had the morning to look around and decided to test Bariloche's chocolate credentials. As we headed for the chocolate shops, we came across our Canadian friends from yacht Traversay, who are overwintering in Valdivia. (Not surprising really as Ainslie is a chocoholic!)
Marie-Ann, Ainslie and Larry in front of one of the numerous Easter eggs
The chocolate shop we chose for our test seemed about average and had a good selection.
Kath choosing the chocolates
The display looked smart and chocolates were labelled according to whether they had sugar or not and alcohol or not. We had already worked out that the 'sugar-free' chocolates are even sweeter than the ones with sugar as they contain artificial sweetener. Our main concern was sweetness, South Americans have a much sweeter tooth than Europeans do.
Franco bravely went first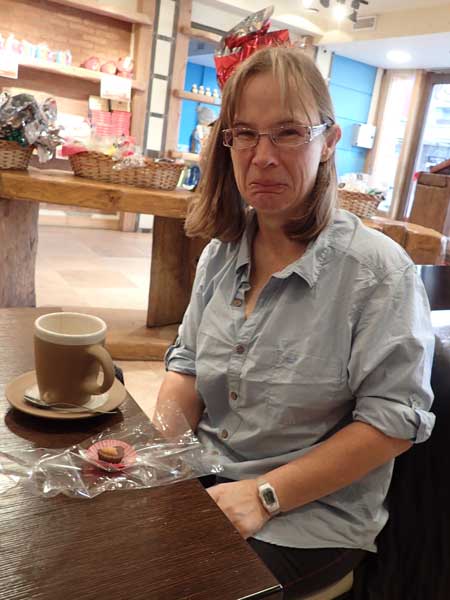 Kath's face says it all
Bariloche had failed the good chocolate test.
---