From Valdivia, with love

Caramor - sailing around the world
Franco Ferrero / Kath Mcnulty
Wed 18 Jan 2017 01:53
A week and a half in Valdivia and we well and truly have our feet under the table. We've now met quite a few of the yacht club members, mostly called Jose or Jorge with the notable exceptions of Luis and Raoul. They invited us to join their asado (BBQ) and the party went on late into the night.
The kayaks are assembled and have their own rack, twenty metres from the slipway and we've enjoyed a couple of days kayaking. The first down river to Estancia where the yacht club has a second marina and Kalibu has been at anchor, and up river to Punucapa, where the locals hold a summer fair for a whole month.
The bikes have found space in the main shed and are very handy for whizzing around town. We've also started running again (though in my case, it is probably called 'shuffling') but we have a long way to go before we sign up for a marathon.
Valdivia is smaller than we expected, mostly contained within a meander of the river. It has a 'paseo' (walk) along the river where life is concentrated.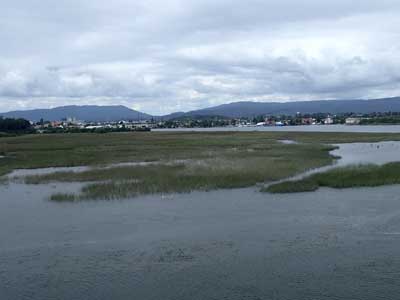 Valdivia from the bridge over the River Cruce, the marshy foreground used to be farmland
The 'paseo', early morning before the revellers gather
Valdivia from the main bridge, the colourful roof is the market
Fruit to the left and fish to the right
Chocoricos are giant barnacles (Franco's hand for scale)
But the main entertainment happens behind the fish stalls ...
Hundreds of vultures, cormorants, gulls and several very fat seals feast on the trimmings
No, this female sea lion is not in captivity! she is waiting for a fishmonger to throw her a salmon head
Valdivia was colonised by Germans and their descendants are extremely proud of this heritage. Beer, cheese, cakes and dentists seem to be the main legacy. Unfortunately the cake tradition has acquired the South American sweet tooth. (Maybe that is why there are so many good dentists.) Kalibu's crew went on a hunt to find the perfect German 'apfel strudel' but returned empty handed. Leo was inspired to don his chef's hat and prepare 'kaiserschmarrn' so we volunteered to eat it.
Kalibu's famous chef Leo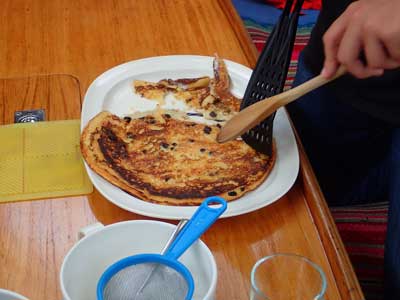 Make a large fluffy pancake, then cut it up
Serve it with apple compote - delicious!
Tomorrow we will be heading off for the hills again. We will return to Cochamó to visit Ida and Ciro and will then take off with Ciro and the horses, this time up the Valle de la Esperanza to the border with Argentina where we hope to renew our visas.
Chile is a very orderly country, with many laws covering most aspects of life. So far we have found two areas which have avoided this general trend and are, in opposition, complete chaos:
Dogs - most are free to roam the streets and it is never clear whether they have homes to go to, and Buses - plentiful and cheap but with no centralised way of finding out which goes where and when. Timetables and routes change from one day to the next, buses don't all leave from the main terminal (some companies have their own), the internet booking sites are works of fiction and the bus companies' websites have photos of buses but no info. However, once you do find a bus going the same way as you, then the experience is generally positive.
---