Day 3 To Caleta Moonlight Shadow

Caramor - sailing around the world
Franco Ferrero / Kath Mcnulty
Wed 17 Aug 2016 01:34
51:33.63S 74:04.53W
The belly-laugh roar of the wind gods charging past on their white horses awoke us early this morning. Caramor was bouncing on her anchor like a five year old on a trampoline.
All of the anchorages in Canal Union are open to the south, not a problem (we thought) given the forecast for light north-easterlies. Over night the wind swung round to the south and by morning it was gusting 30 knots straight into the bay. As always we had tested the anchor on full revs and were confident it would hold, even so it is always nerve-wracking to have the wind blowing us towards a rocky shore with the swell breaking less than fifty metres away. We didn't hang around.
The sun rose in a cloudless sky and we raced northwards. At 10:30 we passed Paso Victoria which we came through nearly three weeks ago, and headed up Estero Collingwood into new territory.
Looking north into Estero Collingwood
We were making good progress when suddenly it was as if the wind had been switched off. We waited a while before turning the engine on, luckily we didn't have to go far, three miles later we were back in a good breeze. Exactly the same happened a couple of hours later and again we had to motor just three miles to find wind.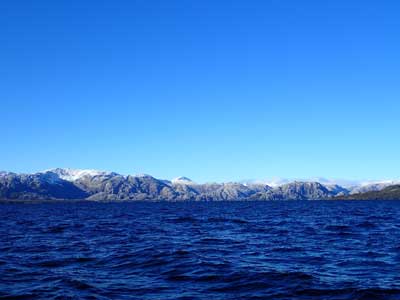 Canal Harriet joins Canal Sarmiento, Staines Peninsula in the background
Narrow Canal Harriet had appealed at the planning stage, more sheltered and a little shorter than the main shipping route through Canal Sarmiento but with such a perfect wind we didn't want to risk losing it so we turned left into Paso Farquhar, then right into Canal Sarmiento. Caramor flew along, often at over 7 knots and we didn't stop until we reached Caleta Moonlight Shadow, a two mile long narrow inlet that nearly bisects the north end of Isla Piazzi. At the entrance we met a fishing boat, who may have invited us to go alongside, unfortunately we completely misunderstood. Hopefully they won't hold it against us.
Tired of Aeolus' pranks, we will spend a few days in this beautiful place.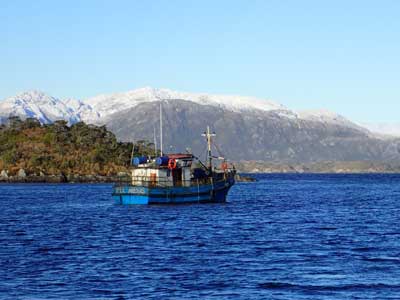 Fishing boat at entrance to Caleta Moonlight Shadow
View from the anchorage
---