Milford Sound

Caramor - sailing around the world
Franco Ferrero / Kath Mcnulty
Sat 1 Dec 2018 06:52
44:39.9S 167:55.6E

At Te Anau, we bought fuel and real fruit ice-creams, in preparation for the wilderness ahead.

On the way to our campsite, we stopped for a walk to Lake Mistletoe. New Zealand mistletoe is in the same plant order as European mistletoe. Both are hemiparasitic, which means they take some of their food from the tree they grow on while the green leaves also photosynthesise. New Zealanders value it for the pretty flowers which bloom around Christmas time.

There is a less mistletoe in New Zealand than there was in the 1900s. This is because (introduced) possums eat it, forests have been cleared and the native birds that pollinate it and disperse the seeds are fewer as they too have been predated by possums and rats.



Lake Mistletoe with rain approaching



Franco and Angie are actually standing in pouring rain! Hard to tell because the sun never ceased to shine!

Until relatively recently, this area was very remote and life on the farms tough. Tourism started a surprisingly long time ago, in the late 1800s, providing additional income to the farmers who provided accommodation to the gentlemen. Today there is an endless caravan of camping vans that follow the road along the shores of Lake Te Anau.



Lake Te Anau

Since 'freedom' camping is no longer allowed in the area, we stayed at 'Cascades', the last of the DOC (Department of Conservation) sites.



Cascades Campsite

Our goal was Milford Sound, and in a rash moment, we booked a boat trip. It would be departing at 2pm so we had the morning to explore.



Native beech forest a short walk from the campsite



A fern - any fern specialists out there?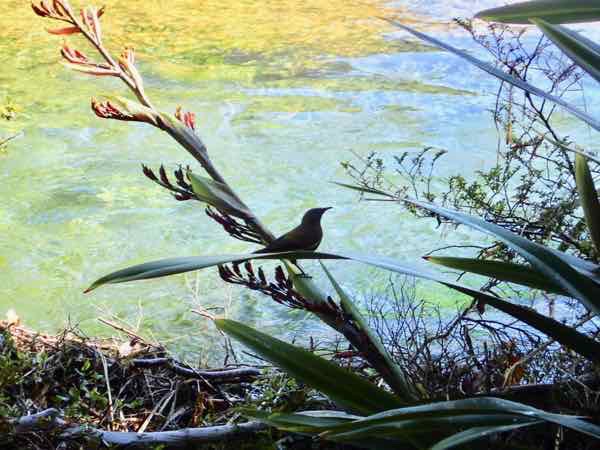 Tui or starling? It was eating nectar



Mount Marian at the Divide - this is where two glaciers used to meet on their way to the ocean

Franco and I were keen to spend time near the Homer Tunnel because we'd heard it is frequented by kea, a large alpine parrot, reputed very intelligent and mischievous. Unfortunately the path was closed due to a rockfall but we were hopeful we would see a kea in the car park.

We peered around, craning our necks, in case the kea were high up on the rock face. Nothing. We hung around hoping we would be lucky. Still nothing.



The rock wall above the Homer Tunnel

Finally we gave up and started walking back towards the van, parked on the other side of the road. Out of the corner of my eye, I spotted a large green bird, just as it landed on Jumbo's roof. It skated around a bit, then flew over and perched just a couple of metres away from us. It looked at us expectantly, clearly expecting to be entertained. We have since found out that if you build a mini twig wigwam or a small pebble pile, the kea is likely to investigate.



Kea - a very smart parrot

Kea are now endangered, they used to be killed for bounty because sheep farmers claimed they attacked livestock, especially sheep. At last in 1986, with numbers much reduced, they received full protection.

Further down the Milford Road, we took a popular short walk to The Chasm. River pebbles become trapped in hollows, and as the water plunges over, the pebbles swirl around, progressively grinding a larger hole, until the whole thing collapses and is washed down river.



The Chasm



Milford Sound with Mitre Peak

"Wilderness? What wilderness?" Clearly I had gained the wrong impression from friends who came here years before me. After the hotels and airstrip(!), we arrived at a smart modern sea terminal. (Eat your heart out Holyhead!)



Our boat

Angie was first onboard, hoping to bag the best space.

According to the guide, the sound was first called Milford Haven, named by, surprise, surprise, a Welshman called Jones who was the first to discover it. Cook had missed it altogether. Technically it isn't a sound (formed by a river), but a fiord (formed by a glacier flowing to the sea).



Milford Sound

We were lucky to see Fiordland crested penguins,



Can you spot the penguin?

and seals...



New Zealand fur seals

Near the entrance to the ocean, we turned back.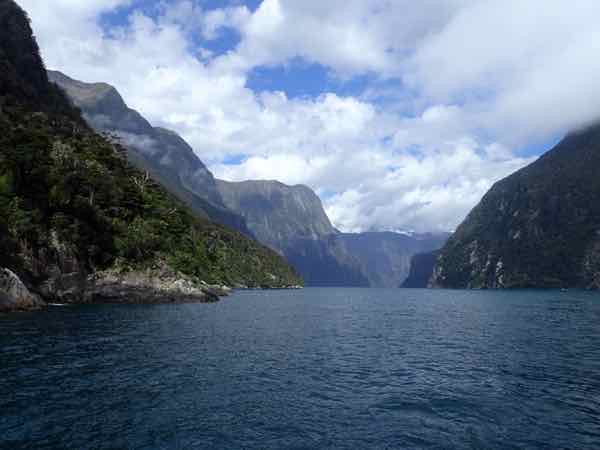 Milford Sound looking back towards the mountains



Waterfall in Milford Sound



Angie taking a much needed shower ;-)

And just when you think you are on your own, seven thousand people turn up on a cruise ship!



Cruise ship in Milford Sound

It had been worth it! Soon we were back on dry land and later returned to the Cascades campsite.
---