Arrival in Valdivia (at long last!)

Caramor - sailing around the world
Franco Ferrero / Kath Mcnulty
Fri 6 Jan 2017 21:44
39:49.43S 73:15.08W
Yesterday at ten past four in the afternoon, we tied up alongside our friends Robusta at the Club de Yates de Valdivia. Feeling like zombies, we signed in with the harbour master, grabbed some food and went to bed.
Our walk to Punta Auque on Tuesday had confirmed our decision not to go through Canal Chacao the day before and to stay put an extra day. From the road, we could see the channel, a foamy mess. The three day forecast wasn't looking good for Wednesday or Thursday either; more winds from the western quadrant of 15-20 knots, gusting 25 … and we now knew what that looked like! We did notice, however, that the wind lulled overnight, as the land cooled down.
We checked the forecast: Friday N-W 25-30 knots, gusting 40-60, we had to get through before that hit us. Luckily the ebb tide on Wednesday morning was very early, giving us enough time to transit the channel before the sea breeze picked up to a hooley. If we didn't like what we saw as we rounded the point, we would still be able to turn back.
Wednesday morning all was calm as we left Puerto Abtao at 6am. We dodged a couple of ferries that cross between Chiloe and the mainland and then we were into the channel. All the water from the Seno de Reloncavi and the Golfo de Ancud escapes through this narrow and shallow gap, a bit like water running out the drainhole of a sink. The sea was most lumpy on the far side. In the lee of the light house we hoisted the sail and were off like a shot, carried by the Humboldt Current up the coast. We both felt a little seasick.
Entering Canal Chacao, all is calm
The sea calmed down the further north we got and the sailing became quite pleasant. By 5am we could see the Valdivia 'glow' on the horizon. As the sun rose, the wind died but we still had just enough for Caramor to sail slowly.
As we turned into the bay we dodged fishing boats which are very different to those further south.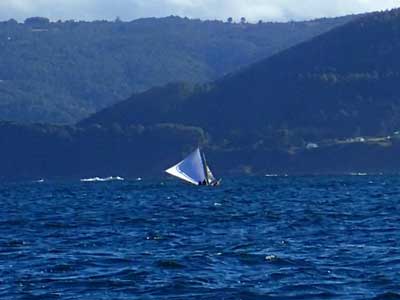 A fishing boat sailing
Fishing boat trailing two lines
By 10:30 we were at the entrance to the Valdivia River but the tide was still ebbing so we anchored off Isla Mancera for a few hours. Washing up is a pleasure when one isn't feeling seasick.
We chugged up the river with the incoming tide, careful to stay inside the marked channel. In the 1950s the river had been canalised between two walls. Then in 1960, an earthquake, 7 on the Richter Scale, struck Valdivia and the whole area dropped by a metre. The walls became submerged and a dangerous underwater hazard while the river flooded into adjacent farmland creating attractive wetland. As Franco says: "A case of 'how do you make God laugh? … Tell him about your plans …'"
Our plan is to make Valdivia our home for the next year. From here we will explore inland Chile, parts of Argentina and Peru. But you know what they say about plans …
From the club, looking up river toward the town centre
Alongside Robusta
Franco looking summery if still a bit tired
---