Celebration time in Puerto Montt!

Caramor - sailing around the world
Franco Ferrero / Kath Mcnulty
Tue 14 Mar 2017 20:16
Angie and I were off to party. We had a lot to celebrate. We had crossed the Andes from Argentina to sea level in Chile without loss or injury, Angie's back and knee were no worse than before we set off, we were both fitter and we hadn't fallen out with each other. What is more, we had beaten the rain.
We started with the national Chilean drink; a pisco sour, and then (always a bad mistake) I ordered a glass of wine. So by the time we had finished our feast, the world was looking a little slurred, I mean blurred. But hey, it didn't really matter, I only needed to jump in a taxi and stumble up the stairs to my bed in the B&B.
Cheers - the world was looking a little blurred
Our taxi driver was friendly and chatty, we talked about Wales and the Welsh language and he lamented the loss of the Native American tongues. I'd shown him the card with the B&B address and he knew exactly where it was. He dropped us off right outside.
Angie went to unlock the door ... the key wouldn't turn. She tried again, and again. It was definitely the right street, and the same red and cream building. We wondered what we should do next.
Angie moved over to the smaller door and as she inserted the key, the door opened - a big burly bloke, nothing like our petite landlady.
He thought he was being burgled but seemed relieved to find a pair of daft gringas trying to break and entry.
"You had better come in," he said.
He left us with his wife who was finding the situation most amusing and went in search of our digs. The man returned a few moments later, having woken our landlady, and the couple escorted us back home.
We listened, cowed to the tut-tutting of our landlady,
"You are very lucky it's a good neighbourhood, you mustn't go around letting yourself into strangers' homes, you'll get into trouble you know. You are very lucky it's a good neighbourhood." She clucked.
Safe in our beds we listened to the rain lashing outside. We were grateful for the sturdy roof above our heads.
Kath with our landlady
The house we tried to break into (ok, so they dont look anything like each other!)
The next morning we made it to the bus between showers and got back to Valdivia by early afternoon.
Franco met us at the bus station. Although he had mostly been working hard, on the second edition of Gary Latter's Scottish Rock Volume 1,
he had also found time to boogie to the sound of 'Valparaiso' a band playing on the promenade.
Valparaiso
Him and Raoul had also become good friends. Raoul, one of the older members of the sailing club is 78, going on 19. Last year he travelled to Spain to buy a large sailing yacht which he sailed back with his cousin. Franco has also been invited to join the 'Hermanos de la Costa' (Brothers of the Coast), a boys only club which smacks of piracy if you ask me.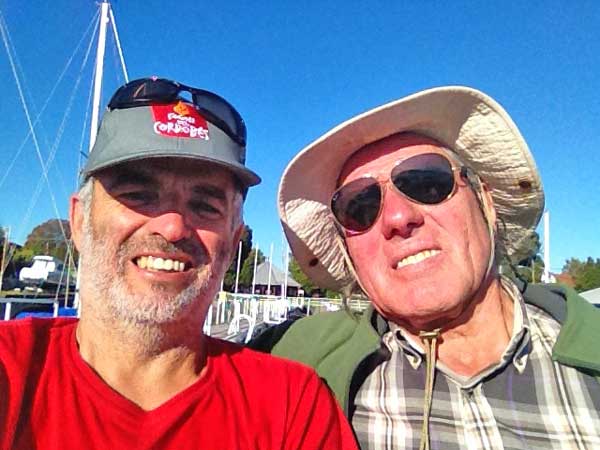 Franco and Raoul
---