Mindelo, São Vicente

Caramor - sailing around the world
Franco Ferrero / Kath Mcnulty
Fri 27 Feb 2015 16:00
16:53N 24:59.6W

Caramor has crabs! Franco has had stern words with her about the company she keeps, in particular those French boats she was hanging out with.



Crabs attempting to hitch a lift to Brazil

Our crossing from São Nicolau was eventful, of particular note was a mast winch jumping ship and trying to knock Franco out in the process. He says "all I did was use the winch", the casing came off and the inside mechanism leapt overboard. It could still be the effects of the El Teide fumaroles giving Franco superhuman strength or it could be metal fatigue.

As we set off from Tarrafal we still thought we could spend a day anchored off Santa Luzia but once we got out of the bay the wind settled down to a steady 30 knots and with 4 metre swell forecast we shelved the idea.



Monte Gordo (1304m) the highest point on São Nicolau shrouded in clouds



A large scale resort development that bit the dust when recession hit Europe, had it gone ahead Tarrafal would probably have 100% employment (but do enough people want to come here?)


Under staysail and triple reefed main we were comfortable but I didn't fancy baking bread or posh puddings. In fact for lunch we had crackers only and then later we had some crisps. When in Portugal we visited Steve and Megumi and they gave us a few DVDs, one of them was 'Junior Bonner' starring Steve McQueen which is about a cowboy who wants to ride a particularly dangerous bull that threw him off at the last rodeo. This was the perfect crew training video for this crossing! We clipped our harnesses to the cockpit and held on tight while Caramor did a bucking bronco act.

Geography combines with meteorology to create some interesting conditions; take a deep ocean, throw in a chain of islands linked by an underwater ridge, turn on some strong wind blowing constantly in the same direction and you are guaranteed to get some noise. Add a big swell generated by a violent storm off Newfoundland and you are guaranteed high pitch Rock'nRoll.

"Franco, I think the huge swell has arrived early, that wave must be at least four metres tall." "Nah, that's a mere metre or so ..." stood on the cockpit bench I continued to watch the rollers coming in, up and up and up, then the top would curl and the wave would break. "Squeak" I heard from the skipper's lips. "OK, that one was two metres."

Our timing was perfect, as the sun splashed into the ocean we entered Mindelo anchorage. Four wrecks to avoid, rusting hulls to zigzag round, the ferry terminal to give a wide berth to and then all those yachts that had arrived before us. We found a spot and dropped the anchor in the dark and slept like logs despite 60 knot gusts.



Caramor in Mindelo anchorage

Mindelo used to be called Porto Grande and is reputed amongst the finest natural harbours in the eastern Atlantic. This is where steam ships stopped off on their way to America to refuel with coal.

Today it has a small commercial harbour, a boat yard, a small fishing fleet and is home to Cape Verde's only marina. Marina Mindelo was built and is run by a German who sailed by in the mid 90s, recognised Mindelo's potential and returned to slowly build his empire. It has created much needed jobs and put Cape Verde on the sailing map, encouraging yachtsmen to stop off including a few organised rallies but it has also created a barrier; it holds a monopoly on anything sailing.

The following morning we rowed in, we were keen to enquire whether the marina shop sold parts or a replacement winch. Service comes with conditions here: "Are you in the marina? No? Come into the marina and we will see what we can do. We can probably make all the parts for you." Now that's a promise ... Against our better judgement we moved into the marina, the wind was still very strong and the swell far worse on the pontoons. Back at the shop: "I'll check what we have in the workshop and I'll come to your boat in an hour and a half." Two days later we were still waiting ... the vibes weren't good, the office staff unhelpful and unfriendly, the motion on the pontoon horrendous to the point of making us feel seasick. It is hard to describe, imagine you are on a swing and every time you get to the end of the run, someone pulls on one of the ropes, bringing you to a sudden stop and sending you spinning in the other direction. 24 hours of this treatment starts to affect your sanity, after 48 hours you are stressed, disorientated or murderous. All this for 21 Euros a night. Bargain!

The pontoon we were on broke so we moved to the next one out, that evening one of our mooring lines broke, it had rubbed through the plastic armoured hose, luckily we had doubled our lines. The next morning our new pontoon started to break up too, time to cut our losses and go back out to the anchorage, we will manage without a winch until we get to Brazil.



Mindelo Marina (on a slightly less windy day)

Back out on the anchorage we were greeted by a friendly bunch of cruisers; four british boats (the most we have seen in one place), two swiss, one french and one american. We breathed a sigh of relief.

We met our closest neighbours Caroline and Nigel of yacht Nessa V on one of our trips into town and invited them over for pizza, they returned the favour by inviting us to dinner the following night. They have since set sail towards Grenada. Over the days our neighbours have changed: the Brits went first, then the Swiss and the Americans, they have been replaced by three french and a norwegian yacht but we are still here ...

Ding the dinghy is an Avon Redstart (named after a small bird) made out of hyphalon which weighs less than PVC and doesn't dissolve under the tropical sun. We bought her second hand a couple of years ago and made a profit when we sold the PVC dinghy that came with Caramor.

Ding is elderly and in Cadiz we were lucky to find a good man called Manolo who took her away and spent hours meticulously sanding down, patching up and glueing her seams for a very fair price. He did warn us that she wouldn't last for ever. As other parts started to go, Franco decided succession planning was needed. We wanted a new Avon Redstart. Avon have been bought out by Zodiac who also make dinghies and the Redstart was no longer in the catalogue.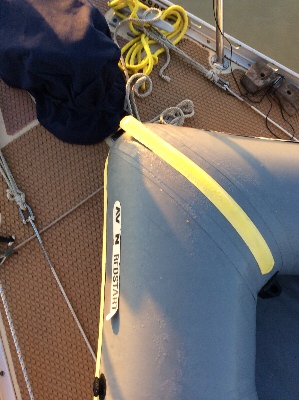 Ding coming unstuck

The little dinghy with the yellow stripe named after a bird is now the M9 RECON military spec dinghy! Franco ordered one and a few months later 'Arnie' was made. Two weeks ago he got on the chopper, ... I mean the plane, under the supervision of DHL (4-5 day delivery service) and he hasn't arrived yet. The online tracking ends in Praia, it says "handed over to your agent as requested". Who's agent? Has Arnie gone on an underground mission? London informed us we would have to pay a ransom (local VAT) but the papers have mysteriously disappeared ... we are trying to make contact with an elusive informer called Daniel Ton, meanwhile First Officer Kath is organising a raid on Mindelo airport where it is rumoured Arnie was last seen.

We haven't wasted our time though, Franco has sent a new book 'South East England and Channel Islands Sea Kayaking' off to the proof-reader and has prepared a second edition of 'Scottish Canoe Classics' while I quietly got on with fighting a virus (mostly from my bed).

The wind direction has changed cloaking Mindelo in a thick blanket of brown dust.

Kath
---