A Hard Week's Work

Caramor - sailing around the world
Franco Ferrero / Kath Mcnulty
Thu 1 Dec 2016 13:58
When Caramor comes out of the water, it always means hard work and this past week was no exception.
Franco preparing new anodes
The notable events were Franco slashing his hand with a Stanley knife (you'd have thought he would know how to use them by now!) luckily nurse Marianne was at hand and patched him up nicely and sent him back with a doctor's note for a week off work (no chance!). The other disaster was when I knocked a can of self-expanding foam off the table and when it hit the floor it started to fill the cabin with foam.
My main big job was cleaning out the toilet plumbing (some of us get all the fun!) and I spent most of the week staring into the bathroom cupboard.
A week in the life of Kath
We did take Sunday off to go to the rodeo. It is all about horsemanship with very strict rules and a complicated points system. Two riders bully a bull into running in a certain direction and then another. The really fun bit was watching the kids later on in the restaurant taking turns to play bull or rider and chasing each other around.
The chase
Riders parading
The champions
Jean-Loup and Franco sharing some fodder
All the 'out of the water' work is finished and Caramor has a newly galvanised anchor chain. We are off to the hills to meet Ciro and his horses.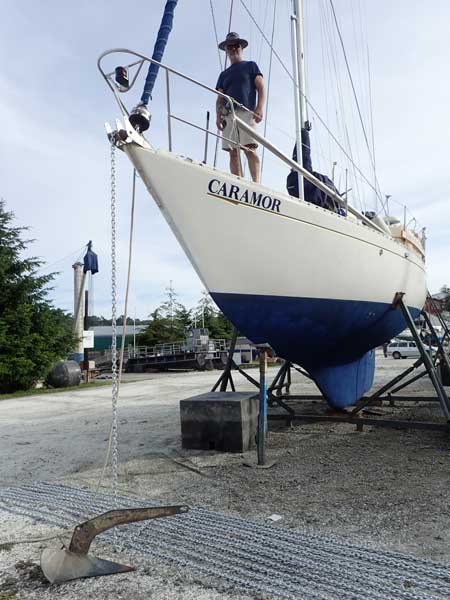 Caramor's bling (note her shiny hull)
---