River of the Cypresses National Park

Caramor - sailing around the world
Franco Ferrero / Kath Mcnulty
Thu 16 Feb 2017 17:46
34:16.38S 70:27.29W
A Road Journey through Central Chile
Angie, Julie, Franco and I piled into the hire car, bursting at the seams with all our gear, and headed south through the wine growing region of Chile, to the town of Rancagua and out, eastward, towards the Andes.
The River of the Cypresses National Park was created in 1985 to protect guanaco, puma and tricahue parrots. At the entrance, the wardens informed us that, due to the extremely high fire risk, we would not be allowed to light a fire nor use a gas cooker to prepare our meals. This came as a blow because we had been planning to camp for several days. Understanding our problem, the staff generously offered us the use of their kitchen at HQ, 7km from the campsite. In the end we didn't use it as the local lady running the small shop at the campsite was able to prepare fresh empanadas (pasties), sopapillas (fried bread), chips and lemon meringue pie - we didn't starve.
Green and pleasant CONAF campsite in a parched environment
Valley of the River of the Cypresses
Shortly after we arrived, smoke filled the sky and a helicopter with a water bucket flew over. A fire near the village of Coya, which we had driven through, had re-ignited and a hundred firemen were hard at work.
As night fell and the wardens went home, a donkey and a herd of cows arrived to mow the grass.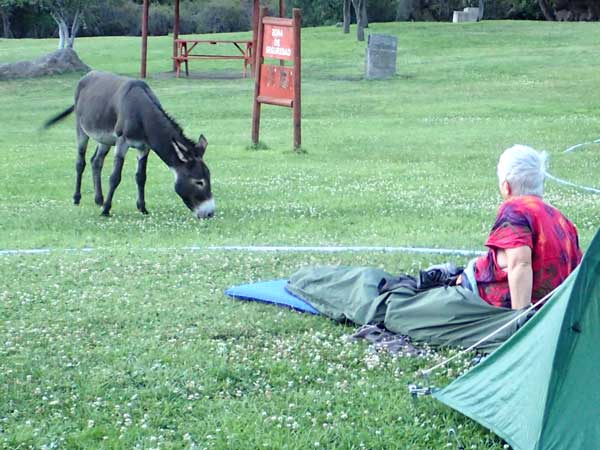 Angie wondering whether donkeys eat bivvy bags
The next morning, as if by magic, the animals had disappeared by the time the warden returned.
The team (left to right): Kath, Angie, Julie and Franco
Although we didn't see guanacos or pumas, the timing was perfect for the parrots and we enjoyed watching their complicated social antics.
The colourful tricahue (Cyanoliseus patagonus) is the largest of the Chilean parrots. Its range is between Atacama in the far north and Valdivia, though most of the twelve remaining nesting sites are south of Santiago. Although the IUCN has classified tricahue as 'low risk', the Chilean subspecies bloxami is in the 'endangered' category. This is because of loss of habitat, capture for the pet market and persecution by grain farmers who consider it a pest. It has been protected under Chilean law since 1996 so hopefully the population will recover over the coming years.
Tricahue parrots eat grain (including maize and wheat - causing conflict with farmers) and sometimes fruit, flowers and leaves, according to the season and availability. They are monogamous and nest in burrows in cliffs along mountain rivers or in caves. Each breeding pair lays two eggs. The burrows are also used as roosts and every evening at dusk, the birds gather on trees and call out to each other before heading for their burrows.
Tricahue parrots calling to each other at dusk
Sunset over the Parque Nacional Rio Los Cipreses
---