Horrah we are sailing at last!

Around the world with the Aqualunies
Jonathan & Gabrielle Lyne
Tue 19 Feb 2013 00:40
Selden, bless their cotton socks, sent the wrong size bolt for our mast top spreaders. Another week spent sitting waiting for it to arrive and then fitted .... soooo frustrating!
It was fitted within the 24 hours of receiving it by 'Flash' aka Phil Ash the rigger guru in Gulf Harbour Marina. Lets hope it lasts at least the next half of our sail around the world.
We have at last set sail, we had to give up going south as no time now with our other commitments. We sailed across to Waiheke Island and met up with Malcolm Gibson and did the Headland Sculpture walk with him and then lunch of oysters and venison hamburger. Back to his house, one of the most divine pieces of architecture for a house and would love one just like that one day! Green chicken curry for supper, cooking it was a pleasure looking out over the sea from the kitchen when indoor meets outdoor via bifolding doors. In the afternoon Malcolm and I climbed down the aluminium ladder and then abseiled down the cliff below the garden for a swim, took awhile to go in but once in it was VERY refreshing! Orca whales come in to the bay chasing sting rays as they like their livers. They were seen their last month, but must have carried on along their migration route as we saw none.
Sailed the next day around to another bay, perfect wind, sun and sea, bliss.
We are now sailing across the Hauraki Gulf to the Coromandel Peninsula to Squadron Bay for the night. We have to be back in Waiheke in Arran Bay by Friday as we have a Royal Cruising Club meet for the weekend, starting off with a beach BBQ at the house of one of the members in the bay then on to various other sailing and group get togethers over the weekend. It will be the largest RCC meet in the Southern hemisphere ever with 30 of us attending. So that must mean at least 15 RCC members yachts floating around 'down under'.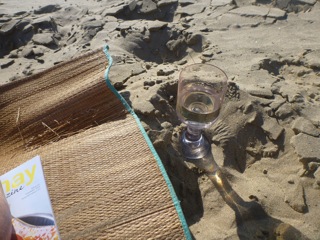 Glass of wine on beach and watching sunset over Tasman Sea.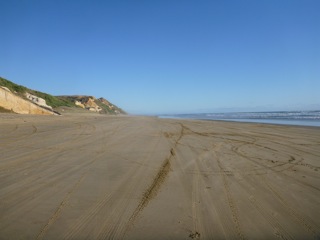 the beach looking the other way
Long sandy beach on West coast
New Zealand America Cup contender passing 30 yards forward of us flying at about 20 knots.
All crew dressed in Black with black helmets
Having just gone passed our bows 30 yards away.
Into the distance towards Auckland
Some of the exhibitors at the Headland Sculpture walk
Shrine by the Sea
changes into a foot as you walk around her and then:-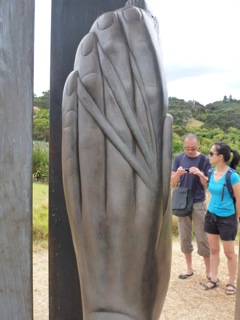 into a hand
Jonathan and Malcolm Gibson looking at her
Musical sound
Wonder if I can do this with old galvanised iron in my garden.
View from an exhibit
Sculpture moves with the wind
Garden summer house made of wood planks no other support yet still strong
Inside looking up
Artist
A snich for a Garden Pavillion.....
Sculpture down by the water
The Headland Sculpture walk on Waiheke Island
Good wind, good sun and sailing along in calm waters at 7 knots, bliss.
This is the way it is meant to be!
---