Pepeete, Tahiti

Around the world with the Aqualunies
Jonathan & Gabrielle Lyne
Sun 16 May 2010 22:27
Saturday, 14th May, 2010
We had a tour of the island the day after our welcome party, sadly there was monsoon rain! so we all got very wet when dashing out of the coach to look at all the sights. It really is a beautiful lush island with very happy, friendly people. There no longer is a pure Tahitian as there is such a mixture of nationalities now from Asia and the Pacific as well as French.
Last night we had an informal Rally party on the Pontoon with a pub quiz night. We all did a dish towards the buffet and the drink flowed!! A few, not to be mentioned here, who happened just to have arrived today from the Galapagos, they had engine and generator problems, really let their hair down. The Aqualunies came a very healthy 3 or 4th in the quiz.
Today, up at 6 am to go to the market for food, felt rather dry and cloth mouthed..... coffee and croissant in the market did the trick. Having dropped fruit and veg' off at the yacht we headed down towards the supermarket only to discover there was a huge dance and drummers welcoming the traditional Polynesian sailing vessels which had sailed from New Zealand to here, it is an annual ceremony with all the Polynesian Islands represented. The drumming, singing and dancing was spectacular. Dragged ourselves away after an hour to do our shop, back to the yacht and prepared to go around to the fuel dock to fill up before heading out of the lagoon to Moorea an island 25 miles away. Jonathan discovered his navigation chip was refusing to put a detailed chart on the screen so we decided to drop anchor near the Marina for the night whilst he sorted it and set off early tomorrow morning. Fortunately it is done, we think a bit of damp got in. Early night tonight.
Jonathan husking coconuts under Valentine's guidance using a vicious spike.
Valentines chapel where she holds Sunday service at 10 am
Gabbie racing canoe
Gabbie racing canoe
Welcome dancing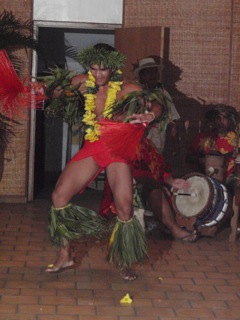 Welcome dancing
Lunch at the Pepeete yacht club with Richard and Boot the rally organisers
Allan's Birthday pudding
BWR quiz night on the pontoon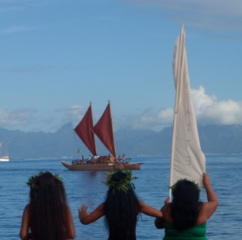 Arrival on traditional Poloniesian vessels from New Zealand
Traditional Polonesian vessel arriving from New Zealand
Blowing conch and horn to welcome them
Drummers drumming a welcome to the vessels from all over Polonesia
Polonesian Drummers
The tatoos and necklaces of the drummers
Sails of the polonesian vessels
The drums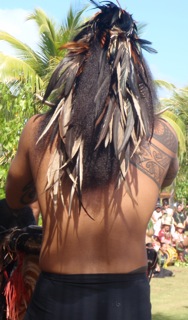 Hair of a drummer
Arrival of the Fijian vessel
Tatoos close up
The hair of a drummer
---